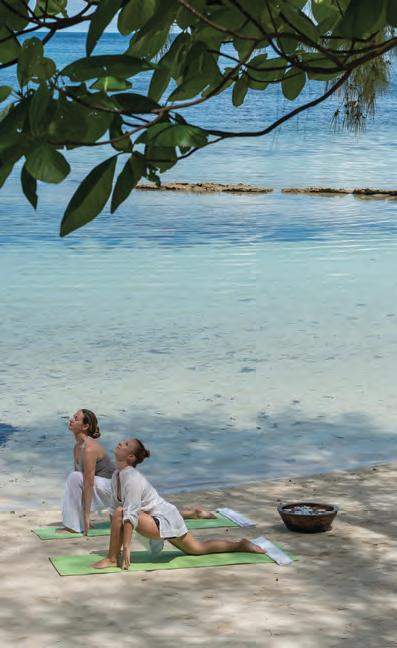 On paper, Desroches Island could not be more perfect. Just south of the equator with temperatures rarely dropping below 30°C, it is the archetypal tropical island paradise. In reality, it is even better. A mere 7km long and less than 1km wide, it has 14km of the softest white sand and is surrounded by the sapphire blue waters of the Indian Ocean.
The hinterland is lush forest, while the accommodation offerings of suites and villas is everything an ecological Eden could be, designed and built to enhance and protect the island's natural resources.
It also allows guests total freedom to explore what this piece of paradise offers on land and sea, as each villa and suite has its own beach frontage, bicycles and kayak. There is a resident conservation team to lead guided nature walks, explain current research projects and invite guests to the Tortoise Sanctuary.
At peak times, a special children's programme is on offer to educate and entertain — as well as babysitting services. The hotel offers a glass-fronted fitness centre, tennis court and a yoga platform. Desroches is a watersports enthusiast's dream, meanwhile, with snorkelling, diving, windsurfing, kayaking, fishing and sailing all on offer. The sybarites have fun, too, surrounded by luxury, flatscreen TV, DVD player, air-conditioning, indoor and outdoor showers, spacious and private sundecks (some of the rooms have their own private pools), delicious food and, of course, a spa to dream of.
WHO
Desroches is perfect for solo travellers, couples, honeymooners, multi-generational families in the larger four- and five-bedroom villas and groups of friends for special celebrations.
WHEN
Visit at any time of the year, although March, April and October are the hottest months, but there is always shade and a cooling breeze helps. Desroches is outside the cyclone belt and is malaria-free, affording it one of the healthiest climates in the southern hemisphere.
HAVE
With a spa called Escape, true relaxation is not far away. Four naturally inspired treatment rooms blend seamlessly with their location on the southern part of the island in a secluded area, surrounded by trees and shade and just a few footsteps from the beach.
Each treatment room has its own shower and is large enough for couples to enjoy treatments together, afterwards relaxing in the Chill Out Space. Adhering to its ecological principles, natural oils are used throughout, with only three high-quality organic brands chosen — Elemental Herbology, Dr Hauschka and Sundari — the last highlighting its Ayurvedic origins.
The menu offers a wide choice of wraps and rituals, facials and massages; the latter includes a selection of Swedish, shiatsu and yurveda — how could anyone forgo one called Muscle Melt? This does exactly what it says, with an oil infused with lemongrass, rosemary and nutmeg. Or enjoy Escape's signature Elemental Embrace, administered by your Spa Angel consultant. First your guiding element is prescribed (Ayurveda believes we all comprise five elements — earth, fire, metal, air and water, one of which is dominant) and accordingly an infusion and a massage are recommended. What follow are 90 minutes of either soothing, balancing, rejuvenating, detoxifying or energy-enhancing therapy.
BEST
While a gentle boat excursion to another outer island is a wonderful way to spend a day, it's also worth returning to Escape and booking in for the Islander Ritual. This consists of 90 minutes of pure pampering beginning with an exfoliation using papaya, strawberry, macadamia, sugar and salt; then a wrap of cucumber and aloe, a tuina scalp massage; and finally an infusion of frangipani, tuberose and jasmine — a glorious melange of flavours and scents.