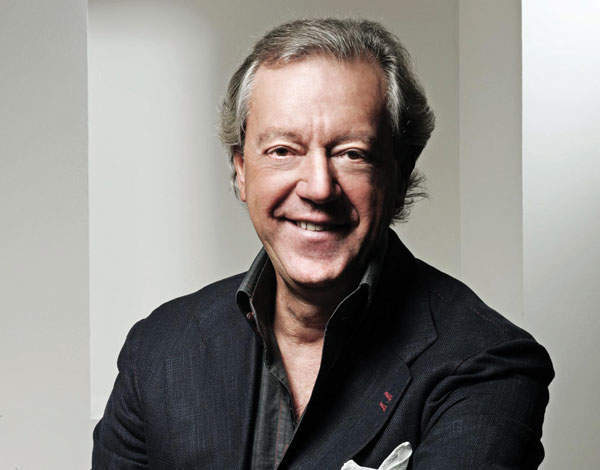 Fashion springs from diverse influences, and let no one say Angelo Galasso's upbringing in the south of Italy was not diverse. In the small Puglian town where he grew up, the son of the police chief, he would see 'the son of the doctor but also the son of the assassin or the son of the fisherman'. And if that doesn't capture the range of occupations in the arid unmechanised heel of Italy, little can.
To keep his boy out of the clutches of the assassin's son, Galasso's father directed him to spend time with local artisans — the shirtmaker, the shoemaker, the tailor — less for education than for safety. But Galasso absorbed their tricks and techniques and started making clothes for himself, combining his skills with an aesthetic honed by many hours of sitting in the village square after lunch judging what people were wearing. He soon established an innovation which would have been forbidden had he studied in the north of Italy, amid its established fashion and manufacturing communities.
'Like your problem' — he points at his interviewer — 'I've got a big neck. I was very uncomfortable to have a jacket here' — somewhere by his collarbone — 'and my neck outside.' That's when he realised the answer wasn't to have his spinal column shortened but his collar span heightened.
His revised collar (the front band, technically, rather than the flappy bit you wind your tie under) came in at a revolutionary 7cm, requiring two buttons to keep it closed. This outré extension can now be seen on men everywhere. With the same enthusiasm which
convinced him that such undreamt-of collars could be made, Galasso ordered 6,000 of his shirts to sell in Rome. None went. They did, though, after he lowered the price, and once they had all gone his clients wanted only two-button collars. 'This kind
of shirt lets people feel more comfortable because they look more elegant,' he says, suggesting that swan-like necks might be fine for, well, swans, but not for men.
The fashion mafia resisted him (which is better than the real mafia resisting him back in Puglia). The north of Italy is the home of chilly, restrained chic, and there is nothing restrained about Galasso; he says folk from warmer climates like California, Texas and Mexico identify with his sunnier, unbound outlook. 'Of course, in London or in Milan we do not have good weather so everyone is concentrating on work, they don't care about how they look, you understand?' You can put him in the same line as Gianni Versace (from Reggio Calabria on Italy's toe) and Domenico Dolce of Dolce & Gabbana (from Polizzi Generosa in Sicily).
Resistance is 'normal because when you do something different, when you do something strange, you will every time have some'. They said it was 'crazy', 'monstrous'. But when his was the first shirt put in the Design Museum in London in 2003, he had the last laugh.
His style has evolved in the same lavish and unconventional direction ever since. The jacket he is wearing as we sit in his Knightsbridge office (everything is navy blue or leather or navy-blue leather) is made from a sweater-wool, with trademark large protuberant buttons.
If you visit his shop on Hans Place, right next to Harrods, there are shelves of shirts with bright red stitching detail or puma-patterns or cuffs cut away for watch dials or a deep purple hue last seen on imperial togas. A red jacket has a Nehru collar (which seems ironic for a man whose career rests on a huge collar) and a gleaming honeycomb pattern, and there are coats of every type of animal skin. You will not fail to stand out in Galasso's garb.
Galasso is ecumenical, or rather unitarian, about his clients: 'There is no different customer, there is just one human person. It doesn't matter if he's Chinese, Japanese, Jewish, a mafioso from the south, it doesn't matter. Everyone wants to look different and this is the key.'
Even if you do not know his own brand, you will have seen Galasso's work under the Billionaire label which he founded in 2005 with controversial fashion and racing tycoon Flavio Briatore. From the off, there were problems. Galasso says they had agreed to call it Briga, an amalgam of 'Briatore' and 'Galasso', but 'as usual Flavio changed in the last moment'. 'I was not happy because "billionaire" was very arrogant and a French word.'
Things got worse from there, and in 2010 Galasso sued Briatore over an alleged breach of contract concerning his 49 per centshareholding. They settled and now Galasso is a silent, if not euphoric, partner.
But Galasso took some benefit from the collapse of his relationship with Briatore: he struck out on his own in the inauspicious year of 2009. Why, in the depth of the financial crisis, did he start his own label? 'Because I fought with Flavio. All big projects, every time, they come when you are forced to do something, when you are in the corner. Otherwise if you need to take a decision, you will never take it.'
Galasso took the decision, took the risk, and the results you can sport for yourself.