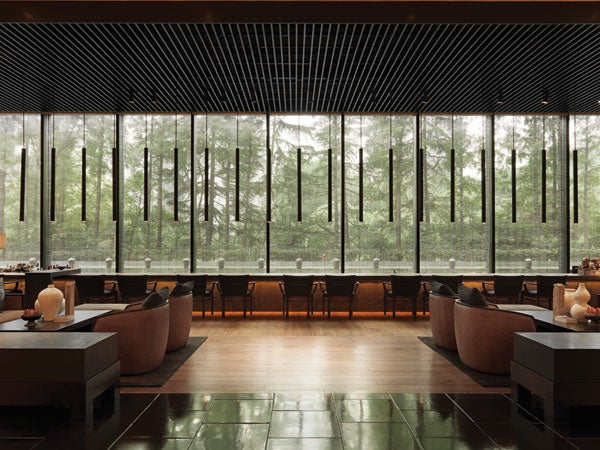 Above: Shang Xia's modern Chinese luxury
Name a Chinese luxury consumer brand. Give up yet? It's certainly hard. Chinese luxury has so far meant ripping off Western brands and hoping no one will notice. You can buy a knock-off Rolls-Royce Phantom or Range Rover just as easily as you can buy a fake Rolex or iPhone on the streets of Shanghai.
But what's this in the perfectly restored 1912 red-brick maison on Huai Hai Road in downtown Shanghai that somehow survived the communists' wrecking ball? The name on the door says Shang Xia ('shang-sha') and means Beyond & Below. It's a name we are all going to get used to saying — and, I suspect, wearing.
Walking into the store is like walking into a cloud. The walls and ceiling are covered with interlocking curved tiles of white mesh fabric. Offsetting the lightness is the dark, Ming-style furniture, which is as good as, if not better than, any you will see for sale in a Milanese showroom. The zitan wood is immaculately wrought — every joint, every corner seamless. The leather is as soft and fine-grained as Poltrona Frau. In homewares, there are eggshell porcelain vases and tea sets, each decorated with ultra-finely hand-woven light tan bamboo mesh. The women's leather 'Lan Yue' bags, based on traditional Chinese designs, are small yet tall — perfect for women who like to carry their bags over their forearms, not their shoulders.
In menswear and womenswear, ancient Chinese techniques are used to create modern coats and jackets. The hand-brushed Mongolian-cashmere felt and lacquered silk are fabrics as innovative as those you will find in Prada. Perhaps best of all is the jewellery, which is sculptural and modern — think a Chinese Bulgari — and avoids the clichés of red.
Shang Xia is the vision of Jiang Qiong'er, who studied at the École des Beaux-Arts in Paris and set up a company that won the contract to design window displays for Hermès in Shanghai. Her work so impressed her bosses that they asked her to come up with ideas for China's first upscale lifestyle brand with pieces made in China by Chinese craftsmen. Today, Shang Xia, which is backed by Hermès to the tune of millions of euros a year, has four stores around the world, including one in Paris.
Shang Xia's furniture
Shang Xia does not publish sales by value but Qiong'er says volumes are rising sharply — up 77 per cent in the six months to June over the same period last year. 'That's good,' she smiles.
She insists the time is right for China to stake out its own luxury territory. 'China is changing. More and more people are looking to connect with the ideas of beauty, elegance, quality — the art of living — that the Cultural Revolution did not destroy. We are connecting consumers with China's craft heritage, but also using modern design to project the art of living into the future.'
Analysts confirm that rich Chinese are moving on from logo-heavy Western brands and seeking out products designed and made in China. Yann Debelle de Montby, whose Shanghai-based firm has helped dozens of luxury brands to launch in China, including Dunhill, says: 'Chinese consumers are looking east.'
Qiong'er's no-logo or logo-light pieces are perfectly suited to the times. President Xi Jinping's recent crackdown on corruption and expensive 'gifting' has hit flashy brands hard. The shiny watch stores just up the street from Shang Xia are so quiet you can hear the ticking of the quietest timepiece. 'It's all about discretion now,' says de Montby.
Qiong'er is not alone in putting her own reputation on the line. Her French husband, Guillaume Brochard, is too. He is one of the founders of Qeelin (pronounced 'keelin'), an upscale jewellery brand that was bought recently by rival French luxury goods conglomerate Kering, which owns Gucci and Saint Laurent. Qeelin specialises in jaunty pieces — there are diamond-encrusted panda bears, playful kissing fish, dragons, robots and abstract symbols of the lucky number eight in the brand's store in Shanghai's Hong Kong Plaza mall. Other names to watch are Uma Wang, who has her own eponymous label, and Zuczug by designer Wang Yiyang.
China's fortune rookies are not just fashioning clothes, accessories and jewellery. Markus Engel may be from Munich but he has lived in Shanghai for nearly a decade and, with his three partners in the firm Urban Resort Concepts, is creating China's first global luxury hotel brand. His first hotel, called the PuLi (the name means uncut, original jade), is an urban resort with shades of Aman but not, thankfully, Aman prices. It's a formula that is proving as popular with modern Chinese consumers as with Westerners. The PuLi boasts some of the best occupancy and average rates in Shanghai, a hyper-competitive hotel market.
The PuLi Shanghai
Engel, who cut his teeth at the Dorchester in London, then the Peninsula and Oberoi hotels, before moving to China to strike out on his own, will soon open new branded hotels in Beijing, Kuala Lumpur, Chengdu and Xiamen. 'We've come a long way from the days when Mandarin added the word "Oriental" to its brand because it feared "Mandarin" alone was too Chinese and would put off customers,' he says.
Sitting on the terrace of the Kee Club in Shanghai, Christian Rhomberg, chairman of the upscale Hong Kong-based private club's operator, is also plotting expansion for his brand. A new club, his second in Shanghai, is about to open in the Pudong financial district. As more Chinese people travel overseas, he wants to open clubs in London, Paris, New York and Milan and extend his offering to a concierge service for the Chinese and their children.
'We can do everything from arranging a dinner to helping families to get their children into Western schools or universities,' he says.
The new overseas clubs are part of a joint venture with Citic group, the state-owned Chinese investment firm, whose analysts point out that Chinese travellers are now the biggest spenders when it comes to international tourism.
None of the emerging Chinese brands is perfect. Some of the pieces at Shang Xia, for instance the men's pointed slipper shoes, lapse into a cartoon version of China, all too typical of brands such as Shanghai Tang. Service at the new hotel and club brands is good but can still fall woefully short of what upscale travellers expect.
But Qiong'er is convinced it is only a matter of time before she and her new comrades in couture break through. 'We conquered the world with our economic development in the past 30 years,' she says. 'Our next conquest will be cultural.'
Shang-Xia | The Puli | Qeelin | Kee Club