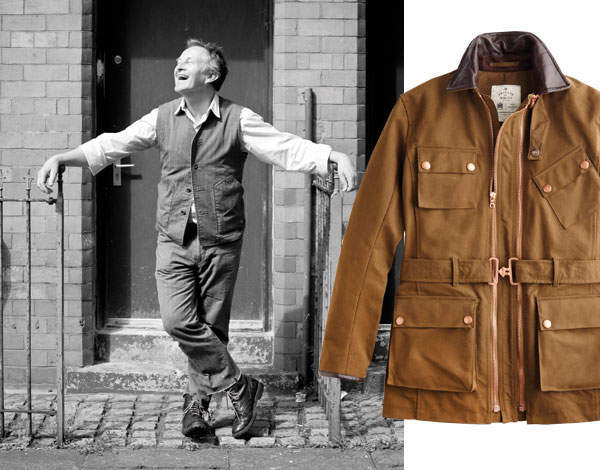 There was a time when it seemed that Britain as a manufacturing country was dead. Received opinion was that we'd have to live on our wits, our music, our technology and our financial services. A long list of the industries that had more or less died — shipbuilding, coal-mining, car manufacturing, steel — made for a gloomy roll-call. But there is a sense that British manufacturing is beginning to pick up again. There's a sense that Britishness is once again in fashion.
The days when Britain was a byword for the only style that mattered have long gone, but a few of the long-established, undervalued businesses are being revived — Breanish Tweed up in the Hebrides, the potteries in Stoke-on-Trent, the Gainsborough Silk Weaving Company in Suffolk, Belstaff and Barbour, not to mention the starry Burberry.
While China was once seen as the catalyst of our manufacturers' doom, there is a general sense now that it isn't necessarily the player it could be. Wages there have risen mightily; reliability, never its strong point, hasn't improved; negotiating Sino political and commercial mores is fraught. Thus some of those who migrated their manufacturing to the Far East are beginning to bring it back again. Take Portmeirion, one of the star players in the revival of the potteries, which in 2009 bought Spode and Royal Worcester out of receivership. Not so long ago Spode's world-famous Blue Italian range was coming off production lines in the Far East; today it is back in Stoke-on-Trent, where it rightly belongs.
Today, too, many smaller companies which, just like the potteries, have long and romantic histories, are being rescued by those who believe passionately not just in preserving jobs and history but also that there is a future for products that have a serious provenance, that are made with love and care, that have real quality. Deborah Meaden of Dragon's Den fame, for instance, feels that all over Britain there are hidden jewels that just need polishing up, loving and some investment to shine again. She's busy doing it with Fox Brothers, a producer of quality cloth in Somerset, and has started sister brand the Merchant Fox to sell the products online.
Then there's Nick Ashley. Son of the redoubtable and much-revered late Laura Ashley, founder of a company whose charm relied greatly on a very particular rustic-Arcadian English nostalgia, he has a feel for Britishness running through his DNA. A few years ago, Ashley heard that a company in Manchester which had made garments for his own eponymous label as well as for companies such as Aquascutum, Chanel, Holland & Holland and Marks and Spencer, was thinking of throwing in the towel. Mike Stoll, who'd worked there since he was fourteen and had ended up owning it, had had enough of making things for other companies, of people who didn't pay on time, who, in his words, 'mucked me about'.
Ashley knew the company well. They made what he calls 'work wear' — sturdy, beautifully made clothes, raincoats, jackets (the Waverley is to this day worn by the Metropolitan Police), trousers — from high-quality cloths which stand the test of time.
Ashley decided the company was worth saving. James Eden, great-grandson of the founder, wanted to take it on and Ashley felt that together they could do something great. With his design input and the factory's manufacturing capacity, they could build up a significant business which they would call Private White, after Jack White, 'a true English gentleman' as Ashley describes him, who bought the factory after the First World War.
Eden has also bought a woollen mill in Yorkshire and a cotton mill in Lancashire, and though they don't actually own sheep there is a flock assigned to them from which they get the woollen cloth. 'From sheep to shop' is one of their mottos. All the cloth comes from within ten miles of Manchester and their products are entirely locally made.
They are particularly proud of their fabrics. They use a lot of Ventile cotton, a military cloth which was commissioned by the Ministry of Defence for Spitfire pilots in the war. Made from long staple cotton from America (though woven in the Lancashire mill), it is a high-twist yarn which meant it had a breathable quality for when the pilots were in the cockpit, and yet if they ditched into the sea the fibres swelled and locked, creating a natural near-waterproof block. Today they still make what they call their 'Ventile jackets' in sober colours (Ashley only believes in using what he calls 'dark organic' colours). Unlined they are £575; reversible (two shades of beige or two shades of grey) they are £875.
The most popular product is the Twin-Track motorcycle jacket, a 1930s design which Ashley has revived. Made from a waterproof cotton canvas, it has a unique 6cm front panel which can be removed, allowing it be leaner and therefore more fitted in the summer, and then reintroduced in the winter to let it fit over sweaters. They come in the aforesaid sober colours (blue chambray, rust and olive, sand, navy and camouflage, £425-£595).
Then there's the Shacket, a smarter version of an anorak, if you like, also made from Ventile cotton, which is based on a combat field jacket created for the US military (£595).
These are clothes designed to last almost for ever. They are, you will have gathered, a million miles from the sort of things slick Italian and French designers are up to. They fit somewhere between smart tailored suits suitable for the office and formal social occasions and the nonchalant jeans-and-sweater look. They're perfect for those who work in the new relaxed industries — in the techie world, in new media, in their own businesses. If you want to hang on to your bonus at Goldman Sachs, contrarily, they're probably not for you.
Ashley is keen to stress that these items are not consumer products: 'What we make are customers' products.' The clothes have a curiously sophisticated cult following and, somewhat bizarrely, are particularly admired in Germany, where, it seems, they understand quality.
This summer Ashley and Lord March of Goodwood teamed up to come up with the Goodwood Worksuit. Private White and Goodwood seem like a good fit for, as Ashley puts it, 'Goodwood is a revivalist's dream.' It, too, parlays a certain English nostalgic vision of the days when one could zoom around the Sussex hills in one's Morgan or Healey Westland. Made from the finest 100 per cent cotton, woven in Lancashire, the clothes are all individually washed and dyed for texture, character and authenticity. The look is understated, the jackets are deconstructed, easy and comfortable to wear, soft across the shoulder, and all the workwear goes through the washing machine.
Private White, it seems, is beginning to take off. By popular demand several of the designs (the Goodwood Worksuits, the Twin-Track and the other cult product, the SB4 single-breasted four-button raincoat) come in women's sizes. There's already a shop in London's Lamb's Conduit Street and another has just opened at 73 Duke Street in Mayfair, but it is also sold online through its own website and a few products are sold through Mr Porter — modern ways of selling classic English ideals.
privatewhitevc.com
STYLE NOTES
Lots of chaps get excited by fountain pens, and now there's a new one to lust after. Marc Newson, the legendary Australian designer, has teamed up with Hermès to come up with the Nautilus. It's sleek as a bullet and made from solid aluminium and stainless steel in graphite grey or burgundy. Just in time for Christmas, the fountain pen is £1,090, the roller pen £900.
hermes.co.uk
Emma Willis's shirts are well-known among a certain côterie of rather chic, mostly City, men. Her range of fine Swiss cottons is particularly sought-after. But perfect for off-duty wear is her latest collection of two-ply cashmere polo shirts, all made up in the Scottish borders. They're £390 each and Willis recommends you team them with Cashmerello shirts (£280).
emmawillis.com
Also perfect for chilly days are the hand-made boots to be found at Toast, one of this columnist's favourite labels. It specialises in a particular sort of Englishness and these boots exemplify the aesthetic. They're sturdy, no-nonsense, yet fine-looking. They're made in Northamptonshire from high-shine calf leather by Joseph Cheaney and Sons, who will (for a small price) repair them when the heels wear down. £325.
toa.st
Lucia van der Post was the founding editor of How to Spend It