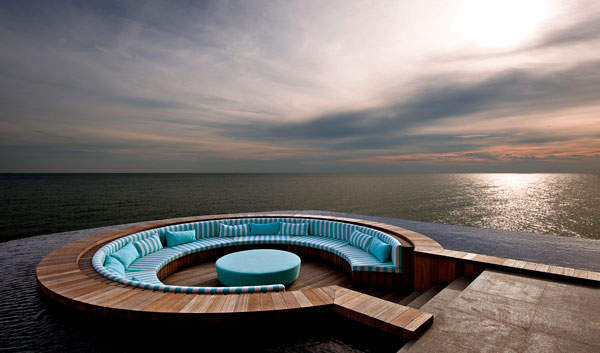 Author: Peter Matthews

From intensive day spas in the heart of the city to wellness resorts on the outskirts of the urban jungle, the range of spa properties within Malaysia's capital is impressively diverse.
Some emphasise Eastern rituals such as Malay massage, while many others prefer an East-meets-West approach, combining traditional philosophies with the best in cutting edge treatments and techniques from across the pond.
Properties such as The Chateau Spa and Organic Wellness Resort have gained international acclaim for their holistic approach to wellbeing, offering programmes focused on weight loss, stress levels and fitness. The Chateau, nestled within the Berjaya Hills, also offers standard spa and beauty treatments.
The sumptuous Spa Village at the Ritz-Carlton on the other hand, offers a more classic and indulgent approach, as does Angsana Spa at the Crowne Plaza Hotel . Day spas such as Elysyle Spa in the Klang Valley meanwhile offer an opportunity to quickly recharge your batteries before an intensive set of meetings or some serious shopping within the capital.
Whatever your after though – from a quick fix to a long spa stay – Kuala Lumpur can most certainly provide it, and in some of the most elegant and luxurious settings imaginable.
Read on to discover 8 of the Best Spas in Kuala Lumpur.

Spa Village Kuala Lumpur at the Ritz-Carlton~


Mixing traditional with modern, Spa Village at the Ritz-Carlton is an oasis of tropical tranquillity in the city's upscale Golden Triangle district.
Widely considered one of the city's most elegant and luxurious spas, it offers a wide range of services from massage therapies and body treatments to facials and salon procedures.
Guests can also enjoy a vast array of couples' experiences and its one-of-a-kind sensory exploration treatment – involving each one of the senses – is a totally unique offering.
Angsana Spa
Spread across the entire fifth floor of the Crowne Plaza Hotel, Angsana Spa is widely considered one of the top spa destinations throughout this vibrant and bustling city.
Just one of the successful chain's global locations, it offers all Angsana's award-winning treatment menu at the centre of the city's banking and commercial district – including its signature bamboo massage.
Visitors have the opportunity to experience holistic massages, beauty treatments and tropical scrubs based on the ancient principles of aromatherapy as part of Angsana's effective East-meets-West approach.
The Spa at Mandarin Oriental
An intimate and exclusive spa at the heart of the city, The Spa at Mandarin Oriental is one of Kuala Lumpur's highly lauded relaxation retreats.
The luxury hotel's signature spa offers services including aromatherapy massage, age rejuvenation facials and revitalising body scrubs. It has just eight exclusive treatment rooms – including two couples' rooms – and also features a spa lounge for post- treatment wind down.
Arrive early to make use of the steam, sauna and vitality pool before embarking on a complete renewal experience for your mind, body and soul.

The Chateau Spa and Organic Wellness Resort

Perched among verdant tropical rainforest, 'The Chateau' is located just 45 minutes from Kuala Lumpur International Airport among the spectacular Berjaya Hills.
Offering a comprehensive wellness experience which incorporates personal training, mountain walking, exercise classes and sporting activities, its resident La Santé spa is one of the most impressive throughout the region.
Combining Western technology with traditional Asian techniques, this resort spa offers an array of programmes to address weight loss, stress levels, fitness as well as outward appearance.
La Santé spa's impressive facilities include a salt grotto and mud chamber, an Aquaveda heated bed, as well as a deluxe couple suite with hydro bath and a whirlpool treatment room.

St. Gregory Spa at PARKROYAL Kuala Lumpur
Winner of 'Best Luxury Hotel Spa' at the World Luxury Spa Awards 2013 for the third year running, the long list of accolades attached to St. Gregory Spa at PARKROYAL speaks for itself.
Located in the midst of the city's thriving shopping and entertainment hub, guests can unwind at this unique urban location before heading off on their jam-packed schedules of meetings or sightseeing.
The ultra peaceful getaway houses five treatment rooms as well as a foot massage suite, each with attached shower facilities. Meanwhile, the hotel also has an open air pool for guests' use.
Options include a warm soak in a traditional teakwood 'Mu Tong' (Chinese for wooden tub). Guests can choose both the 'Ginger and Herbal Bath' to improve blood circulation and tired and aching muscles or the 'Milk Bath' to decrease stress leaves, leaving you with ridiculously baby soft skin.

aVi Spa
Located only an hour outside Kuala Lumpur, the aVi Spa is based at award-winning Avillion Port Dickson beach resort.
One of the resort's biggest draws, aVi Spa is a visually stunning two- storey pavilion built directly above water. It has seven luxury spa suites, including two for couples and a premium suite.
Guests can enjoy floating verandas and baths as part of this luxurious holistic spa experience, which includes traditional malay massage, body scrubs, hair treatments and purifying baths

RimBa SPA at The Royale Bintang Kuala Lumpur
Creating a 'sensory journey to inner wellbeing', the RimBa SPA in Kuala Lumpur is one of the city's best.
With a stunning outdoor pavilion and VIP treatment rooms, this fully comprehensive spa – located on the third floor of Royale Bintang Hotel – offers unparalleled facilities.
Each individual treatment room features a steam bath, private jacuzzi and shower area and the spa has a lush tropical design, adding further to its abundant cosmopolitan appeal.
Set over 10,000 majestic square feet of space, Elysyle Spa combines Western and Eastern principles to provide one of the finest day spa experiences within the Klang Valley.
Offering a wide range of treatments from facials and hydrating wraps to floral baths, Elysyle Spa is stunningly designed and also features a state-of-the-art balneo capsule for water therapy.
This futuristic 5-in-1 capsule combines hydro massage with chromo therapy, vichy shower, vibro massage and infrared steam in an experience guaranteed to rejuvenate, relax and ready you to take on the vibrant and energetic city that is Kuala Lumpur.