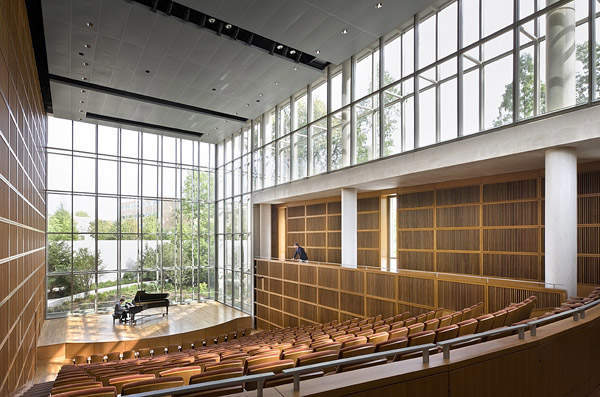 Author: Peter Matthews
There is no easy route to becoming a professional musician, but – as with everything in life – the opportunity to reach one's full potential is paramount. Which is why, year upon year, the world's most respected music conservatories each turn out hundreds of success stories.
Whether you are a classical or contemporary musician, attending a prestigious music academy can give you much needed credentials and the once-in-a-lifetime chance to learn from highly respected music professors and tutors.
But it's not just about the inspirational faculty members; schools such as London's Royal College of Music give students ample opportunity throughout their studies to perform regularly at its famous recital halls. Not to mention access to world class facilities, cutting edge equipment and the chance to gain advantage through a school's powerful reputation and network of connections.
For while talent will always come first, being able to get a foot in the door in what is a highly competitive and ever-changing industry almost certainly comes a close second.
Maintaining respect for music's history and traditions while simultaneously moving with with the times is also key to success. Schools such as Boston's forward-thinking Berklee College of Music have led the way in this respect; it was one of the first ever educational establishments to incorporate music therapy and video game scoring into its curriculum, with a keen focus on the employability of its students.
Indeed nowadays, a shrewd head for business is just as important as talent when it comes to managing a successful musical career, something which the world's best music schools are keen to emphasise to their gifted students.
Read on to discover some of the best English-speaking music schools in the world…
The Juilliard School, New York City, USA
One of the most famous music schools in the world, NY city's Juilliard also features highly respected drama and dance departments.
However the school started out life as the Institute of Musical Art back in 1905 and music continues to be its largest and best-known division.
Music undergrads and postgrads study everything from collaborative piano to historical performance and jazz studies, with this school producing an impressive 105 Grammy Award winners over the years.
Competition for a place at this world renowned conservatory is understandably fierce, with just a 6.7% admissions rate out of 2,854 undergrad applications in 2013.
Previous alumni include: Pianist Jeffrey Swann, cellist Yo-Yo Ma and singer songwriter Barry Manilow.
The Curtis Institute of Music, Philadelphia, USA
One of the world's most respected music schools, the Curtis Institute is, in addition, also one of the most selective.
It accepts just 165 students per year, with admissions limited to the number of classical musicians needed to fill just one symphony orchestra and opera company. It also offers limited programmes in disciplines including composition, conducting, organ, piano and guitar.
The school is also distinguished from most other music conservatoires in that it is non fee paying – with students selected on their level of musical ability alone.
Previous alumni include: composers Leonard Bernstein and Samuel Barber, Grammy-winning violinist Hilary Hahn and opera tenor Juan Diego Flórez
Berklee College of Music, Boston, USA
Marking itself out from the competition, Boston's legendary Berklee College trains students in contemporary music rather thanclassical traditions.
The revolutionary music school opened its doors in 1945, when Bostonian engineer and orchestral arranger Lawrence Berk decided he wanted to offer practical career preparation to the musicians of tomorrow.
Berklee offers highly popular and cutting edge degree majors in music therapy, music business and management as well as in film scoring, songwriting and electronic production. Previous alumni have managed to amass a whopping 250 Grammys and Latin Grammys in total.
Royal Academy of Music, London, UK
Founded in 1822, the Academy is the UK's oldest degree-granting music school and widely recognised as one of the most prestigious conservatoires in the world.
The almost 700 students at this school are mainly classically trained in over twenty different disciplines – from woodwind to strings and brass to percussion – with it also held in high esteem for its world famous vocal and opera programmes.
Previous alumni include: Lesley Garrett, Katherine Jenkins, Evelyn Glennie, Sir Elton John and Annie Lennox.
The BRIT School, London, UK
The BRIT School is an exception to the others on our list in that it is not a third level institution. Rather, it caters for exceptionally talented fourteen to nineteen year olds determined to make a career for themselves in the performing and creative arts.
However this Croydon-based secondary is not your typical 'stage school'; firstly, it's non fee paying. And secondly, students must follow their full-time vocational or academic courses to completion, whatever their outside-of-school commitments.
Funded with support from the British Record Industry Trust (where the BRIT in the title derives from), this school has industry connections like no other and – in recent years – has produced some of the most successful recording artists in the world.
Previous alumni include: Adele, Leona Lewis, Imogen Heap, The Kooks, Amy Winehouse and Jessie J
Royal College of Music, London, UK
With its main building located directly opposite the Royal Albert Hall, students at London's RCM are as inspired by the history that surrounds them as they are by their distinguished professors.
The school trains over 750 students from over 60 different countries in all aspects of Western classical music from undergraduate level right through to PhD.
Facilities and opportunities here are second to none, with two large concert halls seating over 400 audience members each, as well as a 150-seat recital hall and a number of smaller recital rooms.
Previous alumni include: Composers Gustav Holst and Samuel Coleridge-Taylor, conductor Leopold Stokowski and world famous tenor Alfie Boe.
Conservatorium van Amsterdam, Holland
Offering one of the most diverse music programmes in Europe, Conservatorium van Amsterdam has courses in everything from classical and early music to opera, jazz and pop.
Preparatory courses are also available for secondary school pupils, as well as a part-time course in music education, with a strong emphasis on the practical and business aspects of the profession.
Previous alumni include: Andrés Martínez Pardo, Frank Peter Zimmermann and Thoms Dunn
Cleveland Institute of Music, Cleveland, Ohio, USA
Describing itself as a small independent conservatory with a world class faculty, the Cleveland Institute has become famed for producing highly skilled composers, chamber musicians, vocal soloists and instrumentalists.
Over half of the members – including all principal musicians – of the Cleveland Orchestra are connected to the school, meaning that post graduation prospects at this music school are second to none.
The student makeup at this conservatoire is culturally rich, with about a quarter of the school's attendees hailing from outside of the US.
Previous alumni include: Composer Donald Erb, Alan Baer, Principal Tuba of the New York Philharmonic and Elaine Douvas, Principal Oboe of the Metropolitan Opera Orchestra