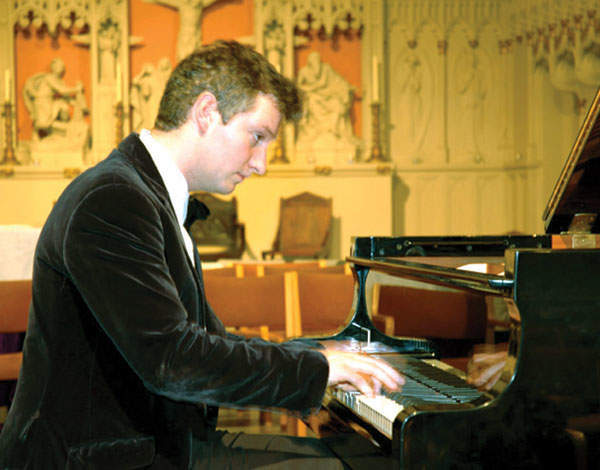 Classical music used to have an intimate relationship with wealth: patrons would commission symphonies, operas and every sort of occasional piece for every sort of occasion. Think of Wagner being funded by Ludwig II of Bavaria or Mozart by Emperor Joseph II. The church too, of course, supported music for centuries.
The war-torn, secular, commerce-driven 20th century saw a drastic decline in the patronage of new classical music. The state sometimes stepped into the long-vacated satin shoes of the princelings of the Holy Roman Empire and, in its cheeseparing way, pushed classical music along a bit, although generally of the more avant-garde type.
In 21st-century England, however, with its oligarchs, Bollygarchs and UHNWs looking for validation (and redemption?) of their wealth through philanthropy, the moment is ripe for new cultural patrons commissioning classical music. And Peter Roper-Curzon — the 'Requiem Man' — might be one of the first beneficiaries.
Roper-Curzon grew up in the shadow of Salisbury Cathedral, where he was a chorister, before his father, Lord Teynham, inherited Pylewell Park, a large Palladian house with a beautiful garden sweeping down to the Solent. He went to Charterhouse on a musical scholarship and was a piano finalist in the 1996 BBC Young Musician of the Year competition, going on to study music at Oxford and become an organ scholar at Lady Margaret Hall. After graduation, he became director of music of St John's Notting Hill and subsequently organist of St Peter's Bournemouth.
Roper-Curzon had also been trying to make composition part of his career when he had a conversation with his friend, music lover and investment banker Peter Seilern-Aspang, who asked him how it was coming along. Seilern-Aspang was astonished to hear that no one was commissioning music from him, that he was mostly just teaching and playing, and asked him to compose a mass for his 60th birthday. '60th? You're getting on a bit — why not make it a requiem?' riposted Roper-Curzon. Seilern-Aspang insisted on a mass, but then two weeks later he changed his mind and rang the composer.
'The trouble was I was already halfway through the mass — I was so excited to actually be commissioned I threw myself into it,' says Roper-Curzon. 'So it was rather a pain to be told I had to change; of course, Peter had no idea I was already half-done. In the end, I was rather pleased to have to restart, as I wasn't very happy with what I had written so far.'
Doubly enthused, Roper-Curzon started again and found that he was inspired. 'It was astonishing how quick it seemed to go, and it was much better than the first piece I was composing. I wrote the 30-minute requiem in two weeks and delivered the manuscript to Peter in Monaco. Actually, he was a bit pissed off. He had paid me a reasonable sum of money and thought I'd just knocked something off for him without taking any care.'
According to Seilern-Aspang, 'I asked Peter Roper-Curzon to compose the Seilern Requiem so that family members have something recurring and in common when they gather at family funerals. In so doing I was able to allow this great composer to be remembered at the solemn occasions that requiem masses represent and to link our names through music.'
'The texts of requiems are great to write music to,' says Roper-Curzon. 'You have all of that Day of Wrath and Fury stuff alongside the Rest in Peace quietness, so it gives great dramatic range.' (Requiems don't necessarily need to be for the religious: Brahms' German Requiem was non-liturgical, though it used sacred text.) Roper-Curzon's musical style is rooted in this choral tradition and descends from Bach down through Fauré and the French Impressionists (such as Debussy and Ravel). He eschews Schoenberg and the Second Viennese School, though he makes some use of dissonance and atonality in his compositions. 'I prefer a strong tune,' he says, 'so long as it isn't predictable — I like to surprise the audience.'
He performed and recorded the requiem in Holy Trinity Church on Sloane Street. Despite his having ignored Seilern-Aspang's wish that it should be composed in the style of Schubert, Seilern-Aspang was entranced and told him: 'You haven't just delivered a rose to me and my family, but a whole field of roses.'
Seilern-Aspang's cousin Christina and her husband Dimitri Goulandris heard the recording and immediately decided they wanted one too. (Roper-Curzon was already teaching Dimitri piano.) To complicate matters, though, Goulandris wanted the requiem to be a blend between two choral and religious traditions — he is Greek Orthodox, his wife is Catholic. Essentially the requiem would have to be half in Greek and half in Latin.
Like any second book or second album, this requiem did not go half as smoothly. First, he had to find a mass that had half Greek text and half Latin; Google helped here. But inspiration did not flow for him this time: even once he had found the text, his composition stalled. In fact, Roper-Curzon suffered from terrible writer's block and it took him over a year to compose it.
It was not without its problems in performance either: his choir, well versed in church Latin, were strangers to Greek and its alphabet, so Peter had to write out all the words phonetically. Ironically, this worked so well that the audience commended his singers for their knowledge of liturgical Greek.
The Goulandris Requiem was performed in St Paul's, Knightsbridge. Dimitri Goulandris says: 'It was breathtaking. I had lost a mother, brother and father in the space of five years. Both Christina and I were overwhelmed by the beauty of the piece, and the memories of the family who had passed. We felt that they would have been very proud of it, as did the 70-odd friends and family (including the Crown Prince of Greece) we had invited to hear it.'
As his work is heard, so do commissions arise from the audience. 'Apparently after the Goulandris recital,' Roper-Curzon says, 'a group of people got together to commission more from me. I didn't realise this until I bumped into one of them in the supermarket. He said they couldn't decide what to order, so I said it doesn't have to be a requiem or even a mass — it could be something for a birthday, or even a lullaby for a baby.' Showing a canny grasp of his potential patrons' priorities, Roper-Curzon says he'd 'be perfectly happy to write a requiem for a capsized yacht if someone commissioned me. It's not as though I am continually waiting by the phone for someone to pop their clogs and get the nod.'
While classical music lacks the 'wall power' of paintings or the public presence of your name on a gallery or hospital wing, it has qualities for the patron far longer-lasting than either of those. It is an ethereal yet enduring moment when those notes of yours, only yours, are sounded, and when they fade into memory. Requiem aeternam indeed.