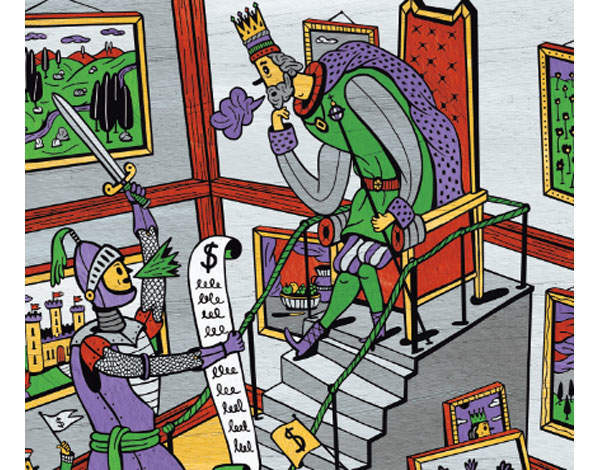 BIDDING WAR
Sotheby's finds itself locked in a battle with Dan Loeb, one of New York's most aggressive fund managers. Loeb, 51, who refers to himself as an 'activist investor' (the current term for corporate raider), has built up a 9.3 per cent stake in the 269-year-old auctioneer using his Third Point LLC.
Sotheby's first realised it might have a problem when Nelson Peltz, another activist investor, took a 3 per cent stake at the beginning of 2013 through his Trian Fund Management. This was followed in the summer by Mick McGuire of Marcato Capital Management building a 7 per cent stake.
McGuire, a 37-year-old Harvard MBA graduate and former partner at William Ackman's Pershing Square Capital, does not claim to be an art lover but clearly has expertise with balance sheets, and this marks his fifth activist campaign in three years of running his firm.
Read more on art and collecting from Spear's
The combined holdings of these three add up to 19 per cent of Sotheby's share capital, and they probably have the tacit support of some of the more conservative long-term shareholders who do not like to be openly aggressive but are just as keen on increasing Sotheby's share price. To increase the pressure on Sotheby's, after Loeb grew his stake to 9 per cent he fired off one of his famous open letters to the company in October.
Loeb's letters often reveal an 'us and them' mentality and he clearly sees himself as a feisty underdog who wants to shake up staid, self-satisfied boards. In the past, Loeb has written similar letters to Penn Virginia Corporation, Star Gas Partners, Yahoo, Ligand Pharmaceuticals and Sony — a tactic that has met with considerable success.
Missive mischief
In his letter to Sotheby's, he personally attacks chairman and CEO William Ruprecht, saying Sotheby's has 'languished' under his watch and is 'an old master painting in desperate need of restoration'. He accuses the directors of being out of touch with shareholders and failing to have any strategic plans.
He continues: 'Mr Ruprecht… you have not shown the innovation or inspiration the company sorely needs,' and offers to join the board himself and appoint some further board members of his choosing — an offer Sotheby's seems none too keen to accept.
Loeb claims it has fallen behind its arch rival Christie's: 'Sotheby's is struggling internationally, lagging in newer markets like China and the Middle East, where Christie's has established significant customer relationships.'
Read more on activist investing from Spear's
Loeb also seems to dislike Sotheby's focus on 'top clients and high-value lots', before going on to say he sees little justification in Ruprecht's 2012 compensation of $6.3 million based on some mysterious target not disclosed in any of the company's public filings. Apparently, Ruprecht's salary is in addition to a benefits package that 'invokes the long-gone era of imperial CEOs: a car allowance, coverage of tax planning costs, and reimbursement for membership fees and dues to elite country clubs'.
Loeb attacks the amount spent on professional fees and singles out 'an extravagant lunch and dinner' at which he claims Sotheby's management 'feasted on organic delicacies and imbibed vintage wines at a cost to shareholders of multiple hundreds of thousands of dollars'.
First, it's not clear how accurate such claims are, and Ruprecht's salary of $6.3 million does not sound out of line with other CEOs, but more pertinently Loeb is hardly one to talk. When his firm Third Point made $1.5 billion in 2007, he reputedly pocketed hundreds of millions.
Loeb's own lifestyle also makes Ruprecht's look distinctly modest. According to Vanity Fair, he owns a 39th-floor, five-bedroom Manhattan penthouse at 15 Central Park West, for which he paid $45 million in 2008. His house in East Hampton was designed by Rafael Viñoly, and he has properties in Aspen and Miami Beach. His 200ft yacht was acquired from Sandy Weill, the creator of Citigroup, for $52 million.
When Loeb needs a break he reportedly flies his Gulfstream IV to Mysore in India to attend an Ashtanga yoga clinic or takes his surf instructor to Costa Rica to catch some waves. With expenses like these, it seems churlish to have a go at Ruprecht on the subject.
House improvements
Sotheby's has been doing pretty well lately, and the share price has been on a run (up by around 50 per cent in 2013 as Spear's went to press), but Loeb is correct that it could do better and its website needs a redesign. The auction room has built a $699.6 million cash position, while long-term debt stands at $515.2 million. In October it had a successful five-day marathon sale in Hong Kong, marking its 40 years' presence in Asia.
The sixteen sessions, from wine to jewellery to ceramics and Contemporary art, fetched a total of $538 million, nearly doubling the total achieved in the same sales in 2012. It was the highest ever total made by an international auction house in Asia for such a session and set a new world record for a Chinese artist, with $23.1 million for Forever Lasting Love by Zhang Xiaogang.
Sotheby's first-half 2013 auction total raised $2.55 billion, compared to $2.4 billion in 2012, and it is successfully widening its client base in the emerging markets, revealing that 22 per cent of its first-time buyers are now coming from Asia. Admittedly, after outselling Christie's in turnover in 2009, 2010 and 2011 it has slipped behind in 2012 and 2013, but the fortunes of the two rivals always flow back and forth.
Although presenting a calm front to Loeb's attack, Sotheby's has made some changes. In March it increased its buyer's commission, charging 25 per cent on the first $100,000 (previously $50,000) and similarly raising other ceilings on the sliding scale. To get the valuable New York headquarters off the balance sheet it started investigating its possible sale. In October it appointed a new CFO, Patrick McClymont, a former partner at Goldman Sachs.
In the same month it adopted a shareholder rights plan, or 'poison-pill defence', which activates when any one investor acquires more than 10 per cent of the company and dilutes the shareholding after that, making it less attractive. Loeb responded: 'Third Point is disappointed that Sotheby's board of directors has trotted out the poison pill — a relic from the 1980s.'
Loeb also says in his letter that Sotheby's 'do not fully grasp the central importance of Contemporary and Modern art to the company's growth strategy'. This is despite Sotheby's raising $757.7 million from this sector in the first half of 2013. It is true that this area is the rage at present, but Sotheby's has seen fashions in art demand change in its 269 years and is rightly wary of committing too strongly to any one sector.
Frontal Loeb
Loeb cannot see further than this sector because this is what he knows and collects. In his open letter he says he 'shares a passion for art', and the Guardian says that his collection includes the standard names in an American's postwar collection: Andy Warhol, Jean-Michel Basquiat, Richard Prince, Cindy Sherman, Mike Kelley and Martin Kippenberger.
These are the artists Loeb would have come across at the Museum of Contemporary Art in Los Angeles, where he is a trustee, at Gagosian's parties and on the walls of most hedge-funders. These artists are easy to value at auction, and this probably appeals to Loeb's need to feel he is achieving fair value when buying.
Owning such a collection hardly gives Loeb the knowledge to start lecturing Sotheby's on its art business, but he is not the first person to have bought a few paintings and feel he understands the art world. Alfred Taubman, the real estate magnate who took over Sotheby's in 1983, said at the time: 'There is more similarity in the marketing challenge of selling a precious painting by Degas and a frosted mug of root beer than you ever thought possible.'
However, it turned out to be more complicated and he ended up in prison for price fixing with Christie's.
But perhaps this is irrelevant and whether Loeb understands anything about the art market or not is missing the point. He is correct that Sotheby's is a very good company in a powerful duopolistic situation, which could be a little leaner, improve its web-based services and perhaps expand into different markets.
His attention will attract smaller investors, which will ramp up the stock price, and he will probably do well out of this investment before exiting. Whether Sotheby's is taken over by a company such as eBay, Amazon or Bernard Arnault's LVMH, any of which would make a good fit, or gets to fight another day remains to be seen.
Read more by Ivan Lindsay from Spear's
Paddles at the ready?
eBay
Sotheby's used eBay for online auctions until 2003. If the auction site wanted to add a luxury line to its business, it could do worse than bid on the auctioneer, and with online art auctions increasingly important, it would make sense
Amazon
Amazon aims to be the marketplace for everything and has recently started selling fine art as a quasi-gallery, so why not go the whole hog and buy an auction house?
LVMH
François Pinault owns Christie's, and with an intense rivalry between him and LVMH's Bernard Arnault (pictured above), buying Sotheby's could even the score