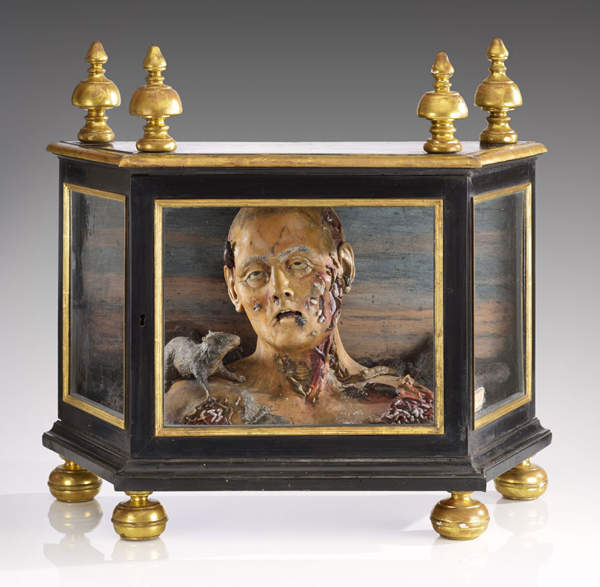 Two things set the tone for an international art fair. First, the style of the invitation to the VIP Preview (there is usually a VVIP dinner the night before held by dealers for their top clients). And second, the exact time that the fair's honorary committee decides is decent to start serving champagne at its collectors' preview.
That the gold-foil thick-laid board invite to BRAFA – which officially opens at the Avenue du Port in Brussels on Saturday 24 January and runs until 1 February – is more of a royal summons ('Under the High Patronage of Her Majesty Queen Paola') tells you something about the cultural and social spirit of the host nation. The preview night of BRAFA is to Brussels – with the Queen of Brussels arriving at around 4pm – what the Monday night preview of the Chelsea Flower Show is to London, with Her Majesty also arriving at around 4pm.
At Maastricht (TEFAF) in Holland, the invites are more like tourist flyers and the champagne isn't served until precisely 6pm. Never a second before, despite the task of trudging around the vast and sprawling corridors of exhibition space – more like a football stadium than an art show – being thirsty and exhausting work. Maastricht is so vast that VIP collectors who aren't entirely steady on their feet can order a golf art buggy to ferry them about. The last time I was there – almost a decade ago – one such collector allowed her golf buggy to career out of control and it shot through a stand smashing several important statues. The VIP Preview of the fair ended up creating headlines for all the wrong reasons.
At BRAFA, the Brussels Art and Antiques Fair, the Taittinger – and canapés, including brightly coloured Belgian macaroons and foie gras – starts to flow at around 4.30pm and the preview goes on until 11pm. It says much about the Belgian collecting psyche that the preview is not just for international collectors but also for tout Brussels society, from royalty and decaying European aristos in their green loden jackets who have come to view their 14th century Gothic cradles with tracery carving, armour, tapestries, family relics, 17th century coloured manuscript maps and other attic or Great Hall memorabilia being displayed with a price at least double what they have been paid for it, with a label saying 'From a Private Collection'.
Pictured above: BRAFA's gala dinner
If you want to flog an Old Master that has been hanging up in your schloss or chateau for centuries, BRAFA is possibly not the best place to offer it 'fresh' to the market. Yet there are exceptions. Floris Van Wanroij, one of Europe's top dealers dealing in art from the Haute Epoque period is offering Jan Claesz's circa 1570 portrait of a young child wearing a black dress with a lace collar and carrying a basket of cherries (detail pictured top). It is a sublime example of late 16th century portraiture.
BRAFA is renowned for being a highly specialist fair which is strong in areas like archaeology and antiquities, autographed letters, fine clocks (including a dealer specialising in Scottish clocks), Art Deco, Arctic art, Modern and Post-Modern art, African art, post-war Italian bronze sculpture, and avant-garde metalwork such as by the celebrated Belgian sculpture Olivier Strebelle (the Gallery Martel-Grenier in Paris has Strebelle's primitive bronze masterpiece called Nobody III from 1968).
My own favourite picks from BRAFA this year include the following: an early 14th century reliquary in gilt copper with enamel plaques, decorated with cabochons and gems, from De Backker Medieval Art in Hoogstraten in Belgium. The gallery is also offering a Byzantine lintel in marble from the Eastern Empire and a Book of Hours dated 1430-40 from Bruges.
I loved the high quality breezy and handwritten French in blue ink of an autographed letter from Jackie Kennedy (dated 27 June 1963) on White House stationery to illustrator and artist Jacqueline Duheme of Paris-based Elle magazine. In the chatty letter – just five months before her husband JFK was assassinated in Dallas – she talks about how she is just about to go on holiday in Mexico and her favourite artists who include Fra Angelico and Botticelli.
At €8,500 it is a good example of the sort of high quality but not excessively expensive opportunities at BRAFA. You can buy a hand written letter from Voltaire for just €15,000 and an amusing signed post card from the artist Lucian Freud for €7,000 in which he sends a signed photo of a self-portrait with himself and his dog (13 November 1981) to a correspondent, saying, 'I don't think signatures count for much which is why I don't bother to sighn (sic) my paintings.' (Freud may have been a brilliant post-war British painter but he was a lousy speller.) A letter from Sigmund Freud – his grandfather – is going for €25,000.
BRAFA is not just the oldest and most established art fair in Europe, it is regarded as a key barometer of the cultural and financial health of Europe for both dealers and HNWs. Judging by the amount of red polka dot stickers dotted around the stands after just two days, the specialist European collecting market seems to be in excellent health.
Despite this exemplary health of the art world – and I do not know if it is dark Belgian humour on behalf of the honorary committee – vanitas art that celebrates the momento mori of rotting flesh seems to be one of the most popular themes of the pieces selected for the 60th BRAFA fair.
One of the very first exhibits that the public sees on walking in is a 'wax curiosity' of a human head that is a 17th century model of a head entitled 'Study of a Human Decomposition' by a religious prior from Syracuse called Gaetano Zumbo (pictured below). The half-decomposed head looks mournfully up to his maker with a bright medley of worms, maggots and cockroaches filing the face as a rat crouches on his rotting shoulder. It's being offered by the Dario Ghio Gallery in Monte Carlo – a place where money and death have an unusually close relationship (remember the grisly death of billionaire Edmund Safra?).
So popular are these vanitas works that one specialist is offering his services to create a bespoke Curiosity Room for HNWs, as was de rigueur in the 16th and 17th century. Dr Alex Van Den Bossche, a world expert in this unusual new HNW collecting field, is offering a vanitas bust that is half beautiful young woman with fair blonde hair and a blue silk dress and half skeleton. It is a fine example of what were known in the 16th century as Kunstkammer objects.
Kunstkammern, or curiosity cabinets, were so called as they offered a representation of the whole known universe incorporating everything there was to know about the world from a philosophical, intellectual, artistic and physical perspective. The principle of the Kunstkammer Room – which every successful merchant aspired to, rather like having a Media Room or Orangery today – is that you divided your private study into four areas of curiosity: preciosia (manmade objects of great rarity); scientific objects; naturalia (from nature); and exotica (objects from far away and unchartered countries).
Such rooms were the forerunners of private museums. Strangely, they seem to be making a comeback with HNW collectors. Buying expensive vanitas objects which ponder the meaning of life – and death – are again in fashion with HNW collectors bored by the faux-vanitas factory works of the likes of Damien Hirst. Why spend millions on a decomposing shark in a glass case when you can buy a wax sculpture of a decomposing 17th century human head for €200,000?
The chairman of BRAFA, whose committee are in charge of the vetting of all objects at the fair, is Harold t'Kint de Roodenbeke, who is retiring this year. To launch BRAFA 2015, he has given a special Q&A below.
In 2015, BRAFA is celebrating its sixtieth anniversary. Does this make you feel nostalgic or excited about the future?
We have purposefully chosen not to focus too much on this sixtieth edition landmark, and to avoid over-the-top jubilee celebrations. What matters most to us is the present and future of the fair.
But the anniversary can't be completely brushed aside…
Of course not, and we definitely do not want to forget it. To have reached the sixtieth edition is a real accomplishment, and I know of no other art and antique fair able to boast of such longevity. The anniversary shows how solid the foundations and values of BRAFA are and how well the fair has been able to adapt and evolve over the years. The fact that this will be the sixtieth edition therefore makes us, as administrators, proud, while reminding us of the responsibilities that come with organising such a significant cultural event.
What is new at BRAFA 2015?
Our primary preoccupations will therefore remain the same: quality, diversity of style and period, and eclecticism – a characteristic of the fair highly prized by collectors, in particular those from Belgium.
We are also staging an exceptional exhibition, designed by the King Baudouin Foundation, with collectors in mind. This will bring together a number of major works held in private Belgian collections, some of which have never been shown to the public. Organising the exhibition was both a feat and a privilege, and I would like to take my hat off to the remarkable work accomplished by the King Baudouin Foundation, which is a true guardian of Belgian cultural heritage.
Is the Belgian collector a myth or a reality? How do collectors here differ from those elsewhere?
First and foremost, we wanted to pay homage to the collector in a general way, for they play a vital role in the conservation and transmission of cultural heritage. You only have to wander through museums around the world and look at the provenance of the works on display for this to become manifest. So many invaluable public collections would never have been possible without the input of private collectors.
It is thanks to their patience, obsession and discerning gaze that many works of art and even artists have come to light. Their passion is shared, of course, by art and antique dealers, who are equally driven by obsession: determined to unearth the ultimate object or artwork both for their own pleasure and that of others.
How would you describe the art-market context of the fair?
Galleries increasingly take part in fairs and salons, participate in auctions and sell on the internet using their own and specialised websites. Today, you can access a wealth of information about artworks and artists with a simple click. Social networking sites accelerate the process of information sharing. This new accessibility is not, however, risk-free. Knowledge remains vital, and this is why art and antique dealers remain so important. Nothing can replace direct physical contact with an object, or human contact with a specialist.
Some describe the Belgian art market as a microclimate. Do you agree with this description?
In Belgium, buyers have a reputation for being cultivated and choosy. They are also however, quite conservative, insofar as they are keen to ensure the long-term investment-value of the objects and artworks they acquire. This does not prevent the market from being very open and even cutting-edge. Belgian buyers do not buy compulsively, but they look for both quality and vision in a work. You often come across families at BRAFA, with members of several generations involved in deciding which artworks to acquire.
What is the future of large-scale fairs like BRAFA?
I believe that the lynchpin of fairs like ours is the way they reunite dealers, collectors and art-lovers. I see art and antique dealers primarily as transmitters of passion for beautiful things. This sharing of knowledge is key. Visitors should never hesitate to ask questions: there is no question too big or too small for those passionate about their field. Art objects are like orphans looking for a family – the dealers have brought them in and hope to place them where they will be loved.