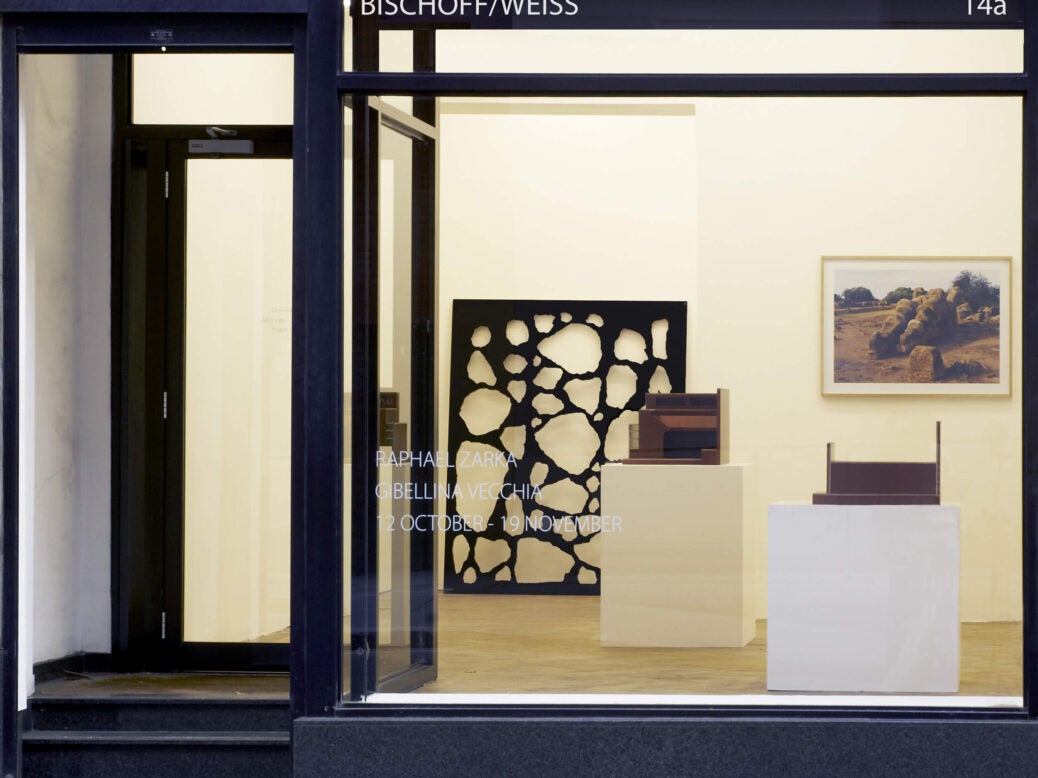 News from the art world seems to be relentlessly, thunderingly positive: record prices cried out at auction, art fairs humming across continents, global galleries buoyed by global cash announcing their presence with museum-quality shows and Phaidon-quality publications. But the success of London's louder elements is disguising the toll they're taking on some of its quieter ones.
Raphaëlle Bischoff and Paola Weiss founded their gallery, Bischoff/Weiss, in London's East End in 2004, when the success of the Young British Artists had turned Shoreditch, Hoxton and Bethnal Green into trendy locales but not quite the hipster honeypots they are today.
In 2009, their success allowed them to move into Mayfair when they found an unexpectedly affordable ground-floor space, with a large, enticing glass frontage, on Hay Hill, which runs between Berkeley Street and Dover Street.
Read more on art and collecting from Spear's
Representing people like Rana Begum, who makes beautifully-coloured works which look like pieces of paper folding themselves off the wall, Bischoff/Weiss made a quiet reputation as a space for early- to mid-career artists.
Pictured above: Ali Silverstein, Installation view at BISCHOFF/WEISS, 2013
The works were not dramatically priced either: a Rana Begum piece can be £11,000, while other of their artists go for the early thousands. Bischoff/Weiss also had a preponderance of women on their roster, which, in a world where Gagosian can put on a show with 34 men and one woman, is unusual and important.
But news came out two weeks ago that Bischoff/Weiss was closing down. The proximate cause is a massive rent increase: when we meet at a café on Dover Street, Raphaëlle Bischoff says that a four-year review on a ten-year lease finished them by tripling their rent from £35,000 per year to over £100,000 (with charges et al).
The kicker was that it was going to be backdated to April 2013. The gallery's last show, a bittersweet group show of all their artists, closes at the end of March.
Bischoff says their initially affordable rent meant they could show 'our East End programme in Mayfair', but the increase would have forced them to stock big-ticket items: Warhol screenprints or things more crassly commercial.
'We realised that we didn't want to sell more expensive artists and enter that war between all galleries for who is the most sellable artist and who's going to be the artist that we could make the most money with because actually we've never been in that game.'
Pictured above: Sheree Hovsepian, Domes, Installation view at BISCHOFF/WEISS, 2013
Since Bischoff/Weiss has been in Mayfair, the world of the wealthy has expanded beyond all boundaries. In 2009, Europe had 2.6 million HNWs; in 2012 it was 3.4 million. Asian HNWs went from to 2.4 million to 3.7 million in the same period. The money has not stayed still but flowed into London as the centre of the wealthy world, as the new profusion of Mandarin-speaking shopgirls on Sloane Street attests.
Mayfair has been the centre of the centre, and as sure as Damien Hirst will sign his name to any piece of merchandise, Mayfair's rents rose and galleries have been getting pushed out. Antiques dealer Mallett left Bond Street to be replaced by Fendi and Pringle are taking over Mount Street Gallery.
Even fashion labels aren't exempt: APC complained to Vogue that 'we were pushed to leave our own location for some sort of vulgar real estate business reason.'
The larger galleries and auction houses, who are selling more expensive, higher-margin work, have fared much better. Sotheby's now have a new space on St George Street (near a new gallery for Victoria Miro), Christie's bought Haunch of Venison and took over their building off Bond Street, David Zwirner took over a townhouse on Dover Street and redid it from floor to rafters, Gagosian are moving from Kings Cross to Grosvenor Hill. Art galleries and auction houses are not solely driving these wild rent increases – but they are driving them.
Bischoff is surprisingly upbeat about these trends: 'Some journalists really wanted me to say Mayfair was pushing galleries out; I don't see it that way. I see it as something very positive, which means that Mayfair is booming, that actually there is this economy for the 1 Per Cent, that's it clearly happening in Mayfair where, yes, things are changing but it's still interesting.'
Pictured above: Rana Begum, Installation view at BISCHOFF/WEISS, 2013
In fact, Bischoff credits some of her gallery's success to being nestled among these major galleries: 'It was very helpful. Incredibly helpful, of course, because my clients would go from Sprueth Magers to David Zwirner, come down the street and pass in front of our window and think, "Oh, Bischoff/Weiss is there, let's enter." That's great and because we were not competition for those galleries, those galleries were very happy to tell their clients about us.'
But they have deep and meaningful resources which small galleries cannot compete with, resources which can make artists feel super-significant: 'If I had continued with my space, I would feel that my biggest competition would be big galleries working with younger artists, because obviously they can offer much more: they can offer much more production, they can offer to document the work beautifully, they can offer to make catalogues.'
White Cube snapped up performance artist Eddie Peake while he was still at the Royal Academy Schools, for example, then offered him their massive Bermondsey Space for a show. Gamekeepers are turning poachers.
Another expense and exhausting exercise for art galleries – though this one is at least a commercial opportunity rather than pure property-gouging – is the global calendar of art fairs, stretching on the A-circuit from Sao Paulo to Friezes New York and London to Art Basels Miami Beach, Basel and Hong Kong.
Major art galleries will do a dozen fairs a year, each of which involves shipping art and staff to another timezone, where a week is consumed standing at your booth. Bischoff/Weiss, had they planned to stay open, would have done Mexico, LA, the Armory in New York, Dubai and Dallas. Attending them isn't necessarily a chore, according to Bischoff: 'You name it, I would have jumped on the wagon because you need to be there.'
Art fairs represent an increasing proportion of galleries' sales because they gather collectors in one place and pit them against one another in a Supermarket Sweep-style competition (with Gavin Turks instead of turkeys). But just as larger galleries can afford bigger permanent spaces, they can also afford bigger booths and bigger staffs to man them.
Pictured above: Raphaël Zarka, Gibellina Vecchia, Installation view at BISCHOFF/WEISS, 2011
One of the real factors in this story, then, according to Raphaëlle Bischoff, are the fairs: 'I think some art fairs should, for example, invite young galleries, which means not asking them to pay for their booth, especially when those art fairs end up putting the young corner miles away from the centre.'
Certain fairs can also demand galleries make their stands 'incredible statements that cost them a lot of money and are completely non-commercial', while 'very big galleries – and I won't name them – put all their stock at the art fair and make no efforts in what they're presenting.'
Now perhaps this all seems quite disheartening, but as the waiters buzz around us Bischoff is optimistic about the future for smaller galleries: 'Young galleries will find a way to exist whether it is like us by finding a great deal completely by chance, like Ibid being on the first floor [on Mayfair's Albemarle Street], maybe relocating East is for some of them or being in other places and then appearing more at art fairs. That's quite a positive. I don't think that we were pushed out in a bad way – it's a great thing that the neighbourhood is doing so well.'
And Bischoff/Weiss may be finished – for now – as a physical space, but the partnership will endure as an art consultancy, where they advise their clients on what to buy from across the market, rather than just their own stock. You could simply say, then, that Bischoff/Weiss is moving from the artistic medium of installation to that of performance.