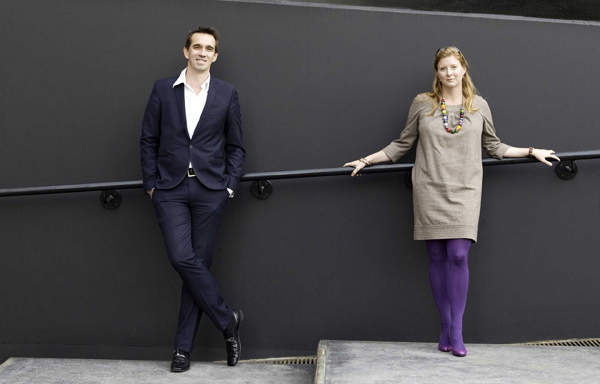 Local legend says that Lewis Carroll found inspiration for some of his Alice-world creations – like the Cheshire cat, the white rabbit and the hookah-smoking caterpillar – while strolling around the 55 acres of woods, lakes, meadows and natural springs surrounding Cowley Manor in the Cotswolds. There is something mysterious, almost magical about the place.
And perhaps, in a few years, another writer will come up with a novel while walking in this very same park, this time inspired not by nature but by the outdoor artworks that the house's owners, Peter and Jessica Frankopan, have been collecting after converting it into an elegant, quirky hotel. When I visited at the end of April, both hotel and art were on best display.
This art-emphasis began in 2012 when they teamed up with the Royal College of Arts to launch the Cowley Manor Arts Award. Every summer since, RCA students have been asked to design an outdoor sculpture for the hotel's grounds, with the school receiving between 30 and 40 applications every year. The shortlisted candidates – six this year – then receive financial and practical support to produce their work and install it in the gardens and the winning piece becomes a permanent fixture.
The winning sculpture this year was 'Stolen Friend', a piece by Chilean student Miguel Soto Karelovic, which is a small reproduction of 'Hoa Hakananai'a', the Easter Island statue on show at the British Museum. Karelovic said he was inspired by the tale of another moai statue, which was lost in the ocean during the transport to England: 'I thought England needed its underwater statue. Initially I thought of throwing it in the Thames but it was dangerous because I could have been deported.'
Instead, he chose to install it in the small lake in front of Cowley Manor's main building and he did it so that the statue will progressively sink in the next few years, becoming, he says, 'a myth, a tale or just a rumour'.
Visitors have time until September to enjoy – and perhaps purchase – some of the other shortlisted works. They include Milly Peck's irreverent 'Backsies', a collection of signposts rendering the pattern of the buttocks of classical statues she saw at the Edinburgh College of Art, and 'Boots' by Jamie Fitzpatrick, a pair of gigantic, colossal boots which the artist said represented 'the absence of something but also power', 'authority' and 'violence'.
Both 'Barkskin' by Kyle Zeto and Oskar Jacobsen's 'Redoubt' bring human fantasies to life. The former is a small wooden branch that becomes a human hand – it was carved using a machine, and the artist pointed out how our relationship with nature is now mostly indirect, as we use phones to explore the world, rather than our senses.
The latter is a table with a tablecloth lifted up, almost inviting the viewer to explore what's below or perhaps offering them shelter (from a storm, from a dragon or from a boring conversation between grown-ups). 'When you're a kid you always find places that are your refuge,' said Jacobsen. 'Cowley is the equivalent when you grow old and it was a real place of refuge during the war, when they moved [Cheltenham Ladies' College] here. It's a real shelter.'
Natalia Skobeeva's amusing 'Hey Hey Hey' sound sculpture is unfortunately not for sale. It consists of a sensor placed above a door that activates when somebody enters or leaves the room by playing dozens of voice recordings of the word 'Hey!'. It gets childishly addictive. 'I will never be thinking of the word Hey in the same way every again,' said Skobeeva.
This judging panel included names from the British contemporary art scene, such as Millicent Wilner, director at the Gagosian Gallery; Jenni Lomax, director at the Camden Arts Centre; and Alex Sainsbury, director at Raven Row Gallery. The dean of the School of Fine Art at the RCA, Juan Cruz, also sat on the panel, together with Sophie Hastings, arts writer for GQ, and Jessica and Peter Frankopan.
Explaining why the judges chose to award Katelovic's work, Jessica Frankopan said they felt there was a natural connection between his 'Stolen Friend' statue and Cowley Manor. 'I love the location and I feel like it's been there forever,' she said. 'It's also made of concrete and Cowley Manor was the first house in the country to be made of concrete. And I love that one day it will sink and become like a Cowley myth.'
If there are people who can take such a long view, it's a couple who are members of the Frankopan family, which traces its roots back to the Croatian and Italian nobility almost a thousand years ago, and of the Sainsbury dynasty (Jessica is great-great-granddaughter of the grocer's founder). The couple acquired Cowley Manor in 1999, the first in what is now a small chain of chic boutique hotels 'for the culturally curious'. It includes the Portobello Hotel in London, Amsterdam's Canal House as well as L'Hotel in Paris and Green & Spring, a skincare product company.
There's also a lot of the couple in the rooms of Cowley Manor – they're luxurious but never ostentatious, beautiful but comfortable and very colourful. ('People shouldn't be afraid to dare with colours,' Jessica tells me during the cocktail reception.)
Peter, a historian and academic at Oxford, where he also heads the Centre for Byzantine Research, is very easy to speak to, even though his CV can be quite intimidating (he has taught in almost all the best universities of the English-speaking world). At dinner, he praises his wife's merits in building the business and tells me: 'Before I met her, I thought I knew everything. She showed me I didn't know anything.'
The couple has always wanted art to play an important role at Cowley Manor, with contemporary artworks dotting the walls in the lobby, restaurants and hallways. The Frankopans also worked with young designers to decorate the 30 guestrooms, which boast bold colours, designer furniture and eccentric details. 'This hotel is art-friendly,' Michael Turco of the RCA told me. 'And it's good art, not hotel art.'
The 4th Annual Cowley Manor Arts Award