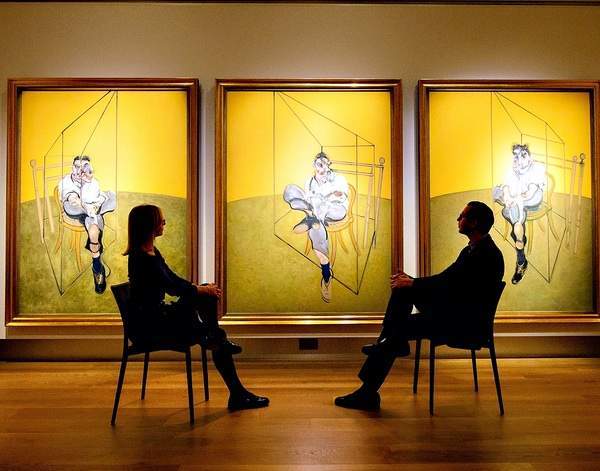 Smashing the world record for a work of art sold at auction, Francis Bacon's Three Studies of Lucian Freud fetched $142 million at Christie's New York last night. The sale itself, of Post-War and Contemporary art, took $692 million, the highest total for a single auction in history.
The record was previously held by Edward Munch's The Scream, which sold at Sotheby's last year for $120 million. (All prices include buyer's premium.)
Among other artists represented were Warhol, Judd, Pollock, Rothko and Koons, while collectors selling included Peter Brant, Steven Cohen, Robert Stern and Eric Clapton (who broke records last year selling Richters).
Reaction in the non-auction-house part of the art world has ranged from cynical to *really* cynical:
Whoever bought the Bacon will be so disappointed when they see a good one.

— Ben Street (@thebenstreet) November 13, 2013
A reminder via @gregorg – the price of the Bacon tonight, at $142.4m, is larger than the entire FY13 budget of the NEA. Sleep well, buyer.

— Julia Halperin (@Juliahalperin) November 13, 2013
$142 million is beyond comprehension, as is $58. It's time for these guys to develop other interests. What about philanthropy?

— Roberta Smith (@robertasmithnyt) November 13, 2013
The onward march of the art market, smashing records and astounding onlookers, partly powered by newly-wealthy emerging market collectors, shows little sign of stopping.
Read more on the art world from Spear's
[related_companies]