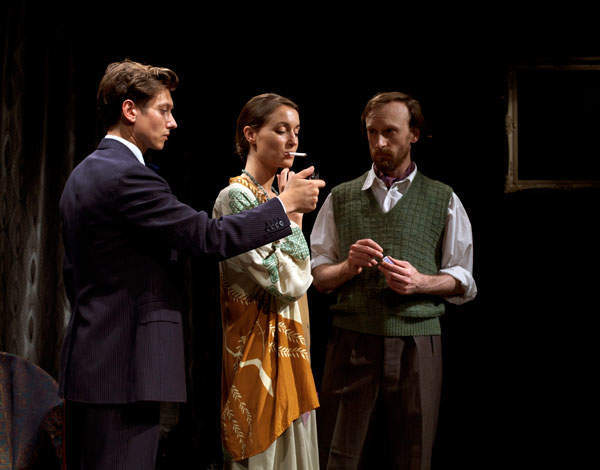 This Was A Man (originally banned by the Lord Chamberlain in 1926) has to be one of the most clever 20th century plays never to have been performed in the 20th century. But it is getting an outing in the 21st century with Belinda Lang's brilliantly dark and socially brittle production at the Finborough Theatre in London.
Noel Coward wrote the play in 1925, when he was just 26, already a precocious playwright who had tasted financial and critical success by shocking audiences in 1924 with The Vortex in which he starred as the cocaine addict son of sexually voracious and degenerate socialite.
With The Vortex's blend of upper class nymphomania, narcotics and acerbic society wit ensuring that it was a West End box office hit, it is hardly surprising that Coward tried to repeat the cocktail formula. Yet despite being banned, This Was A Man is in many ways is a better, bleaker and more haunting play. While The Vortex was considered shocking in its day for its depiction of sex and drugs among the upper classes, it does not mock marriage as an 'overrated amusement'.
How a work of such chrome-plated sophistication – written nearly a decade before Waugh satirised the adulterous and sexually nonchalant mores of the Mayfair set (including his own wife's betrayal) in A Handful of Dust – has not been professionally performed before in Britain before is remarkable. Although the play was last performed before the war in Berlin and New York, Lang is surely right in her production notes when she says that Coward's study of 'relationships and betrayal in the aftermath of the Great War' remain equally as recognisable and relevant today.
Lang and her fine cast certainly do Coward justice. This play is a winner thanks to a razor-sharp production that rightfully cuts out some of the extraneous servant dialogue. The intimately set play also treats audiences to a break-out London debut theatre performance by the film and television actress Georgina Rylance, superbly playing the flawed but all too human Mayfair social butterfly Zoe St Merryn whose recent divorce has been a 'howling success'.
From the moment that Zoe glides into painter Edward Churton's Knightsbridge studio and announces she considers marriage a modern sham, we know we are encountering one of Coward's more memorable characters. One never quite knows if she is being serious, or if her 'stimulating' nature is for real or just social make-up. Whether Zoe is remarking about how her 'clacking' nonentity friends have remained exactly as shallow and predictable as they were before she left for a year of post-divorce travelling 'oblivion'; or whether she is assuring her painter friend Edward that she has had an 'endless succession of lovers' while away, one never quite knows what she is really thinking.
Where on earth has Miss Rylance been for the last few years? A West End debut must soon follow. Throughout her performance, Rylance delicately keeps her balance with Coward's tricky dialogue that wittily dances between sarcasm and social despair. Rylance helps to turn the lost but likeable Mayfair soul of Mrs St Merryn into one of Coward's most illuminating characters.
The title of the play is taken from Mark Antony's eulogy for Caesar (Act V, Scene V) in which Shakespeare has Mark Antony remember Julius Caesar not only as a true friend and 'great' soldier but also as a 'gentle' man. 'All the rest of the conspirators acted out of jealousy of great Caesar. Only he acted from honesty and for the general good. His life was gentle, and the elements mixed so well in him that Nature might stand up and say to all the world, 'This was a man."
Enter Major Evelyn ('Evie') Bathurst (played with beautiful masculine reserve by Robert Portal) who is the epitome of military manners, public school self-confidence and sexual naivety. The plot revolves around Evie's misguided attempt to avenge his best friend Edward Churt (played with languid insouciance by Jamie De Courcy), a society painter whose promiscuous wife Carol is sleeping with half of Mayfair.
Carol is a society sexual vamp whose casual adultery makes the sexual vanity of Brenda Last in A Handful of Dust suddenly seem like the behaviour of a girl scout. Carol sees her marriage to Edward as an exotic game of mahjong whose rules are best made as you go along. Played convincingly by Dorothea Myer-Bennett, Carol has less range than Zoe but both make for a highly watchable pair.
On the surface This Was A Man seems to be another 1920s play about upper class adultery, marital breakdown and the Bright Young Thing jungle of Mayfair and Knightsbridge with the great enemy not so much of 'promise' (as Cyril Connolly famously diagnosed the social degeneration of his own class) but rather of 'boredom'. But it is so much more than just a superficial sneer at the vacuity of modern society morals. At the bleak and sudden end of the play you never really quite know whom 'This Was a Man' refers to.
When the machismo soldier Evie – the man who acted from 'honesty' and good intentions – is crushed by his own naivety and lack of sexual worldliness, we see an over-educated upper class Englishman and officer crumble into a pathetic wreck of a man. His louche 'best friend' Edward – in the final scene – has the last laugh, as he turns the screws and it is suddenly the artist who triumphs over the solider-athlete, with Edward almost treating the public school major like his batman, asking him to 'hand' him a cigarette and pour his drinks.
Now the roles and social stereotypes are reversed in the dark and bitter sweet comic tradition that uses adultery as a stage for male humiliation as in the best Rattigan and plays such as Pinter's Betrayal. That Coward is sympathetic to the unorthodox social mores – and morality – of a society portrait painter is not especially surprising. As a teenager, Coward (the son of a piano salesman) became the teenage protégé and probably the lover of Philip Streatfeild, a society painter who helped introduce the young Coward to high society for the first time.
In Coward's play, Time is itself a character with all the characters seemingly fixated on trying to prevent themselves dying of boredom not only with each other but with themselves. When Carol and Evie finally have a proper conversation (that quickly ends up in the bedroom) for the first time in their lives, Evie confesses that he had never tried before because 'I was terrified you'd be bored.'
It may have been Waugh that quipped that 'punctuality is the virtue of the bored' but it is Coward who is more savage in satirising the self-destructive and vacuous urges of a generation that have so lost their moral compass and way to the point of being 'bored stiff'. In Vile Bodies, the 1930 cover featured an upturned motor car, suggesting how the world of the Bright Young Things – especially their marriages – was a car crash.
In Coward's play, everything is meaningless or pointless – including love, sex, marriage and especially travel. Coward mercilessly skewers the fashionable social delusion that somehow foreign travel – 'breaking away' – is somehow redemptive.
In the play, characters refrain form making any attempt to have a serious conversation about anything out of fear of boredom. When Edward is confronted by Evie about his wife's infidelity he dismisses his friend's interest in his wife's extra marital affairs as being of no consequence as it happens to everybody: 'That's why it's such a bore.'
It is no coincidence that the play ends with an exchange about the time. 'What is the time, anyhow?' asks Edward. Of course, he is going to be late to meet Zoe for lunch at the Berkeley. The play ends with the word 'time' in the final line. Time Wasted. Time Up. Lost Time. Time to end the pointless society charades. While nerves on set are continually being numbed by the fug of cigarette smoke and succession of cocktails that swirl around the characters, we are never left in doubt that this is a fiercely modernist play about morals in an amoral world.
In Vile Bodies, Waugh took the title apparently taken from a translation of the Latin phrase 'corpora vilia', which is the plural of 'corpus vile', meaning a person or thing 'fit only to be the object of experimentation'. 'Vile Lives' could equally have been the title of this play in which the characters have seemingly no control over the way their lives – for all Evie's foolish self-assurance and Zoe's 'directness' – are simply sucked into the social vortex of empty modern life that lurks under the veneer of civilisation. There is nothing boring about this exceptionally good production.
Tickets are sold out for all evening performances that remain (until 2 August) but it is worth queuing to try and get a return ticket on the night. An extra matinee performance has just been announced for Wednesday 30 July at 3pm. Tickets will go on sale online for this performance at 10am on Friday 25 July. For more information, go to www.finboroughtheatre.co.uk