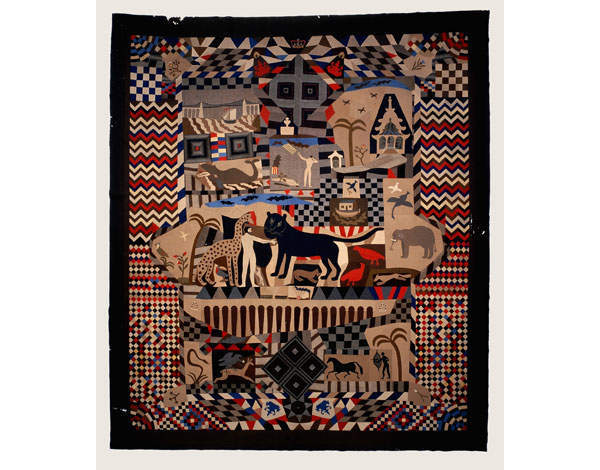 British Folk Art at the Tate Britain is quivering with untold stories. The pieces on display, from the giant teapots, boots, hats, keys, gloves, animals and suns that adorn the first wall to the quilts made in therapy by injured soldiers back from the Crimea, resonate with a history in plain view but never given the stamp of a major exposé until now.
On leaving this incredible exhibition I was struck by the refreshing originality of the art, which has kept its heritage and provenance local, away from such institutions as Tate Britain. Equally I was grateful folk art has come to such a space with the recognition and appreciation befitting of a collection that is more than a match for any currently displayed in London.
The artistic quality of these pieces is not debatable; the discussion is whether 'folk art' is the best term to accurately place them. The lens applied by the Tate has a wonderful flux that mixes pieces such 18th century anti-vagrancy signage with tapestries of ships and oversized padlocks. The viewer sees the opening wall of oversized objects, functional totems for shops, and is pushed to imagine a time before mass-produced glass created the shop window, when these were not heritage-laden follies.
Pictured above: God in a Bottle, Beamish Museum (Durham, UK), Photograph by Marcus Leith & Andrew Dunkley/Tate Photography
Well-built by artisans, the quality of preservation is also outstanding – an enormous boot sits juxtaposed to tiny one; either could have been made last year. Likewise the Bellamy Quilt, made for the marriage of Herbert Bellamy and Charlotte Alice Springall in 1890, is exquisite in its vivid depiction of the compass points of the couple's lives, from trinkets to zoo animals and the centrepiece of Victorian cartoon character Ally Sloper. It is a window as clear and insightful as any Hollywood film or Thomas Hardy novel.
While the draughtsmanship is often childlike to the modern eye, the content and form of many of the painted pieces in the exhibition is exactly as intended. Flat fields are sat upon by square brick houses, while in the foreground a uniformed man stands in front of his herds; it is a montage of achievement for the protagonist, played out again and again, to show his stock and his success.
These pieces reinforce a message of property and place within society, establishing not only the authority of governance and landowners but of the artist as a medium. Spanning roughly the 350 years to 1961, the exhibition recognises the subtle drawing in of lives to an interconnected industrial world. DJ Williams' 'The Four Alls' depicts the everyman who by the 19th century was ubiquitous across Britain: the taxpayer and citizen who was every farmhand, smith and navvy. Anyone wishing to navigate Britain's historic transitions will find helpful charts in these objects.
George Smart's cartoonish characters, reproduced in substantial numbers for demanding consumers, are well-crafted pieces featuring 'Goose Woman', 'Old Bright Postman' and the mysteriously supernatural 'Earthstopper'. Smart's display is celebrated, being one of the few pieces that were initially bought and sold as art, but they sit perfectly alongside the rest of the exhibition that is given plenty of oxygen by the absence of an overbearing thematic ceiling.
Pictured above: James Williams of Wrexham, The Tailor's Coverlet 1842-52, Amgueddfa Cymru – National Museum of Wales
However there are links to art's higher brows: Walter Greaves' 'Hammersmith Bridge on Boat Race Day' (1862), complete with spectators clambering up the bridge's suspensions, is reminiscent of Holman Hunt's depiction of London Bridge the following year, and it is unsurprising Greaves' talent was nurtured by Whistler.
Opposite this is James Williams' 'Patchwork Bedcover' (1842-52). A masterpiece worthy of any gallery, it encapsulates 'folk art' in one of the most well realised works of pre-modern art, but, like so many pieces in the exhibition, it stands beyond imposed definitions as a display of brilliant and inspired talent that blends bible stories, steam engines and the Orient in a tapestry as extraordinary as it is beautiful.
There is a nautical undertone building throughout that is formally announced in the second room's display of imposing ships' figureheads. Like the ships previously depicted by haberdashers and painters, these are emotive characters lovingly rendered in sturdy wood. Domineering, they do not look shorn without their ships; apt pillars that they are to champion folk art inside Tate Britain.
The close of the exhibit deals with the challenge of explaining the creative processes and heritage of folk art without letting it slip back into preconceptions and an unnecessary museum-based approach. Thankfully careful curation has ensured that does not happen, and even suggests the irony that the art on display is new and exciting for the capital.
These pieces are history-laden but that only adds to the allure of the art and, while many of the works on display such as the God in Bottles would make interesting artefacts, it is nevertheless art in its own right. These 'Puzzle Bottles' – filled with water and intricately carved crosses – are evidence art can write its own story, free from the narrative of larger ideas and outside of the concept of art for consumption.
There is artistic talent here as well as the ability to underpin this with context and role within a new method of art appreciation that doesn't rely on what is left over from other schools and movements. This show will reach far beyond this summer. Folk Art achieves a clear and enjoyable composure and comprehension that distinguishes it as one of the best and most interesting exhibits this year.
Pictured top: The Earth Stopper, c.1840, George Smart, Compton Verney House Trust