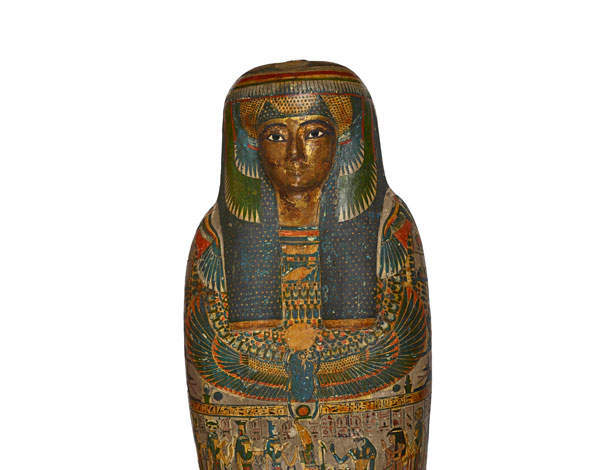 A morgue has never looked more attractive. The Ancient Lives New Discoveries exhibition that opened at the British Museum last week seeks to reverse the fate of its main exhibits by giving a new lease of life to the mummified dead.
Although these bandage-clad relics may have suffered a literal burial under the gathering dust of museum display, often every bit as distancing to the observer as millennia entombed by the sands of the Egyptian desert, this wonderfully crafted display has given them if not the breath of life, then certainly a new light to be seen in.
The exhibit's protagonist is the CT machine that has unravelled the cloth, flesh and bone of the mummies to reveal not only their individual contents but their own stories. Each artefact has been meticulously curated through the scans on interactive screens, taking the visitor through the unseen reality of the human encased so illustratively.
Pictured above: A mummy undergoing a CT scan at the Royal Brompton Hospital. © Trustees of the British Museum
Such detail is fascinating, providing a welcome childhood wonder at what these people must have eaten, felt, seen and done. Thankfully the exhibit promotes this by not overloading the visitor and making such treasures banal. There are eight mummies and eight stories, each unique.
The exhibition starts by immediately dispelling the stereotype of the sarcophagus-trapped corpse: the first mummy only had the sands of the Sahara, which dried out his body before it could rot, for a tomb.
Gebelein Man B died 5,000 years ago and, despite having a name more suited to a failed prog-rock project, he tells us an incredible amount about the diet, life and challenges of life for the majority of the working population in ancient Egypt.
Pictured above: Cartonnage of a priestess, adult, casing with a gilded face, named Tayesmutengebtiu, also called Tamut. Found in Thebes, 22nd Dynasty (c. 900 BC). © Trustees of the British Museum
It is an inspired entry point that encourages understanding and anticipation in equal measure and draws well thought out parallels across the exhibits. The interactive tools employed to unveil the mummies are fantastic. They reveal treasures that would have been lost on dismantling the displays physically, as well as presenting the entombed individual in a deeply personal way that is the exhibition's real achievement.
This is most poignantly rendered in the display of a mummified child, complete with wheeled horse toy. The distance of two millennia does little to fade its emotiveness and makes his death no less untimely.
The beauty of the sarcophagi is astounding, even to a seasoned fan of Egyptology. Their intricate designs and decorations are as vivid as if they were made yesterday, allowing the exhibition to distinguish and celebrate the professional embalmers who crafted and painted these expensive vehicles to the underworld.
Pictured above:Mummy of an adult male (aged 35 to older, name unknown), wrapped in linen bandages. Found at Thebes, 26th dynasty (c. 600 BC). © Trustees of the British Museum
Above all it is the technology that illuminates these people, from their last meals to their hairstyles. These are ancient lives with contemporary bridges, their stories and beliefs intricately retold. You are even invited to speak their names as you leave, honouring Egyptian tradition and allowing the dead to echo in life.
There is, rightly, a debate on corporate sponsorship of public galleries; Ancient Lives New Discoveries is evidence such relationships can bear considerable fruit. Funding from Julius Baer and a technology partnership with Samsung have provided a unique display above and beyond a standard museum experience. Most importantly the subject matter is objectively curated and free from unnecessary commercial tapestry.
This exhibition will inspire and intrigue visitors of all ages and dispositions. The British Museum have made these lives accessible, and while its stars are not performers, the opportunity we are given to interact with and comprehend their lives gives a treasured opportunity to tread in their shoes and play their many parts.
Pictured top: CT scan 3D visualisation of the mummified remains of Tayesmutengebtiu, also called Tamut, showing a section through the cartonnage and wrappings. © Trustees of the British Museum