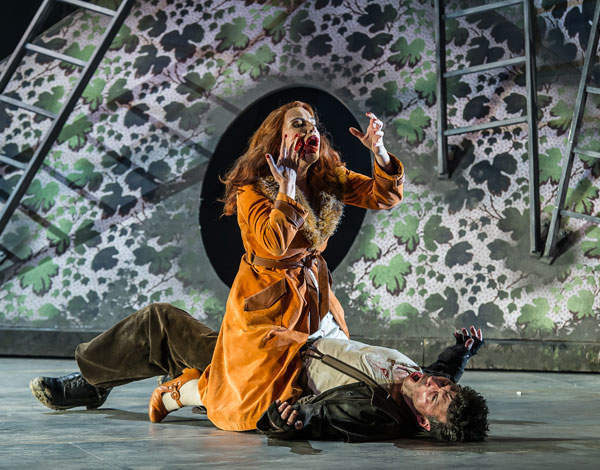 It pains me to say it but I've rather fallen out of love with Glyndebourne. Yes, the standard of music-making is second to none but it's just become just too corporate and I feel it has lost a little of that essential romance and magic.
The past few years have seen top-class contenders for the G-spot: Grange Park Opera in Hampshire, which is currently performing La Traviata, Queen of Spades and Don Quixote, having opened with a critically acclaimed Peter Grimes; and my other favourite, Garsington Opera, on the magnificent Wormsley Estate.
Not only is Garsington a damn sight easier to get to from London (zip up the M40) but the spirit and romance of a true English opera festival overwhelm you: rambling walled gardens, an immaculate cricket pitch and vast lake boasting a Jeff Koons.
At night the grounds twinkle with candles in the many marquees available for picnics or, if you prefer, the Jamie Oliver catering is superb. Mr Legris was suitably impressed with the wine list so I was in his good books. Garsington is grand yet intimate, and the transparency of the magnificent opera pavilion-auditorium invites in the surrounding nature, enveloping the performance.
Janacek's Cunning Little Vixen was a most apt choice of opera, set in a woodland forest where the creatures comes alive. The music is exquisite: a touch of Strauss, a dash of Tchaikovsky, some folk music and sweeping melodies. They are all mixed in with some comic and animal-like vignettes brought alive by director Daniel Slater's imaginative hyperrealism.
He has created a world where humans and animals have morphed. Such entwining is demonstrated by a compelling pas de deux by dancers Chiara Vinci and Jamie Higgins.
This opera is a joy from start to finish and had everybody transfixed and amused, particularly as Slater's forest is packed with a gaggle of horny dogs and foxes, almost as phallocentric as the FT comment page.
Slater has mastered a difficult job, that of portraying animals in an opera. In this production, the lines are blurred which just heightens the relationship between man, nature and the cycle of life.
Clare Booth as the Vixen is a stunning, sublime soprano with plenty of metal and resonance, great characterisation in her text and an impressive physicality, vixen-like indeed. I was more than impressed. Booth is certainly most cunning vixen I've ever seen and an all-encompassing artist.
Grant Doyle as the Forrester is a full-toned rich baritone, a wall of sound and yet a hugely sensitive actor.
There were other delights too, namely Joshua Bloom as the poacher, Lucy Schaufer as the Forester's feisty wife, Timothy Robinson as the Schoolmaster, Anna Harvey as the horny dog, Henry Waddington as the priest and – one of the highlights – the wonderful mezzo Victoria Simmonds as the randy fox who courts the vixen and produces an instant litter: a singing pup-choir. Another delight is the chorus of knitting hens which has a touch of Wallace and Gromit about it.
The cast are superb and it is spot-on casting from a company which goes from strength to strength.
Cunning Little Vixen is on until July 12