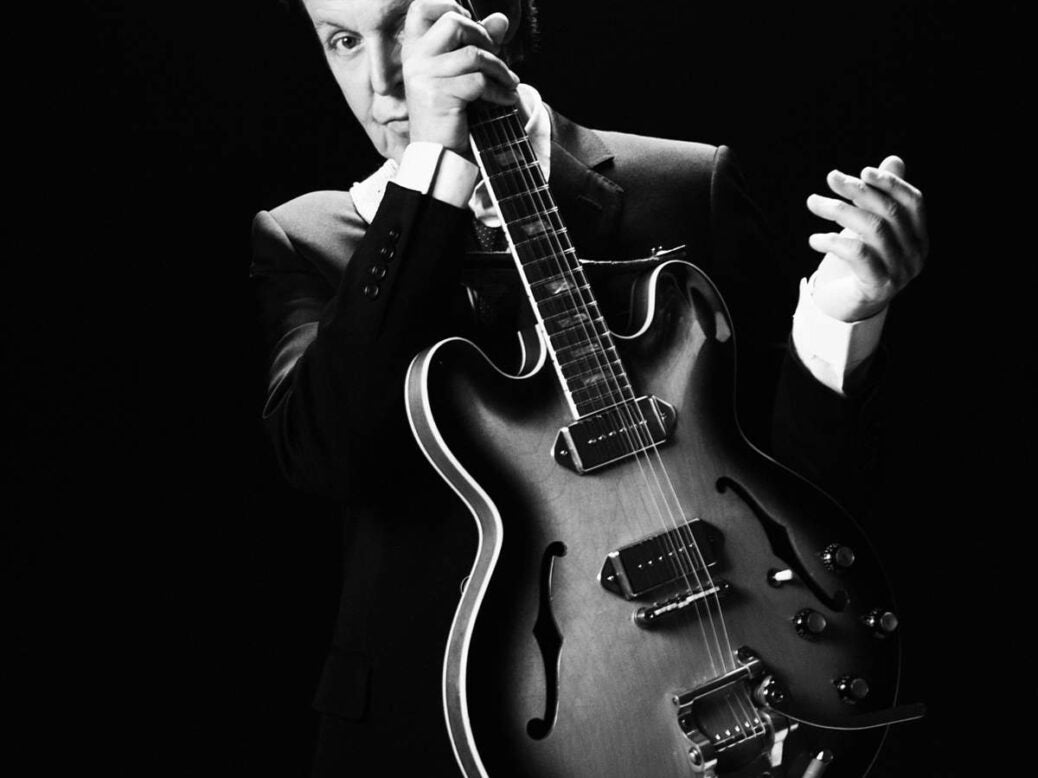 From Prince Charles to Amy Winehouse and Adele, Phil Griffin's new exhibition showcases a remarkable career in photography, writes Arun Kakar
Walking around Phil Griffins new exhibition Unseen Icons at Brownsword Hepworth, one wonders which A-list celebrities the photographer hasn't had in front of his lens. Greeted upon entrance by Paul McCartney and Diana Ross, the Chelsea gallery plays host to scores of previously unseen photographs from Griffin's storied career.
The images selected for the Unseen Icons exhibition are rooted in the theme of trust – something that for Griffin is 'in a picture'. Standing before a portrait of Adele taken from her second ever shoot, the photographer relives the moment for Spear's: 'Adele was unforgivingly, unforgettably Adele.
'She's 19 in that photograph and she's beautiful because she feels beautiful, not because she's well lit. In the moment that we shared, I trusted that she'd look beautiful and she trusted that I would show it.'
Griffin's career behind the camera started as a 'penniless' dancer, where after securing a role in a Duran Duran video, he began to slowly supplement his income by making music videos and taking photos.
It was when Kate Bush saw him dancing in a music video that things started to change for Griffin. The singer was making a film at the time and asked Griffin to come on board as a dance consultant, an experience he says that 'really allowed me to see what the camera could do'. Faced with the prospect of going back to dance school (he'd already put in seven years of graft) or continuing a dance career into his thirties, he started making and directing music videos. 'It wasn't so much based on technology or technique, it was based on, "I'm broke and I need to find other ways of making a living,"' he recalls.
Early projects with the likes of Billie Piper evolved into a position as creative director of MCA Records between 1997 and 1999, where he commissioned films, video and TV for artists such as Mariah Carey and Destiny's Child.
One moment captured in the exhibition of early noughties pop stardom. The first set of walls surrounds the observer with photographs of Adele, Amy Winehouse, Britney Spears and Pete Doherty amidst the early peaks of their careers.
'This generation of artist were just post-millennials and just post that traumatic teenage year of social media, when everything was happening, everyone knew everyone and everyone knew everything,' he explains. 'They were the first generation who really responded to it saying "I am going to be me."'
It's a motif that extends deepest to Amy Winehouse, a star whom Griffin first encountered around the time of her masterpiece album, Back to Black. There are two photos of Winehouse in the gallery from the period around the albums production.
'She was very uncomfortable in her skin from day one, she never felt beautiful.' Griffin recalls. 'I told her, "don't trust my words, look at my work – I will make you look beautiful if you feel beautiful."'
As she catapulted into superstardom, Griffin says that Winehouse was remained 'loyal and 'generous'. The portrait in the gallery that Griffin says he keeps coming back to (he doesn't have a favourite) a photo of Winehouse in a bath.
'There is just something in her eyes in the way there is just a little bit of foam,' he muses. 'My light is visible in the background, it's a deconstructed photograph, and she's really at peace in the sea of black, nothing between her and infinity. She's immensely happy.'
Through his documentaries, music videos and photos, Griffin describes his work in terms of looking at 'the real human being', which explains the central importance that trust plays in all his work. 'In the Unseen Icons series, the conversation is about that atmospheric change in a room when trust enters,' he writes in the programme notes.
It's a process that is particularly interesting when Griffin talks about photographing the royals, of whom there are three images in the gallery: one of the Prince of Wales and two of Prince William. How does he find the 'real human being' in the Royals, who are among the most guarded people on the planet?
'With these photos, penetrating the skin of a royal or icon, you have to create a space for them to feel safe when you're around,' he says. 'My technique to penetrate someone like the Duke of Cambridge is to make a space for him to reveal what he has to say.'
Griffin evokes what Cartier-Bresson would call the decisive moment, capturing of an event that is both ephemeral and spontaneous, when discussing the portrait of the Duke of Cambridge, in the moments just before giving a speech at an event for the Prince's Trust. The proceeds from the portrait below will go towards the charity:
'When I took that picture, I literally stood in the shadows, hardly moving because any little movement would have revealed that he knew I was there – I had permission to be there but he didn't know when I was going to take the picture,' he recalls.
It's a portrait that embodies the style in the exhibition better than any other in the gallery, literally capturing an icon in an unseen moment. It's no simple task with A-listers and the like, something he addresses in the programme: 'Of course, I fail more than I succeed, but in the end, the process is the act, not the outcome.' Indeed, Unseen Icons is a roaring success.
 Unseen Icons runs at Brownsword Hepworth gallery in Chelsea until 23 November.
Photos: 
Sir Paul McCartney, London, July 2007
Amy Winehouse, London, September 2006
HRH The Duke of Cambridge, Kensington Palace, November 2013
Amy Winehouse, November 2006
All photographs © Phil Griffin