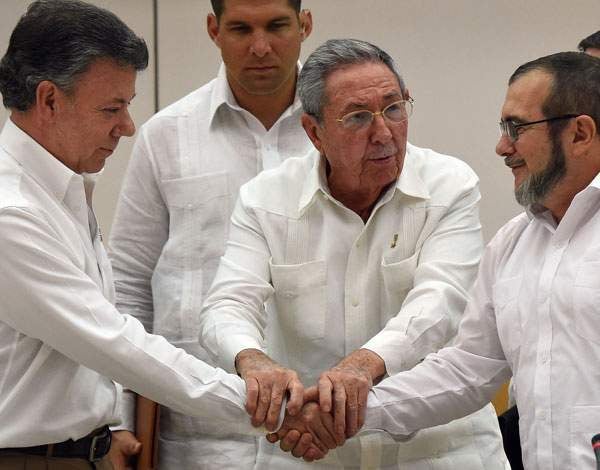 The success of Colombia's peace process has valuable lessons reaching far beyond the region says Robert Amsterdam.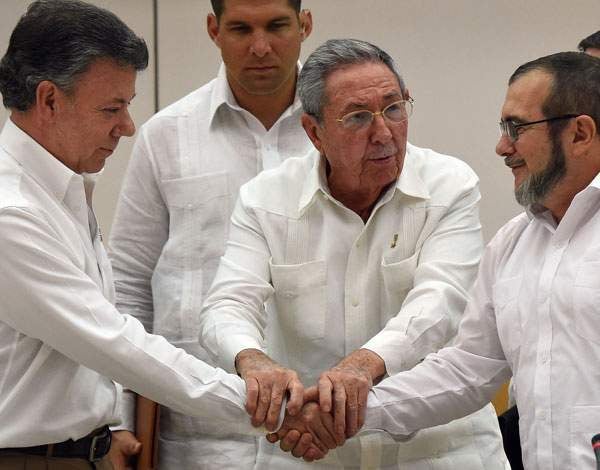 Colombian President Juan Manuel Santos and FARC leader Timochenko shake hands overseen by Cuban president Raul Castro
Latin America is not a region that we hear about very often, and when we do it is usually something overwhelmingly negative such as drugs and violence. That's why it is so wel¬come to hear the recent news out of Colombia, where a peace process — rigorously negotiated in Havana — may be about to deliver an end to a horrific 50-year civil war which has claimed a quarter of a million Colombian lives and displaced another six million internal refugees.
For Colombia to achieve this peace, alongside its incredible growth as a modern nation, is remarkable. Just twenty years ago, the country topped global rankings in homicide rates (70 per 100,000 inhabitants in 2002) and kidnappings per capita. But today, thanks in large part to a concerted effort to deliver accountability for crimes against humanity, its security situation has improved drastically.
The ongoing negotiations between the Colombian government and the FARC guerrilla movement have been praised for their comprehensive framework. With a final concord now closer than ever (the two sides have agreed to reach an agreement by March), the Colombian experience in brokering peace is poised to serve as a model beyond the hemisphere. So what exactly has Colombia done differently from so many other states that have been per¬petually locked in conflict, and how were they able to achieve it?
In outlining what constitutes a successful transitional peace agreement, my colleague Dr Douglass Cassel, professor of international law at Notre Dame University Law School and a key architect of the Havana negotiations, highlights five main components. 'There needs to be accountability, there needs to be truth, reparations for victims, guarantees of non-repetition and some form of justice,' he says.
Serving as a key consultant in the working group brokering the peace deal in Havana, Cassel saw to it that provisions were in place to ensure the credible implementation of these five aspects. He emphasises that a delicate balance must be struck in order to guarantee peace while granting victims their right to justice for past atrocities.
Transitional justice rests on two principles, Cassel argues. The first is the imperative to recognise, assume responsibility for and accept punishment for crimes against humanity: 'When there have been atrocities in the past and a country wants to move on to a better future, the option of erasing the past and pretending it did not happen is no longer an option.'
Much of the recent success of the Colombia peace accord can be attributed to its airtight provisions in this regard. FARC guerrillas who have committed international crimes will either disclose the full truth and publicly assume responsibility for their crimes or deny involvement before a Special Tribunal for Peace. The vast sentence differential (the former option entails five to eight years of reparative labour and restriction of freedom; the latter up to twenty years' imprisonment) is what ensures recognition of these crimes and, consequently, justice for past victims.
The second aspect of transitional justice is a product of the context in which it is necessarily carried out. In order to guarantee a lasting peace, concessions inevitably have to be made on both sides, meaning that, realistically, the process cannot be assessed by standards that apply to a society already at peace. 'Justice for the past must be tempered by the demands of negotiating a peace for the future,' Cassel wrote in a September 2015 letter to Colombian president Juan Manuel Santos.
In keeping with this key principle of transitional justice, the negotiations in Havana include provisions for amnesty to be applied in cases of 'inevitable crimes' such as the act of rebellion and the illegal possession of firearms. While such concessions are a cornerstone of a successful peace agreement, it is important to note that amnesty may under no circumstances apply to crimes against humanity, including kidnapping, extrajudicial execution, genocide and grave privation of liberty.
Can the Colombian model be successful elsewhere? I can't help but think of Thailand, another conflict-torn country in which I have been involved for years. It is still very far away from achieving its own Havana-style peace process.
Since May 2014, the country has been ruled by the iron fist of a military dictatorship that seized power in a coup, preceded by decades of impunity and several mass killings of unarmed protesters. But these same military officers will one day be required to sub¬mit to transitional justice, just as the FARC leadership has done in order to achieve peace. And if we can't begin to at least envision such an outcome in other challenging conflicts, then Colombia's valuable lessons would tragically go to waste.