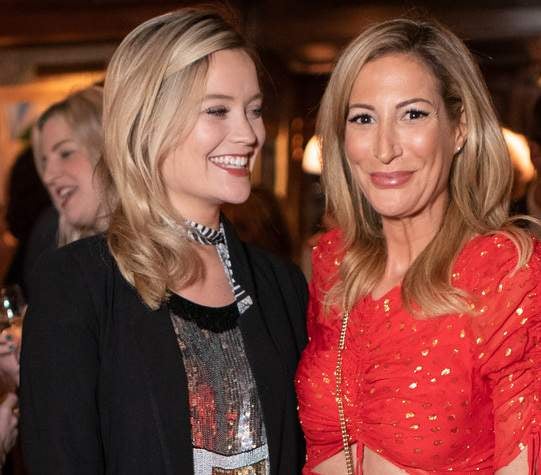 Spear's founder and editor-at-large William Cash heads to the latest member of Mark Birley's exclusive London family
If you thought you had to be wearing a tie and jacket – not to mention make it through the membership process – to enjoy the chic ambiance of Harry's Bar in London, there's now another way of experiencing the glamour of possibly Mark Birley's most exclusive club: simply walk into the new Harry's Bar restaurant on James's Street in Marylebone which requires no membership and is the latest addition to the Harry's Bar 'collection' across London, from Knightsbridge to Camden.
Just as Richard Caring has rolled out the Ivy Collection of new brasserie restaurants from its original home in West Street, Covent Garden, so he is now doing the same with Harry's Bar. But don't think there is anything remotely new about this. I can recall being in Miami for the Miami Art Basel fair back in 2008 and being astounded to find an 'Ivy Restaurant' in a shopping mall along with the familiar Ivy logo and all of its signature dishes.
Noelle Reno
At the launch party for the new Harry's Bar in James Street, the only thing that made me realise I wasn't actually in the original club in South Audley Street  – currently being refurbished – is that there were a number of guests wearing trainers. These are still banned at the club.
But the society party guests who were drinking the perfectly made Bellini's were as chic and sophisticated (including this Friday's royal groom Jack Brooksbank) as any gathering you would normally find at Harry's Bar. I enjoyed seeing my old pal Harry Dalmeny of Sothebys, certainly no stranger to Harry's Bar (there are a few that could be named after him, especially in St Moritz). I also especially enjoyed talking with my favourite TV breakfast show presenter Sarah-Jane Mee who was as charming and relaxed off air as on air; and the beautiful and stylish Emma Thomas, head of events at Cartier.
Guests also included: Laura Whitmore, Nicola Roberts, Isaac Carew, Jack Guinness, Noelle Reno, Laura Pradelska, Amanda Cronin, Jean-David Malat, Jean-Bernard Fernandez-Versini, Louisa Connolly-Burnham, Jenni Falconer, Chris Baber, Alex Newport, Emily Hartridge, Imogen Hervey-Bathurst, Martha Sitwell and Betty Bach and William Woodham, CEO of Fitzdares.
Laura Pradelska
It was such a sophisticated launch party that I almost thought I needed to write a hand written thank you note to the hostesses of the evening, Katherine Grima and Daisy Bell of Wickerwood.
Guests drank Bellinis with canapes of truffle chicken, pizzetini, pumpkin ravioli, gelato cannoli and Tiramisu accompanied by Italian wines that would certainly not have looked out of place on any of the tables at South Audley Place. The new Harry's Bar can seat up to 150 guests and is rather dangerously located within a champagne cork's popping distance of Selfridges and other shops on Oxford Street; or for the more cognoscenti clientele, it is just a short walk away from the Wallace Collection.
Amanda Cronin
The thing about Harry's Bar is that Mark Birley rather shamelessly stole the idea himself from his visits to the original American bar in Venice which is no relation to the Harry's Bar he opened in Mayfair with former Orient Express train owner James Sherwood in 1979.
The new Harry's Bar in James Street is different from the club. It doesn't quite have the feel of the Venetian chandeliers, Fortuny fabrics, or the Murano glassware of South Audley Street – but then you are not paying around £250 for dinner or lunch for two. The new Harry's Bar is an affordable glimpse into the rarefied world of Mayfair's private members club land. It's Harry Bar lite and what a nice feeling to enjoy such associated glamour for what is probably under £100 a head.
Jenni Falconer
I liked the butterscotch leathery banquettes, and the nods to the Venetian glamour of the Bienalle, with the walls hung with almost garish works of mid-century Italian glamour. It felt like a place one could spend the afternoon in, Venetian style, before spending far too much on Valentino or Dolce & Gabbana after draining glasses of prosecco, the Venetian's answer to fizz – which my 1965 Venetian guide book by Hugh Honor assures me 'tastes like champagne after the second bottle.'
I am looking forward to having dinner at the new restaurant where Chef Director Diego Cardoso has created a menu full of 'unfussy Italian classics bursting with flavour'. I am told – just as at South Audley Street – the kitchen works directly with Italian suppliers and importers. The olive oil is from the hills of Maremma, for example, where the holy grail of Italian olive oil is produced. Another nice touch is that copper pans are used for the handmade pasta dishes with the sauce still cooking as the pasta is delivered to the table.