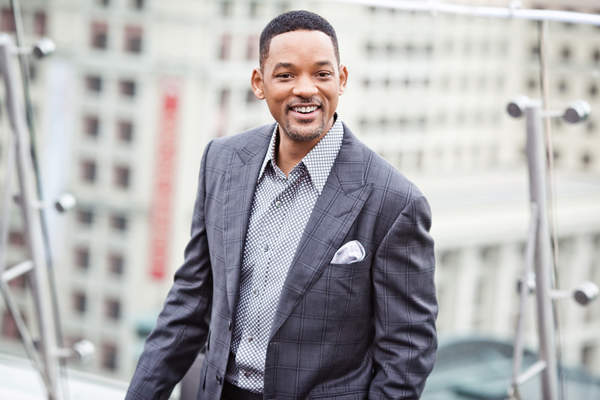 Will Smith's net worth is estimated at £165 million.
He was born in West Philadelphia in 1968, the son of a refrigeration engineer and a school administrator. His first forays into showbiz, as MC of the hip-hop duo DJ Jazzy Jeff & The Fresh Prince, gained critical acclaim, but by 1990 he was allegedly on the verge of bankruptcy, having been hit with a $2.3 million bill for unpaid taxes.
His first acting role, playing the Fresh Prince of Bel Air in the eponymous 1990s NBC sitcom, therefore couldn't have come at a better time. The show is still syndicated around the world today, and for Smith it paved the way to a successful, and lucrative, career in film.
His first Hollywood role came three years after the Fresh Prince was first aired, when Smith played the artful and charming con artist Paul in the 1993 drama Six Degrees of Separation. In 1996 he starred in the sci-fi blockbuster Independence Day, which held the record for the second-highest grossing film ever at the time. Overall, Will Smith's films have made box-office earnings of over $9 billion worldwide. In 2008, with the release of Hancock, he made records with his unbroken row of eight $100 million-grossing films.
With eight of his films having hit top spot at the US box office, Will Smith can count himself as part of an elite clique of film stars including Tom Cruise and Tom Hanks. Little wonder, then, that in 2007 Newsweek crowned the (no longer so fresh) prince of Bel Air 'the most powerful actor in Hollywood'.
Arguably his best-known role, Smith played Agent J in Men in Black in 1997. The first in the sci-fi comedy franchise, it grossed $589 million worldwide. Its follow up in 2002, the ingeniously titled Men in Black II, earned $190 million in the US alone.
An extended sabbatical in 2008 – he announced he wanted to focus on his children's careers – appeared to have done little to diminish Will Smith's net worth or earning power. He returned to the big screen in 2012 for Men in Black 3, which opened at number one at the US box office and grossed $624 million. Smith's most recent film After Earth, co-starring his son Jaden, received a poor reception in the US, and was panned by every critic on earth, but revealed Smith's global appeal. Within weeks of its release, it had already made $240 million worldwide.
Since the late nineties, Smith has also been a partner in his own production company, Overbrook Entertainment. It has produced several of Smith's films, including Hancock, Hitch and I Am Legend, all of which grossed over $350 million worldwide. In recent times, the company has managed the careers of Smith's children, as well as creating television content such as The Queen Latifah Show.
As with many HNWs, Will Smith clearly has an eye on his succession plans. His son Jaden seems happy to follow in his father's footsteps as an actor and rapper, debuting in the 2006 film, The Pursuit of Happyness. He's also showing an independent streak – having asked to be emancipated from his parents. Smith's daughter, Willow, is also a singer and actress, starring alongside her father in the 2007 film I Am Legend.
Smith is known to own homes in Los Angeles and Miami, but has also demonstrated a philanthropic side. Together with his wife, Jada Pinkett Smith , he set up the Will and Jada Smith Family Foundation, to support inner-city youth. In 2008, Fox News reported that Will Smith had given $1.3 million to charities.