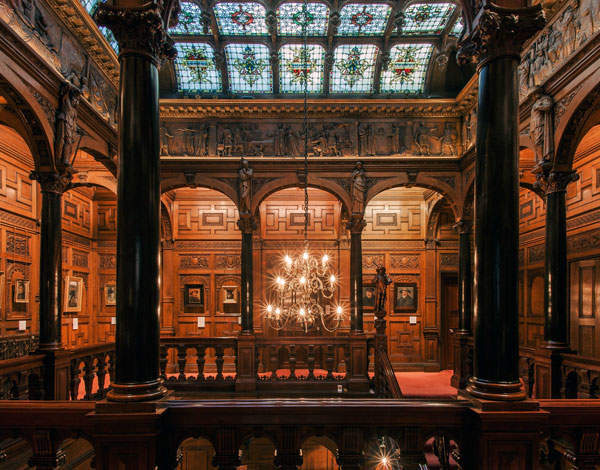 One of my favourite buildings in London is the old Astor Estate Office in Temple Place. It has been for decades — at least since I published a book about Edwardian architecture, The Last Country Houses, in 1982. In those days it was little known and difficult to get into. Cognoscenti have seen rather more of it since it was acquired by the excellent Bulldog Trust. I emphasise my long association because I wouldn't want you to think I was some Johnny-come-lately who has only come to appreciate the treasure now that it's been rescued from obscurity. I was a pioneer.
It may seem incredible now, but 30 years ago even Victorian architecture was popularly regarded with amused bafflement, if not contempt. The buildings of the early 20th century were condemned both by old-fashioned aesthetes, for being insufficiently like their Georgian predecessors, and the Modern Movement, for failing to anticipate Le Corbusier.
We didn't even have a word for them. The French affectionately spoke of the Belle Époque, Americans of the Gilded Age; the best that the British could come up with was fin de siècle, a term which only really applies to the work of a few sickly perverts. You couldn't call the Astor Estate Office, though built in the 1890s, fin de siècle; although magnificently hand-wrought, with the use of many beautiful materials, it isn't even Arts and Crafts. Like the period as a whole, it defies categorisation, having been built by a Gothic Revivalist, John Loughborough Pearson, in a French Renaissance style that he never otherwise used.
But then the client was an oddity, too. William Waldorf Astor was heir to a fortune that had been founded, in the 18th century, on fur trapping, the proceeds of which were wisely invested in farms around New York: they subsequently became some of the most expensive real estate in the world. He did not, however, feel comfortable in his native land. It was not, as he famously said on leaving to take up the post of American minister in Rome, a fit place for a gentleman to live. He preferred Europe.
Having tried Italy, where he developed a taste for collecting, he came to England and bought Cliveden House. Convenient for London, Cliveden had always attracted the better sort of owner, mostly dukes. Astor improved the gardens with Roman sarcophagi and the balustrade from the Villa Borghese. He also commissioned the sculptor Thomas Waldo Story to create an immense Fountain of Love as a feature on the drive — strange, really, because love was not Astor's salient characteristic. By nature, he was introverted, controlling and paranoid.
When the time came for his son, Waldorf, to marry the sparky Virginian Nancy Langhorne in 1906, he gave them Cliveden as a wedding present. He himself moved to a more suitable house, Hever Castle in Kent. It had a moat. On the other side of it, Astor built the usual appurtenances of an Edwardian plutocrat's mansion — imaginatively, they took the form of a Tudor village, so as not to spoil what had been Anne Boleyn's childhood home. But each day he retreated to his own quarters inside the castle. The drawbridge was then pulled up.
Security was also a feature at the Estate Office back in London. Astor boasted that it had a central locking system, whereby every lock in the place could be closed by tugging a lever. Nowadays one would merely have to press a button on a key fob or tap an iPad, but in the 1890s that was something. Astor was up to speed with technology: the ornate lamp standards outside the entrance door are adorned with cherubs making a telephone call and displaying the wonders of electric light.
But the man was also afraid of attack. I can't think he was right to be; few kidnappings took place then. But it's one of the things about Astor, whom I once thought of as a hopelessly remote figure, weird even by the standards of his era, which is strangely modern. Security is, with more reason, provided to UHNWs in London today. The problem, someone whose business is security told me, was to persuade clients that it should be discreet. 'Big black men, with earpieces', as requested by a nervous American, don't look good in media photographs.
A billionaire from Kazakhstan likes London because he can walk hand in hand with his wife. The guards can be allowed to back off sufficiently for affection to be displayed without embarrassment. But the guards are there all the same. Just like Astor's Estate Office was out of its time with its unorthodox architecture, the man himself belongs to his era and to ours.