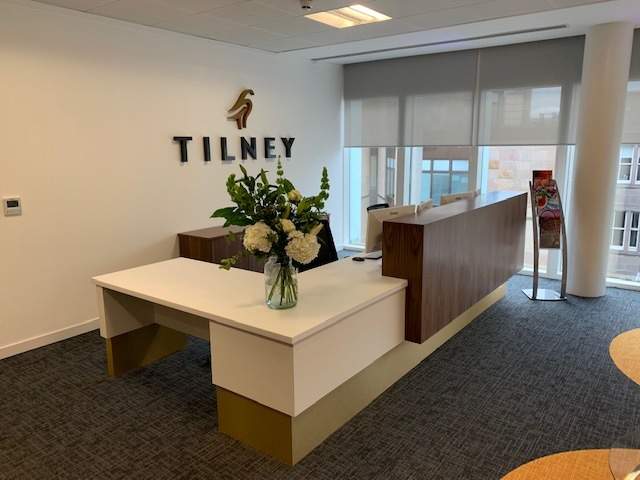 A new senior hire and Edinburgh office with plenty of space suggests that Tilney's Scottish expansion is ramping up, reports Arun Kakar
Wealth manager Tilney is continuing to embark on its expansion into Scotland with the opening of a new, larger office in Edinburgh's exchange district.
Tilney is one of the largest wealth managers in the country, managing over £24 billion of assets on behalf of  HNW private clients and charities. Its presence in Scotland has grown steadily, and it is one of the few firms of its kind to have a presence in Scotland's three largest cities: Aberdeen, Glasgow and Edinburgh.
The Edinburgh office houses 43 staff members as well as 'plenty' of room for expansion – a sign of the firm's prolific recruitment drive. The new office lunch was also accompanied by the hire of Ronnie Binnie from Standard Life Aberdeen as a managing partner. Binnie will take overall responsibility for the firms business in East Scotland, leading the delivery of regional business plans for its Edinburgh and Aberdeen offices, reporting to Paul Frame, head of Scotland and Northern Ireland.
'We are delighted to welcome Ronnie to our business. He has a long and impressive record as a leader in our industry and he will be a huge asset to the team,' Frame said of the appointment. 'Ronnie joins at a very exciting time for our business in Scotland as we look to expand our client based further and continue to make additional hires in both our financial planning and investment management teams.'
Tilney offers a range of services including financial planning, investment management and advice and, through its Bestinvest service, an online platform for those who prefer to manage their own investments.
The Mayfair-headquartered firm employs over 1,000 staff over 30 offices. Binnie hire follows a series of Scottish hires made in December by rival wealth managers Charles Stanley, who are also looking to expand their presence in the country.
Frame added: 'Having already established an excellent client base in the east of Scotland, the opening of Tilney's new and bigger Edinburgh office is a yet another milestone to achieving our ambition of becoming the most trusted wealth manager in Scotland.'