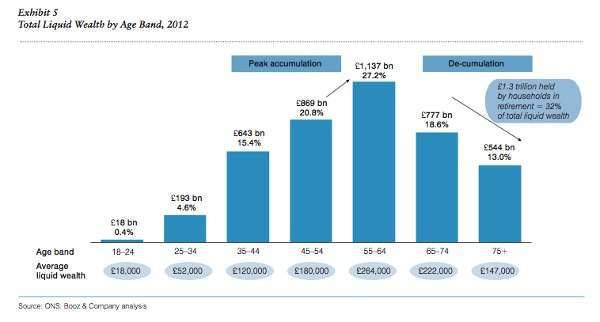 Wealth managers in the UK are missing out on the opportunity to manage more than '2 trillion, as they focus only on the very richest
Wealth managers in the UK are missing out on the opportunity to manage more than '2 trillion, as they focus only on the very richest and ignore the individually less rich – who actually control more than half of the nation's liquid wealth.
That's according to a new study by Booz & Company, which found that the UK's households together had investable wealth of '4.2 trillion.
However, according to the study, banks and wealth management firms offered products and services targeting less than half of the wealth. This was because of the way banks segmented customers, as they focused on their level of wealth rather than their age and needs.
'This one-size-fits-all approach doesn't really work,' Jorge Camarate, one of the study's authors and a principal at Booz & Company, told Spear's. 'If you look at the proposition of most financial firms, you don't see a basic segmentation of customers that have very different needs.'
The report found that 2.4 per cent of families in the UK could be defined as wealthy, as they had investable assets of at least '1 million. Together, they controlled 63 per cent of the nation's liquid wealth.
Although they made money in different ways – some from entrepreneurship and some from inheritance – they all focused on wealth creation and preservation and the wealthiest among them were the main target of wealth managers.
An additional 12.1 per cent of families were defined as affluent – with assets between '100,000 and '1 million – and controlled 28 per cent of the liquid wealth in the country. Despite being behind almost a third of the UK's wealth, those families were not well served by financial services firms.
In particular, wealth managers tended to ignore those who were approaching retirement, many of which had accumulated significant wealth.
'Most people in the UK that have between '100,000 and '250,000 in assets are in pre-retirement age – they are very different from affluent but younger individuals,' Camarate said, adding that they are looking at de-cumulating their assets (ie not acquiring new ones).
'If you want to advise those in pre-retirement, you don't need a very sophisticated investment offer but a plan that makes the most of all their assets – they may have different pension plans with different providers, their assets may be split in their estates, they may have an investment fund. What they want is a holistic view of all their holdings.'
This segment should be particularly attractive to wealth managers as it is likely to grow in the future, as the population gets older. According to the study, there are 7.2 million families in retirement at the moment, but they are expected to be 8.8 million in ten years and 10.6 million in twenty years, with their investable assets increasing from '1.3 trillion to '2.2 trillion.
Another category wealth managers did not pay enough attention to was that of individuals aged between 35 and 44 who were about to enter their peak earning phase but had not accumulated much wealth yet.
'The younger wealthy would have less assets and more income [than those in pre-retirement] – and if you want to target them you need to focus more on finding an investment strategy based on their risk appetite,' said Camarate.
He added that wealth managers can bring this level of segmentation further, including factors such as age, level and source of wealth and whether it is old or new money.
If they do and choose what group or groups they want to focus on, they will have a competitive advantage in the market and could have access to that '2 trillion that is still untapped.