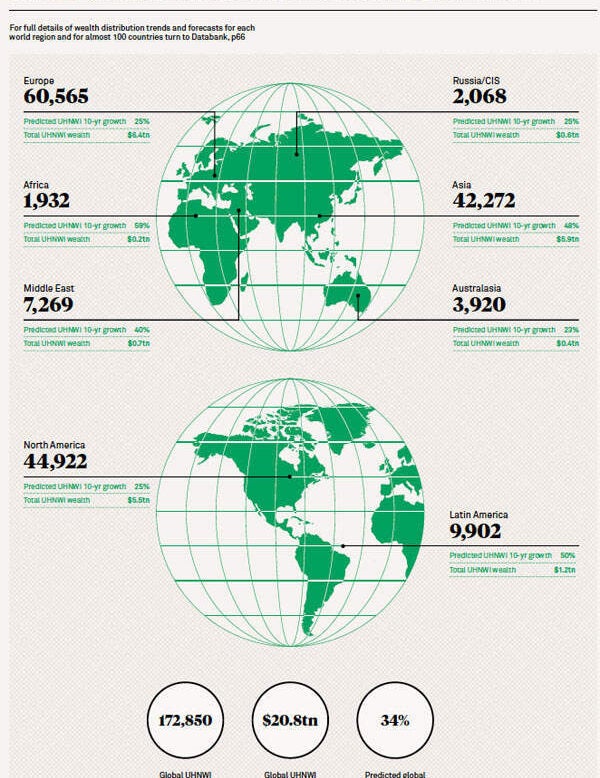 Buried amid the announcement in the Knight Frank Wealth Report, released today, that the number of global billionaires has risen by 53 in the past year is news that not all is well for one sector of the super-wealthy.
Having surveyed almost 500 private bankers and wealth advisers, the report has concluded that Russian UHNWs (net worth above $30 million) are likely to suffer an unprecedented crash in their wealth in 2015. Nearly 20 per cent of these advisers said that their Russian and CIS clients' wealth would likely decrease in 2015, compared with no more than 5 per cent of advisers in any other region.
In the past year, only 33 per cent of advisers thought their Russian clients' wealth had increased, compared with 74 per cent in Europe and Asia, 89 per cent in Africa and 100 per cent in North America.
Advisers said that 33 per cent of their clients were thinking of permanently leaving Russia; all other regions were at 15 per cent or under. And in the Global Cities Survey, ranking the top 40 most important cities to UHNWs today, Moscow came seventeenth; London was first, New York second, followed by Hong Kong, Singapore and Shanghai.
Pictured above: Advisers' predictions for their clients' wealth
Regional trends
Other conclusions from the report held good news for today's wealth leaders. London currently has most UHNW residents (4,364), followed by Tokyo (3,575), Singapore (3,227) and New York (3,008), but over the next decade, Singapore was expected to add 1,752, Hong Kong 1,251 and New York 1,013. London will remain top by numbers in 2024, the report predicts.
On a regional basis, Europe has the most UHNWs (60,565) followed by North America (44,922) and Asia (42,272). Russia has 2,068 and Africa 1,932. Asia overtook North America in UHNW growth, but both lagged Europe. Overall UHNW growth in 2014 was 3.1 per cent, a slight increase on 2013's 2.9 per cent. Total global UHNW wealth is estimated at $20.8 trillion.
Pictured above: How many UHNWs there are around the world
Panic in Russia
It is not hard to fathom why so many Russian UHNWs fear for their wealth or indeed (given the numbers planning to leave) possibly their safety too. EU and US sanctions have affected dozens of UHNW Russians, many in President Putin's circle. The rouble has collapsed.
There have also been domestic factors threatening Russian wealth. Dual citizenship is under threat, meaning Russians with more than one passport may choose to head for that second jurisdiction.
A new set of rules in Russia mean that any Russians living abroad have to declare their global assets and may have to pay tax on them. One interpretation of these rules is that the Kremlin is eyeing up a menu of assets which could be seized.
And given the recent murder of opposition leader Boris Nemtsov, Russian UHNWs may well be preparing to seek security elsewhere.
Ashley King-Christopher, a commercial lawyer at Charles Russell Speechlys with a Russian practice, says: 'More Russians are relocating to the UK than ever before. Since the Orthodox new year, our Russia team has been managing a constant stream of enquiries.
'It's not just the country's obvious problems – the currency, the international sanctions – that are behind this. New tax rules came in on 1 January which were hurriedly drafted and very unclear. The intention seems to have been to avoid capital flight from Russia, but ironically they are having the opposite effect. These new rules urgently need reviewing if Russia wants to stop haemorrhaging people and capital.'
It seems like the Wealth Report may bear out these predictions.
All graphics from the Knight Frank Wealth Report 2015