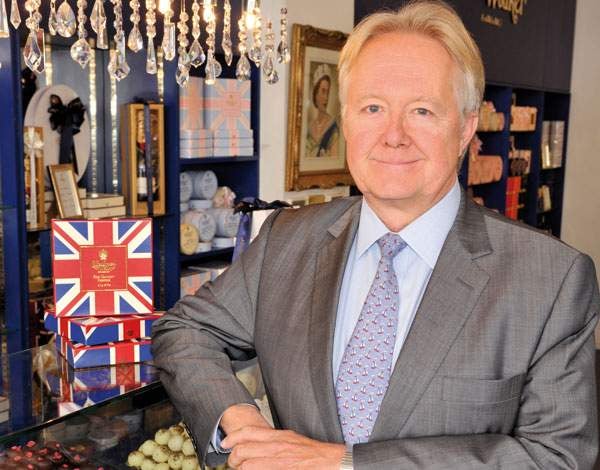 The Canadian Weston retail dynasty is now at the heart of the British establishment, not least because scion Galvin Weston runs Charbonnel et Walker, chocolatiers to the Queen. William Cash meets him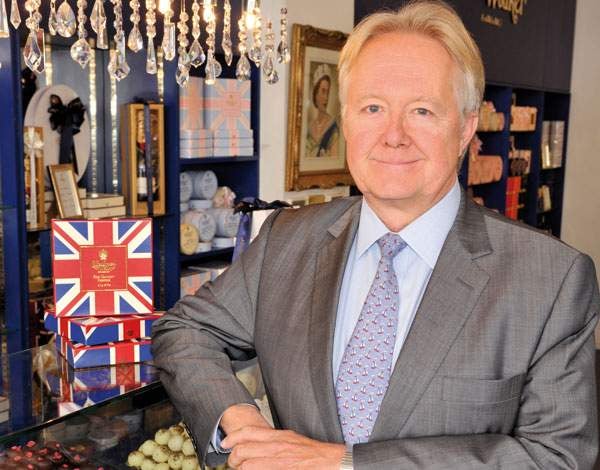 Galvin Weston deals in dynasties. His Canadian retail baron grandfather was Willard Garfield Weston, OC, founder of the company that now includes Selfridges, Fortnum & Mason, Primark and Brown Thomas in Dublin. His mother, Caroline Cecily Douglas-Scott-Montagu, was the daughter of Lord Montagu of Beaulieu. And the shop he has owned for ten years — chocolatier Charbonnel et Walker — has a warrant from the ultimate dynasty, the British Royal family.
The companies Willard founded — Associated British Foods, one of the world's largest food and distribution companies, and Wittington Investments, the privately-held parent company — are run by Galvin's uncle Galen Weston in Canada and his nephew Guy in the UK. In the 2014 Sunday Times Rich List, the Weston family were ranked as the wealthiest retail family in the UK at £7.3 billion — up £650 million and placed above Sir Philip Green.
Galvin Weston rarely gives interviews, nor is he mentioned as the chairman on the Charbonnel et Walker website. In typical Weston style, it is the brand and its distinguished history that take centre stage. 'We are not publicity-hungry as a family,' he says over lunch at 5 Hertford Street. 'We tend to keep out of the public eye. I've never wanted to be in the limelight of the brand.'
His 12-year old daughter Cecily is doing work experience in her father's Bond Street shop; helping out in the family store is a long Weston tradition. 'I first started working for my dad when I was about five at his biscuit bakery in Texas. My dad had me peeling the tape off cardboard boxes as a young boy. I instilled the same family values and work ethic from my father Granger in my eldest son Garrett. He now lives and works in Texas and runs my father's ranch.'
While the British upper classes have always been a bit sniffy about entering 'retail', in America there are no such social qualms — even better if your family own prestigious brands and stores with a rich social pedigree and history. 'We were brought up to understand the retail side, the wholesale side and the manufacturing side. The basis of my experience is that, as a family, we are very proud to understand the whole of a business from top to bottom. We have all been taught that hard work always wins out in the end. As a family we don't tend to put ourselves in front of the brands. We have enough self confidence in what we do that we don't need to do that.'
The Weston family have long had strong royal connections — Galen Weston rents a house on the Windsor Great Park estate — and it was no coincidence that when the Queen, the Duchess of Cambridge and the Duchess of Cornwall went out for their first joint visit, they chose Fortnum & Mason.
The royal association with Charbonnel et Walker goes back to 1875 when the Prince of Wales (later Edward VII) encouraged Mrs Walker and Madame Charbonnel, the latter from the Maison Boissier chocolate house in Paris, to form their partnership. That Charbonnel et Walker continues to be endorsed by the Royal warrant as chocolate manufacturers to Her Majesty The Queen is a source of 'much pride and admiration', says Galvin.
Charbonnel's first shop opened at 173 New Bond Street and has remained in Bond Street ever since. It subsequently moved to the Royal Arcade on Old Bond Street where the shop's theatrical window displays have long been a notable feature. (I should express an interest here as my milliner wife Laura Cathcart has been commissioned to create a series of hats in the shape of chocolate boxes for Charbonnel's Christmas window display.)
Galvin certainly enjoys every aspect of being a chocolate baron. When the Birley bitter-chocolate ice-cream is served after lunch, he treats the experience with the same level of seriousness that a Master of Wine might exercise in tasting a 1996 Petrus. He nods appreciatively when I tell him that the secret of the Birley ice-cream is to use Venezuelan chocolate and a spoon of black treacle. 'This is very nice,' he says. 'I could eat this every day.'
Charbonnel is also famous for its packaging and beautiful handmade boxes with satin ribbons, as those attending the Spear's Wealth Management Awards at The Savoy at the end of October will discover. Packaging chocolates with a company logo as a corporate gift is becoming a trend for Mayfair-based firms.
Firms can also hire the Bond Street shop for a 'chocolate and champagne tasting' evening with clients given the chance to create their own bespoke selections as they try out an eclectic range of treats, including pink champagne truffles, ginger marzipan and English violet creams.
On the day we have lunch, the Forbes family announced that they were selling off Forbes magazine — founded in 1917 — to a buyer in the Far East. With hundreds of cousins and competing family factions within the dynasty, combined with traditional print magazine empires being hit by the internet, the Forbes family have had their day with their flagship, selling it for only around $250 million.
But the Weston family show no sign of any discord and continue to buy retail assets together. How do they manage to remain so tight as a family? 'We all get on. Part of it is an ability to see the niche that is right for you. There is hardly any member of the family who is not involved. It is quite interesting how we have been able to keep it all together. Galen — my uncle — is our patriarch. When he is involved in a project, we certainly look up to him.'
Does each family member have autonomy over the way they run their businesses, or is there a family council that oversees everything? 'We all operate independently and are good at seeing value in a brand. The brands that we buy are good brands. I am looking to expand Charbonnel abroad. We have recently opened our second shop in Shanghai and I am looking to open a new shop in New York.'
Philanthropy is also an important part of the Weston family DNA. Founded in 1958 by Galvin's grandparents, the foundation was endowed with family-owned shares, before being handed over to his son. Based in London, the foundation supports the arts, education, medicine, religion, youth, community, welfare and the environment. 'My grandmother had a foundation and the Garfield Weston Foundation all started from there. We all serve three-year terms helping with the foundation as family members. It's about giving back to people.'
The Weston family always encourage their children not to be afraid of the unknown and to row for themselves. In Galvin's case, this lesson was instilled in him aged just six when his father bought him a small plexiglass rowing boat. 'Having grown up in Jamaica, one of my most vivid memories of childhood was rowing from the beach at the hotel at Frenchman's Cove — which my father built and which I now manage — around the rocks and bay to our home. I remember being so thrilled and proud when I was told to "bring the boat home" and I did it all on my own.'
But as a young Weston he also had to work. Every Saturday morning, Galvin would ride his bicycle the two miles to the hotel from his home. 'I cut the grass in front of the hotel with my own little orange Jacobsen lawn mower. I was just nine.'
Did you get paid for mowing the lawn? A chocolate ice-cream for your labours? 'No,' says Galvin. 'I just got fed. A Jamaican breakfast.'
Photograph by Tim Griffiths