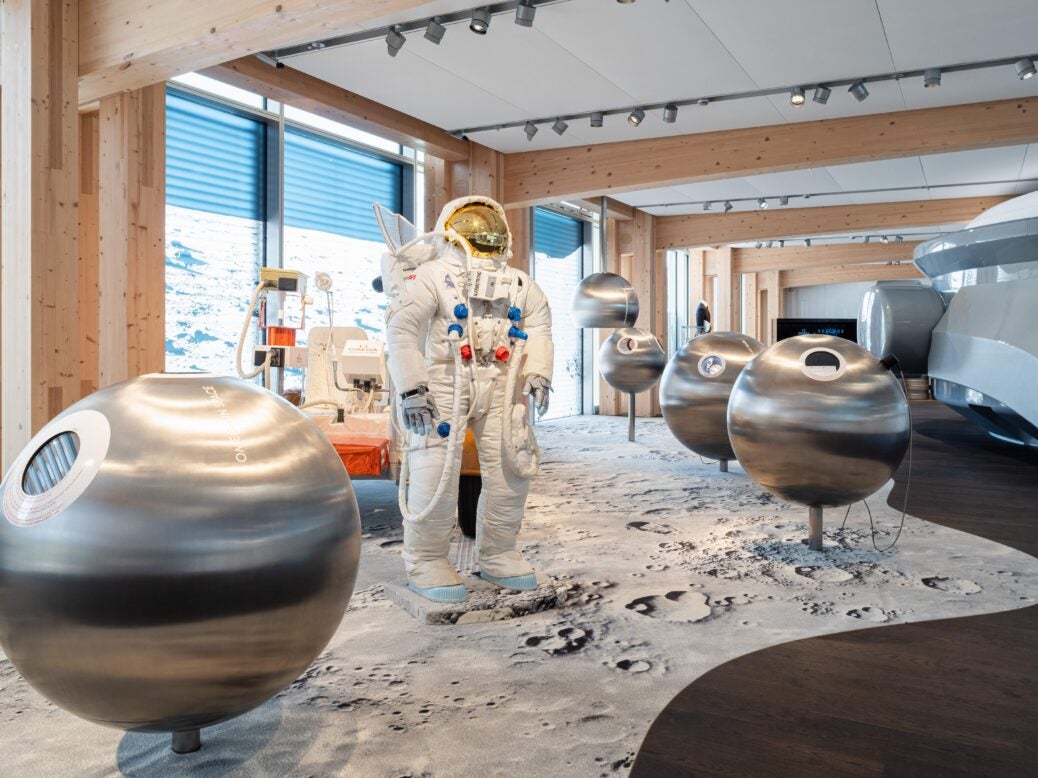 Swiss watch brands have rich histories (quite literally). At last, they're inviting customers to come and see for themselves
Many years ago I visited what was then the museum of Audemars Piguet, the historic watchmaker. I say museum, but it was more like an old library: sombre and antiquated, full of wooden drawers, ancient ledgers and timepieces, viewable by private appointment. It occupied the old house where Edouard Piguet and Jules Audemars had set up their workshop in 1875, and it couldn't have been more different from what has just opened next door.
The new Musée Atelier Audemars Piguet, which opened in June, is a piece of architectural grandstanding: a spiral-form-building-cum-earthwork, which rises like a glasswalled, grass-roofed ziggurat from the Jura hillside in the tiny village of Le Brassus.
Devised by the superstar architect Bjarke Ingels to resemble the spiral of a watch's hairspring, it puts the brand's miraculous watchmaking history on full public display. Tours are arranged by appointment via the brand's website, and visitors will see not just the historic watches, but also the contemporary watchmaking: the atelier where the brand's most elaborate 'grand complication' pieces are constructed by hand is located within the spiral, visible behind internal glass walls.
Were it not for the pandemic, 2020 should have been a banner year for what is still a relatively new side to the watch industry's storytelling machine: tourism. As the old Audemars Piguet museum attested, this wasn't previously a big concern in an industry that had only been emerging from the gloom of the quartz years since the late Nineties.
While the global brand-building since then has been spectacular, the HQs in Switzerland, while humming with history and suffused with watchmaking talent, remained dowdy affairs, closed to all but the most valued of clients.
This is all changing fast – or, at least, it was. The era of easy global travel coincided with a surging interest in vintage watches and brand histories, while the authenticity of a bona fide backstory has never been more valuable in the luxury world, where one hears of 'storytelling' giving way to 'story proving'.
'Clients and collectors are looking for the chance for a "deep dive" on the subjects they are most passionate about,' says Michael Friedman, Audemars Piguet's head of complications and its historian. 'We created the new museum to engage clients on this level, but the tour is also readily adaptable for people that are new to watchmaking or new to Audemars Piguet.'
Consequently, brands have been piling investment into meeting a new kind of customer demand. Zenith CEO Julien Tornare told me that before the pandemic, visits to the brand's manufacture, which last year became open to the public three afternoons a week, were getting booked up eight weeks in advance.
During the lockdown, Zenith went ahead with the launch of a new version of its El Primero chronograph that is only available to visitors to the factory and was inspired by a prototype dial found in the factory's attic.
There are plenty of other brands crossing their fingers that the watch tourists will soon return.
In February I sneaked inside Omega's sparkling new museum in Biel/Bienne. It fills one end of a huge, timber-framed form by the famed Japanese architect Shigeru Ban, which rolls across the brutalist campus of Omega's owner, Swatch Group.
The exhibit is as beautifully designed, veering from Omega's 19th-century beginnings to its high-tech timing systems for multiple Olympic Games – it should have been timing its 29th games this summer – and the watches it sent to the moon.
There's an exhibition of wonderful historic posters, technical exhibits and audiovisual displays, plus a lunar rover and a spaceman. Oh, and there are watches – scores of them, of every conceivable style and function across the decades.
***
For the traveller, one of the useful aspects of Swiss watchmaking is its clustering in a compact and beautiful region.
You can drive from Biel/Bienne down to Geneva Airport in less than two hours, cruising along the banks of the great lakes, Neuchâtel and Leman, that lie at the foot of the Jura mountains. Take a twisting road up into the hills and you're in watch country: the Alpine pastures where, long ago, farmers made a winter living making watch parts.
You still get a sense of the cottage industry that emerged as you trundle through watchmaking towns like La Chaux-de-Fonds and Le Locle, where you'll find the Zenith factory – first established in 1912 – along with Cartier, TAG Heuer, Tissot and many more.
From Le Locle, you can wind your way down to the Vallée de Joux, the heartland of haut de gamme horology, and home to brands including Audemars Piguet, Jaeger-LeCoultre, Vacheron Constantin and Breguet.
At JaegerLeCoultre's vast premises, visitors can look in on the complicated watchmaking and traditional decorative crafts through glass walls. At its heart is an airy, zen-like exhibition wing where its marvellous historic watches and clocks are displayed, along with the brand's documents archive.
The Audemars Piguet campus is five minutes up the road, and you'll soon be able to bed down in the local hostel, Hôtel des Horlogers –a twee, Swiss chalet affair until Audemars Piguet bought it and commissioned Ingels to rebuild it. In contrast to the spiral of the museum, the hotel forms a zig-zagging ramp whose roofs guests will be able to ski down in winter.
Once you get to Geneva, there's one more crucial stop-off: Patek Philippe's long-standing museum occupies a grand mansion and is the most sumptuous and comprehensive collection of horological history to be found anywhere.
As in many areas, Patek has long been ahead of the game when it comes to displaying watch history: for several years, besides the Geneva museum, it's been touring its best contents around the world in a series of grand exhibitions.
Patek's elders may be looking on with a wry smile as the industry catches up with what it knew all along: that opening your history to the public is as powerful a brand-building tool as any.
However, its museum has changed little over the years and felt old-fashioned when I first visited it more than a decade ago. Now its competitors are raising their game.
Read more
'Gliding down to a runway like Bicester's is the perfect conclusion a nostalgic adventure'
The luxurious world of Winch Design: The UHNW answer to Thomas Heatherwick
With Aya, Chelsy Davy plans to create an African luxury lifestyle brand