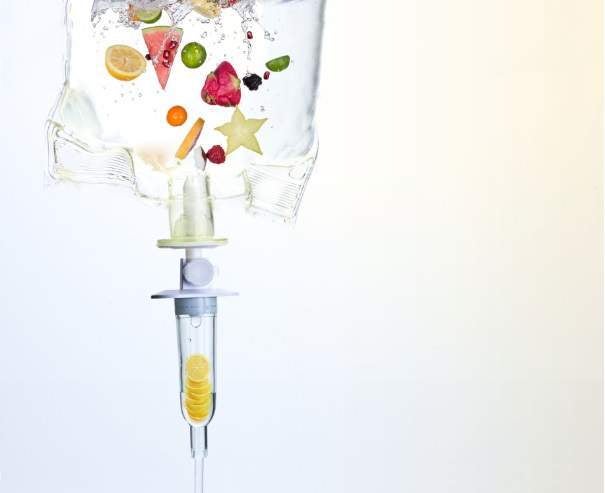 Emelia Hamilton-Russell gets hooked up to a VitaDrip as she goes in search of the ultimate spring pick-me-up
'Just relax, I'll be in and out,' says the nurse, slender, clear-eyed and shiny haired as she swooshes from the room through a swing door. A plastic tube snakes up my arm and attaches to a transparent sack on a tall metal stand. It's filled with a murky, yellow fluid– a potent cocktail of vitamins, minerals and glutathione, which the clinic calls VitaDrip, blended just for me.
Having nutrients supplied directly into your bloodstream used to be the preserve of people who were actually unwell. For them, it can be the only way to make sure they get the vitamins they need. The nurse, Becky, tells me gravely that only about 25 per cent of oral vitamins pills can be absorbed by the digestive system, and about 50 per cent from food. It's a wonder we haven't all got rickets.
In recent years, the trend for intravenous vitamin drip has been driven by pictures of 'burnt-out' celebrities and models hooked up to vitamin drips, and it's starting to take off among jet-lagged city-hoppers too. While the Elixir clinic does serve clients who suffer from health problems ranging from acne to Crohn's disease, in this discreet corner of Mayfair, the main market is those who just need an extra boost to reach optimum wellbeing. Hooking up to a drip, I am assured, is the cash-rich, time-poor way get that unmistakable health-is-wealth glow. It's so good that Becky recently travelled to Rome once a week for six weeks to administer it to a client there.
Right now, all I can feel is an ache in my arm, and a slightly metallic taste in my mouth, which, I'm told, is because of the Vitamin C. I focus on the positives: 'Free radicals cause degenerative conditions, and if your metabolism is not good enough, it may not be able to get rid of toxins on its own,' explains Mahi Aramideh, co-founder of the Elixir Clinic and former Harley Street nurse. 'A vitamin infusion is a great detox.' Aramideh came upon the concept about 10 years ago in Las Vegas, where she encountered a bus going around treating people's hangovers with intravenous drips and oxygen masks. She and her co-founder Acaena Amoros realised that with their combined clinical experience and interest in holistic wellness, a medical-grade treatment could be developed to harness the efficiency of an intravenous drip and make it widely available. The pair now manages five clinics. Besides the one in Mayfair, Elixir occupies 10,500 square feet on the fourth floor of Harrods and a room at the Ned's club spa. They have clinics in both Dubai and Abu Dhabi.
I have to admit, the experience is rather rejuvenating. Sipping green tea in a white leather armchair, getting slow-filled with vitamins, I almost feel like I'm part of the wellness set. That's until Becky returns with the results from my Oligoscan test, a non-invasive skin scan which evaluates the mineral content of my cells. According to the scan, my London lifestyle has left me magnesium deficient, dehydrated and ageing at an 'unsatisfactory' 75 per cent rate.
It's not as bad as all that, Becky assures, as she disconnects me from the drip. But am I tempted to sign myself up to a full, six week course? Absolutely. Priced from around £250 up to north of £700 per pop, the drips are expensive but if they can stall the ageing process, they're a damn sight cheaper than plastic surgery and much less painful.
And there's more to it than that. The patient next to me told me that his Oligoscan test detected risk factors for diabetes and thyroid disorders and he is currently undergoing six months' of drip treatments to see what impact it has. 'I'll let you know how it goes,' he volunteers.
The Elixir Clinic is the only vitamin infusion clinic in UK that is registered with the Care Quality Commission. Available at The Elixir Clinic London, Harrods & The Ned. For appointments: www.theelixirclinic.com
Emelia Hamilton-Russell is a writer at Spear's