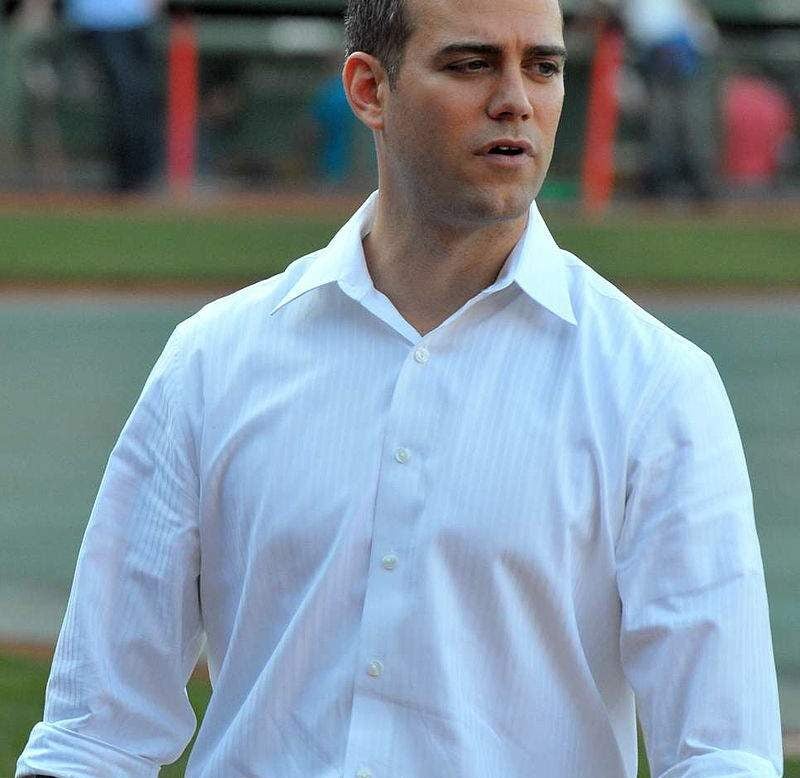 One of the youngest General Managers in Major League Baseball, Theo Epstein boasts an estimated net worth of $25 million.
Theo Epstein was born on December 29, 1973, in New York City, to Leslie Epstein (novelist/Head of Creative Writing, Boston University) and Ilene Gradman. Growing up in Brookline, Massachusetts, Epstein played baseball for Brookline High School Warriors, before graduating in 1991.
How did Epstein make his millions?

Epstein graduated from Yale University (American Studies), in 1995, and interned for Baltimore Orioles for three consecutive summers during that time, apart from being sports editor of Yale Daily News. He was then hired as Public Relations Assistant by President/CEO of the Orioles, Larry Lucchino.
When Lucchino joined San Diego Padres as a Director, he took Epstein along with him. Upon Lucchino's advice, Epstein earned a Juris Doctor degree at the University of San Diego School of Law and soon became the Padres' Director of Baseball Operations.
Quitting the Padres as President, Lucchino became President/CEO of Boston Red Sox in 2001—Epstein again in tow. In November 2002, Epstein was made General Manager of the Red Sox—the youngest in Major League Baseball (MLB) at the time, and was instrumental in Red Sox' reversing the "Curse of the Bambino" by routing the St. Louis Cardinals in the 2004 World Series championship. The win signified the end of the third longest championship drought in MLB and was the Red Sox' first championship since 1918.
Epstein resigned from the Red Sox in October 2005, rejecting a $1.5-million-per-annum, three-year contract. In November 2007, Epstein was reinstated as General Manager/Executive Vice-President on a new contract. Red Sox again won the World Series that year.
In October 2011, Epstein joined Chicago Cubs as President of Baseball Operations on an $18.5 million five-year deal. After three years of talent acquisition, the Cubs made the playoffs in 2015.
A contract extension with the Cubs in 2016 saw Epstein with a five-year contract worth around $50 million. The 2016 season saw the Cubs with their best MLB record since 1910 (103–58). That year, they also broke the "Curse of the Billy Goat", going on to win their first World Series championship after 108 years (longest championship drought in MLB), beating Cleveland Indians.
Along with Paul, his 60-second-older twin, Epstein co-founded the charity "The Foundation to be Named Later" (FTBNL) in 2005, which works through Hot Stove Cool Music (the biannual Boston and Chicago benefit concerts).
Other famous members of the clan are his grandfather Philip G. Epstein and great-uncle Julius J. Epstein, who won Oscars for Casablanca (Adapted Screenplay) and his sister Anya, who is a screenwriter/producer.
Epstein's other accolades include: the Carl Maddox Sport Management Award (2007), Baseball America Major League Executive of the Year (2008), Sporting News Executive of the Decade (2009, Red Sox were Sporting News Team of the Decade), named MLB's Best General Manager of the Decade and ranked third on its list of Top 10 GMs/Executives of the Decade (in all sports) by Sports Illustrated (2009), Sporting News Executive of the Year (2016), the Esurance MLB Award for Best Executive (2016), and ranked first in Fortune magazine's list of "World's Greatest Leaders" (2017).