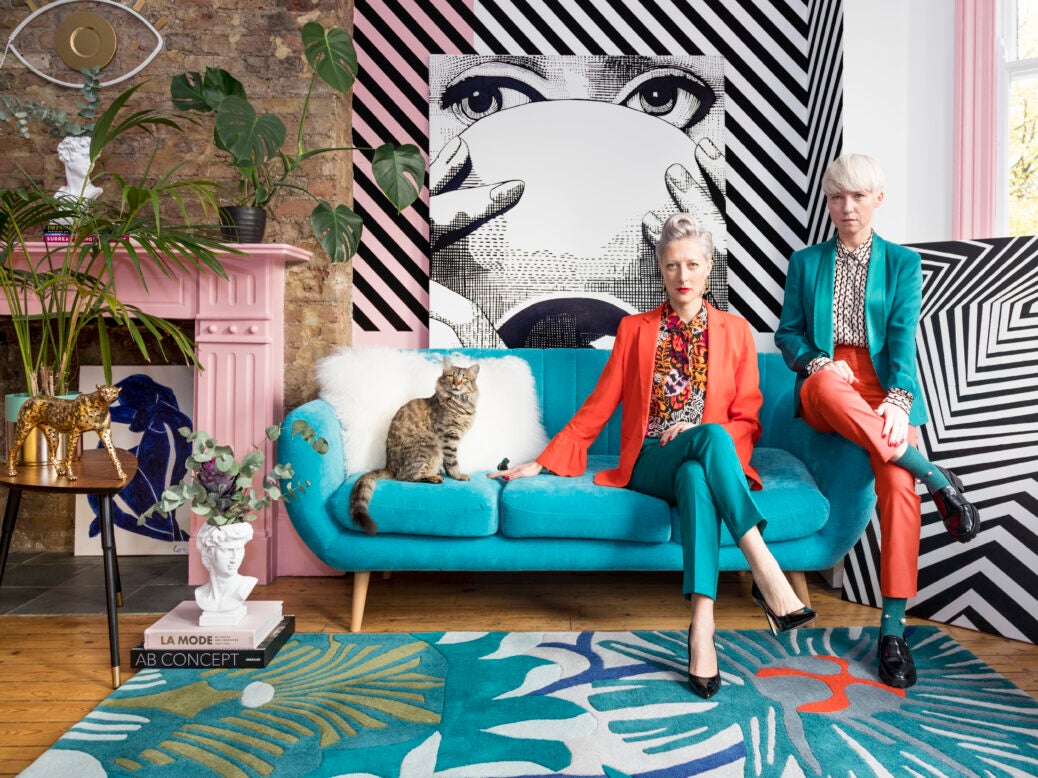 This London-based duo are applying their creative skills to help high-profile figures project just the right image to the outside world 
On their website, Sabrina Panizza and Aude Lerin are pictured in their gorgeous living room, wearing matching outfits of inverted red and teal blazers and cigarette trousers.
Every detail is aesthetically appealing – the brogue, the statement earring, the perfectly coiffed quiff… their tabby cat's eyes even provide a pop of yellow you didn't know the room needed.
Panizza, who is Italian, is an art history graduate who worked in an art gallery before moving to London to begin a successful dual career in PR and as a personal stylist. Her girlfriend and business partner Lerin, who is French, studied fashion and styling, becoming a professional photographer and graphic designer.
'Together, we discovered a passion for interior design,' says Panizza. 'Between our skills, we realised that we could create something different.'
In 2020 the couple launched a 'multidisciplinary image consultancy' in London, PL Studio.
'Multidisciplinary' is the key word here.
While many successful, high-profile people routinely hire a personal stylist, an interior designer, a graphic designer and a corporate branding specialist to hone various elements of themselves and their business, few companies are able to offer all these services under one roof. It's not just about saving time; Panizza and Lerin say that addressing the whole spectrum of 'branding' – personal and corporate, from interiors to Instagram – at a one-stop shop achieves 'cohesion', which is vital.
The best reputation lawyers for high-net-worth individuals
The best reputation managers for high-net-worth individuals
'We noticed that there is not always consistency,' says Panizza. 'And what that means is that once you've worked on your personal style, your space and the visual identity of your brand, there are a lot of different voices going on. We wanted to help people have a consistent voice throughout all aspects of the business.'
The studio's starting point is to get to grips with the client's USP.
'Sometimes, even businesses that have been trading for a while don't know exactly what they stand for. If you don't know why you're unique, you're trying to convince people of something you are not convinced of yourself,' Panizza continues.
There are many ways to 'convince' your customer or client base, she says – ways that you may not consciously think about.
For example, we don't think – or we don't like to think – that our clothes mould people's opinions of us. But there is no denying the power of a good first impression, especially in the world of business.
'Personal styling is a great way of saying something without actually saying it,' says Panizza. 'I know it sounds like a cliché, but people will remember you by what they see the first time, and might actually make up their minds based on that. How business owners appear should be reflective of the values of the company, because otherwise people are confused.'
Another important part of the process is to make sure that any websites, social media channels, marketing materials and presentations are up to scratch.
'If you have a great website,' says Panizza, 'and then you send a presentation to the client that has blurred images or the logo is half off the page, then it reflects on the rest of the company.'
Conversely, it is perfectly possible to use design to communicate values such as creativity, luxury or professionalism.And Panizza and Lerin's own colourful, vibrant, and coherent universe is testament to just how powerful that can be.
Panizza's picks of four flourishing personal brands…
Vivienne Westwood
For many years, Westwood has stayed true to the punk and new wave styles that she brought into the mainstream. So strong is her brand that she has come to encompass more than just a fashion movement; she stands for British heritage.
Luke Edward Hall
The Financial Times design columnist has built an exceptional visual brand. He combines his artist/aesthete credentials with a personal style not unlike a fashionable Harry Potter, and everything he creates is pervaded by a certain nostalgic Britishness.
Fran Lebowitz
Her personal style (blazer, jeans, glasses) might be considered by some as 'wrong' for someone of her age and gender. But her blatant lack of regard for this kind of thinking is precisely what makes her such a powerful brand, and underscores her intellectual cachet.
Barack Obama
The former POTUS built his brand around being steady, competent and authentic – a far cry from his successor's spray tans and social media outbursts. The way Obama presents himself is clean, simple and modern.
More from the Spear's reputation management briefing 2021
Special Report: Reputation management in the time of cancel culture
Was 2020 the year that libel died?
The HNW guide for dealing with blackmail
Andy Coulson: The reputation manager with CV like no other