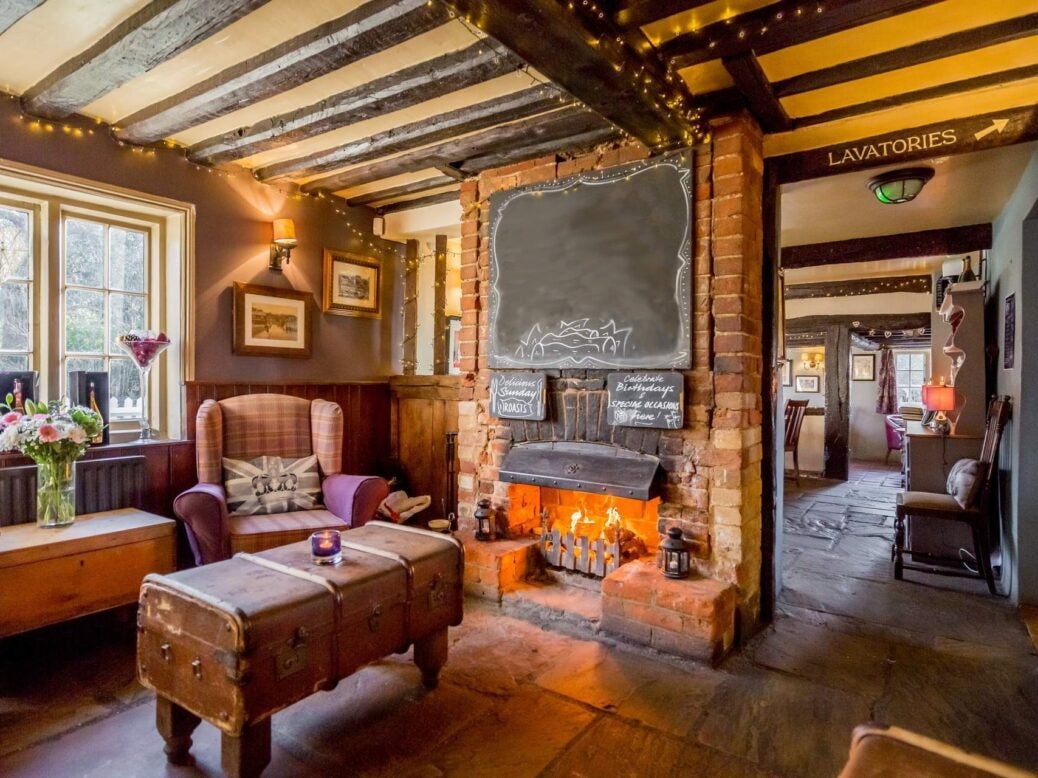 Alec Marsh and the family head to the Old Hatchet pub in Berkshire for a singuarly superior Sunday lunch – 'what Sundays were invented for'
Two men are comparing their McLarens in the car park of the Old Hatchet pub in the village of Winkfield in Berkshire, when the ravenous Marshes unload from the family station wagon. We're late for Sunday lunch. The burnt orange 570S with the gullwing doors is especially handsome, but not – I discover – a scratch on what awaits inside.
For while this Fullers-owned pub – it dates back to the 1500s, when it was two woodsman's cottages (hence the name) – resembles many that dot the B-roads of the Home Counties, there's more going on here than meets the eye.
Two months ago a new husband and wife team moved in – Richard and Camille Keep: fresh from Vancouver, British Columbia, where Brit Richard had been overseeing the food in some important venues, and his Canadian wife Camille was running five-star hotels up in Whistler. They're an unusual couple to find settling into the comparative slow lane of a sleepy provincial pub, but their passion for fine food and service is apparent from the get-go.
Step inside and you discover a bar and restaurant of surprising and inviting nooks and corners, where sofas and wingback chairs provide a congenial setting. Throw in the prints of polo, jockeys, and Windsor, what you have is a quietly chic environment – let's call it provincial pastoral – that's unpretentious and as reassuring as Churchill on the five-pound note. And the whisky selection isn't half bad either, I notice.
But it's a bit early for that, so we settle into a round table in the restaurant. The high chair already primed: the waiters and waitresses are uniformly bright and politely familiar – you can't help wondering if a bit of North American service culture has rubbed off in just a few weeks. (How often have you arrived for lunch on a Sunday at a country pub and not felt all that welcome?)
I opt for the whitebait followed by roasted sirloin. My vegetarian, gluten-free brother (don't ask) opts for the spring greens and goats cheese salad, followed by hazelnut roast; while Mrs M – also flirting with 'flexitarianism' – targets the intriguing sounding Cauliflower Wings to start, and then nut roast too.
As we sip a pint of real ale, I see the better part of a half of glistening roast chicken ferried past on a serving board – like an offering for a Tudor potentate, and question my selection.
My small shoal of whitebait arrives and is lightly breaded to perfection, served on a bed of rocket on a black slate with attractive swirls of mayonnaise and a slice of lemon. The batter has a solid crunch and the fish inside are rightly succulent. They glide down perfectly with the refreshing house white, and I'm feeling pretty good about the world.
My brother reports his salad to be dressed just right – not too much, not too little. The goat's cheese, he insists, isn't too tangy and the undertow of finely chopped red onions and peppers helps every mouthful to deliver.
So far so good. The curiously named Cauliflower Wings – cooked in tempura and served with red pepper aioli – are subtle and well paired and enjoyed by Mrs M, but I'm grateful for my whitebait which I then trawler greedily. I offer one to my three-year-old son – his first whitebait – and his little eyes spring open with delight. I realise I shouldn't have done that, and hand more over…
Of course, the real test of Sunday lunch is the roast. Should I have gone for the lamb? Or the Tudor chicken?
Minutes later a satisfying ziggurat of beef and glistening roast potatoes arrives, accompanied by a handsome dish of carrots, broccoli and cabbage. The Hampshire beef I discover is positively Simpson's in the Strand good – tender, light, salty, moist and surprising beefy… it's a savoury adventure story wrought from interweaving narratives and as good as anywhere I've had it.
The roast potatoes are pleasingly waxy and cleave to the knife – they're delicious – and meld perfectly with the gravy which paves the way for the cauldron of Yorkshire pudding. The tingling horseradish could charge the French, and the English mustard is a pale golden delight. This is a Sunday roast that Flashman would kneel in church for.
Chef-patron Richard Keep tells me later that he's working directly with the abattoir and farmer in Hampshire on the sirloin, and you can see his attention to detail is paying off.
I look over at the hazelnuts on the vegetarian roast opposite – there's no need to crow here – but funnily enough, I was not the least inclined to try it. That said it looks pleasantly crusty – like a rustic loaf – on top with hazelnuts in an appealing, dark sauce, and is clearly the work of some passion. The flexitarian in my life devours it.
Unfortunately the career vegetarian brother is denied this pleasure because of bread-crumbs in the mixture and settles for a gluten-free mushroom and avocado burger that looked like it's had been beamed in from LA. The chips were chunky and had their skins: he was happy and made fast food of his burger.
My beef was sadly short-lived and toasted with the house red – I am a man of simple pleasures – leaving me content but still with space for pudding. On chef's recommendation, I zero in on the banoffee pie, which comes as a cylindrical layered bastion with a trail of toffee sauce twirls.
It's good, very good, but pales before my brother's gluten-free treacle sponge. This is an astonishing pudding was a special meeting of the sweetness of the treacle, lightness of sponge and the vanilla custard. 'I should have eaten this meal backwards,' said my brother, wielding his spoon.
For Mrs M, there were two significant wedges of chocolate brownie with a sphere of vanilla ice cream, decorated with caramel morsels on a slate of happiness. This is shared with my son, who immediately gives up on the spoon and gets stuck in with his hands.
Pubs like the Old Hatchet are what Sundays were invented for. Unpretentious, convivial, and just ten minutes' drive from junction 6 of the M4, Richard and Camille Keep, ably supported by their team and their friendly retriever Bella, have been in charge for just a few weeks but have already created a stunning offering. Book early to avoid disappointment. We'll be back.
The Old Hatchet in Winkfield, near Cranborne in Berkshire. Web: oldhatchet.co.uk
Alec Marsh is the editor of Spear's
Read More:
Review: The great rebirth of Simpson's in the Strand