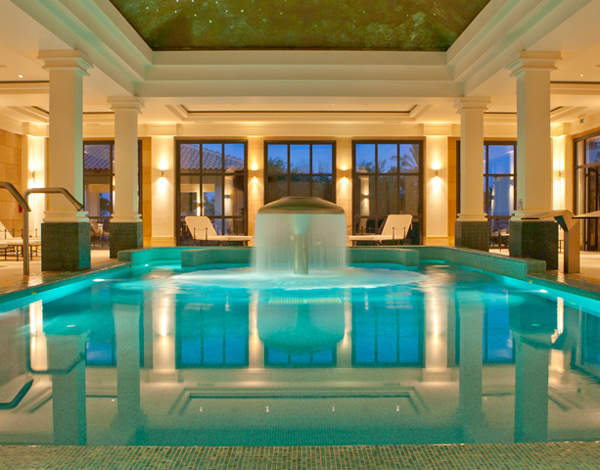 The one element that hasn't changed since spas were invented is water: water for cleansing, water for purifying, water for consuming. Our bodies are mostly water, which is vital for health and wellbeing, and somewhere along the way the Greeks took this one stage further, into the sea, and began to extol the therapeutic effects of its bounty — its mud, minerals, plants and environment. (Euripides, no slouch at recognising what was good, wrote that 'the sea cures all human ailments'.)
Thus thalassotherapy was born — thalassa is Greek for sea and therapia for healing — and over the ensuing millennia people around the world have been enjoying the benefits of seawater in massages, wraps, scrubs and baths.
The Romans dabbled with different temperatures and steam rooms, but it was the French who eagerly developed its healing potential: in the 16th century Henry III's doctors prescribed seawater to treat his skin diseases. But it wasn't until the late 19th century that thalasso, as we now know it, was offered, after the first international congress of seabathing and water therapy held in Boulogne-sur-Mer. And although Europe's thalassotherapy clinics and spas can be found from Spain and Portugal to Ireland, some of the best are along the west coast of France in full blast of the Atlantic.
By their very nature, thalassotherapy spas are always on the coast, as they use unpolluted seawater pumped directly from the sea. The water is collected from a depth of up to 37 metres to ensure maximum purity and no surface pollution, resulting in the highest concentration of mineral salts, algae, marine mud and iodine. It is then heated to body temperature and subjected to strict filtering controls before being used in treatments.
Its effectiveness is due to the fact that it is very close to human plasma in density and has many of the same components, which makes absorption through the skin easier. The water has trace elements of magnesium, potassium, calcium, sodium and iodine, as well as 53 other elements which are thought to help boost the blood and lymph circulation.
Thalassotherapy treatments have also been found to increase respiratory capacity and cardiovascular function, as the weight displacement allows easier physical exertion without placing too much of a strain on the heart. This is one of the reasons athletes and horse trainers include it in rehabilitation processes.
For most visitors, thalassotherapy's wide range of treatments are combined for optimum results. Mud packs, seaweed wraps, water-jet massages and warm and cold seawater pools all have their benefits, depending on what the doctor or therapist prescribes. To benefit fully, a seven-day programme is preferred, but a weekend can still provide a taste of the advantages, from simple relaxation to more therapeutic needs such as back and joint problems, post-natal toning, cellulite reduction or circulation problems.
Most programmes are a combination of therapies. Some are mega-relaxing, such as seaweed baths or balneotherapy, where 180 water jets massage every inch of your body from the soles of your feet to your shoulders while you lie in marine-enriched warm water. Others are more demanding, such as underwater massage, while some can even be a tad uncomfortable, such an algae jelly wrap, a little like wriggling around in cold jam.
Nor is the Jet Blitz for wimps. This is serious and takes place in its own tiled room with the therapist at one end, brandishing a hose which blasts water at different strengths and temperatures at your naked body. It was possibly devised by Rosa Klebb or the French riot police, but it does wonders for circulation, cellulite and flab. It is mercifully short — it lasts but twelve minutes, after which you are wrapped in warm blankets and led to a relaxation room.
Where to take the plunge
Sofitel Biarritz Le Miramar Thalassa
A grand belle époque building on the wild Atlantic coast, it has the best location in town and you can pick from a number of packages geared towards slimming, post-natal, revitalising or anti-stress. And then there's the beach — a walk along the sand is an important part of any thalasso cure.
Sofitel Biarritz
Les Thermes Marins, Société des Bains de Mer, Monte Carlo
This has direct access from the Hotel de Paris and the Hermitage and is one of the best centres in Europe. It offers traditional thalasso and its own take on other water-based versions such as the affusion massage — a warm, gentle seawater spray accompanied by a full body massage.
Thermes Marins Monte Carlo
Sofitel Agadir Thalassa, Morocco
Located on its own private beach overlooking the Atlantic, it merges French expertise in seawater
and minerals with traditional and sensual Moroccan beauty rituals offering the best of both worlds. Alongside a huge indoor pool it has a fitness centre, sauna, hammam and of course the thalassotherapy centre.
Sofitel Agadir
Masseria San Domenico, Puglia
This has one of the few true thalasso centres in Italy. It's set among one of the oldest olive groves in the area and is close to the Adriatic, which accounts for its comprehensive menu of thalassotherapy programmes and treatments. It also has its own mineral-rich hot spring, in caves which are part of the property.
Masseria San Domenico