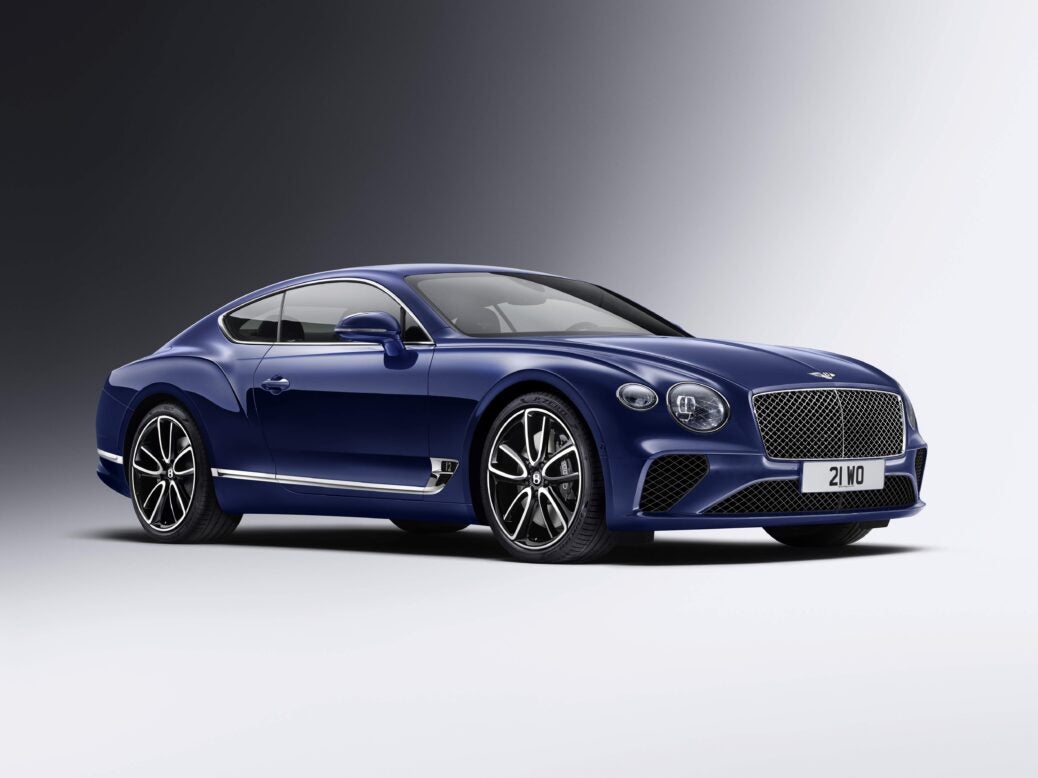 The latest incarnation of Bentley's Continental GT adds yet more elegance and power to a prized model, writes Gareth Herincx
Is it possible to sum up the all-new Bentley Continental GT in five words? Well, nothing focuses the mind more than a challenge, so here goes, in no particular order: elegance, engagement, power, technology and tradition.
Let's not underestimate the importance of this model. The Continental GT has been the cornerstone of the Bentley brand and its best-selling car since its introduction in 2003. It's now into its third generation – a simply gorgeous design evolution of the outgoing car, which was launched in 2011.
The new Continental GT is longer, lower and more streamlined, with a particularly seductive profile. Still every bit a Bentley at the front with a wide, matrix grille and bejewelled LED headlights, its graceful lines flow back to muscular haunches and a pert rear now featuring petite elliptical tail lights and twin exhaust pipes.
More beauty than beast, it's designed, engineered and handcrafted in the UK, offering a blend of traditional craftsmanship and cutting-edge technology, resulting in an exquisite grand tourer that turns heads, but is by no means flash – just oozing style and excellence.
But don't be fooled into thinking the Continental GT has become a pussycat. Under the long bonnet lurks a new twin-turbo 6.0-litre 12-cylinder powerhouse of an engine developing 626bhp at 6,000rpm, while maximum torque is 664lb ft. Driving all four wheels via a slick ZF eight-speed automatic gearbox, it's sufficient to launch this 2.2-tonne luxury express to 60mph in an effortless 3.6 seconds and on to a top speed of 207mph.
There are four drive modes – the default is 'Bentley', but there's also Sport, Comfort and Individual. Naturally, the suspension, engine, gearbox and other chassis systems modify to match the chosen setting. Performance is outstanding whatever the mode, so it's really a case of choosing Comfort for whisper-quiet cruising and Sport for the twisty, fun stuff. Press the Start button and the W12 awakens with a deep, satisfying growl. Accelerate hard and it's vocal in a restrained way as it shifts through the gears. Switch to Sport if you want to experience the full 12-cylinder symphony, complete with baritonal pops and bangs.
With that kind of power on tap, it's satisfying to know that the brakes are the largest ever fitted to a production car (420mm diameter at the front, 380mm at the rear) and are smooth and progressive, and highly effective.
For a big car, the Continental GT hides its size well. Yes, it's wide and fairly heavy, but it's agile with sharp steering, while the general grip and traction out of corners is outstanding. The more you drive it, the more your confidence grows: it feels totally planted thanks to clever air suspension and active anti-roll technology.
Inside, the luxurious cabin is a showcase for Bentley's craftsmanship – an intoxicating blend of leather hides, wood veneers, knurled metals, polished chrome and hand-stitching. A veneer panel revolves to reveal a 12.3in infotainment touchscreen or, if you prefer, a more classic instrument style with three analogue dials. Meanwhile, a 'butler' (ie a lever) hands your seat belt to you over your shoulder when you've settled in.
Thankfully, Bentley hasn't forgotten that many of us actually like switches, button and dials, so there are various examples, but the overall effect is slick, with astonishing attention to detail. There are even traditional shiny organ-stop air vent controls.
The 20-way adjustable front seats are comfortable and supportive (I'd recommend the 'wave' setting for the seat massager), but it's not such good news in the back, where the Continental GT's 2+2 billing is immediately obvious. The seats look comfy enough, but unless the driver and front passenger push forward, the rear is for very small people indeed. That said, the 358-litre boot has enough space for a couple's luggage.
It seems churlish to pick holes in a car so sublime, but visibility through the 'letterbox' rear window is limited (the downside of that swooping rear), while parking (despite all the driver assistance tech) can be tricky because it's hard to see your rear wheels thanks to those athletic rear haunches.
Frankly, it's remarkable that fuel economy is a claimed 23.2mpg given the performance, though in real-world driving it's closer to 20mpg.
Priced from £159,100, it's an investment (though extras can take the cost closer to £200,000). No car is perfect, but the new Continental GT gets pretty close. Beautiful to behold, fast, comfortable and a joy to drive, it delivers a true piece of automotive theatre. It should be savoured too, because this 12-cylinder GT may well be the last of a line before we're all driving hybrids and electric cars.
Related
Review: Audi's new flagship SUV isn't just eye candy
John Arlidge on the 'futuristic, optimistic and British' Jaguar I-Pace
This is Aston Martin's one last blast from the past