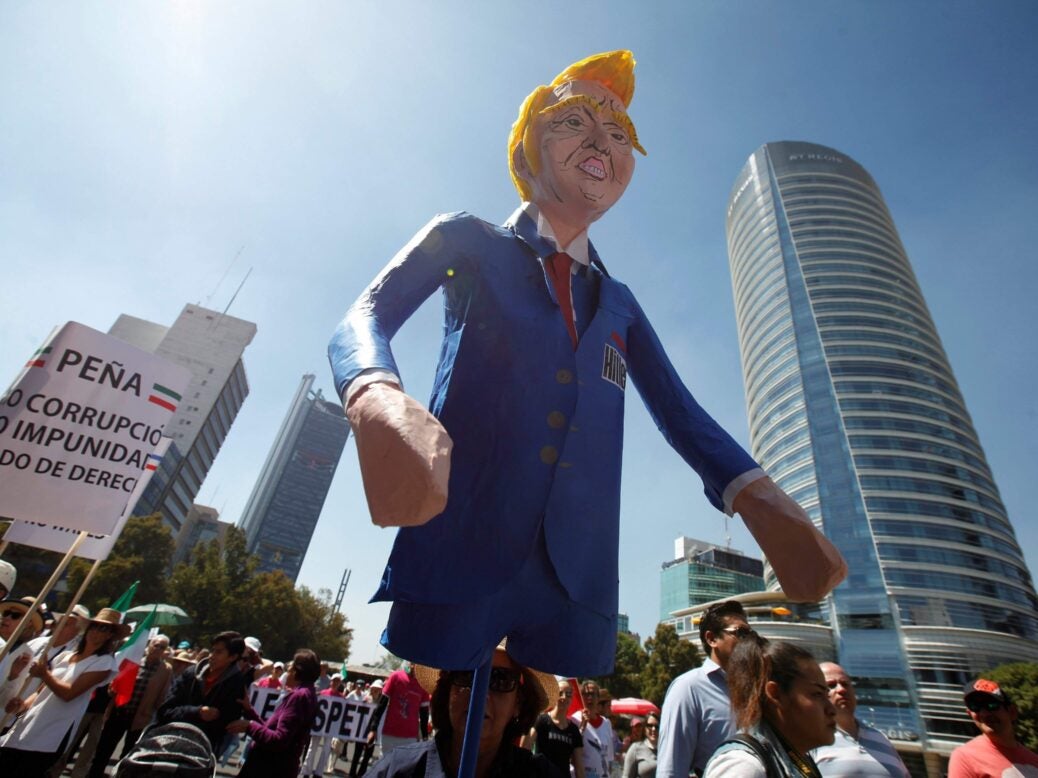 Mexicans aren't feeling quite welcome in the United States these days – but a storm is brewing at home, too, writes Matthew Hardeman
Between the rhetoric of Donald Trump and the churning politics of Latin America, Mexicans have been feeling the chill of late – even in the warm and wealthy enclaves of the Yucatan and Cuernavaca.
Uncertainty abounds as hostility from Mexico's northerly neighbour mounts, and the spectre of radical changes to government, trade and regional dynamics at home have left the country's business community – 'los ricos' ('the rich') – scrambling for answers about their future. But those answers may now finally be emerging, as trends combine to create a clearer picture of the road ahead.
The country faces a national election on 1 July this year – one that 64-year-old leftist hopeful and third party candidate Andrés Manuel López Obrador – or 'AMLO', as he is known – is presently tipped to win outright (he is currently ahead by 11 percent in the polls).
The veteran presidential candidate, who has vied for the office twice previously, has surged as the government falters under corruption scandals and a failure to raise living standards for the millions of Mexicans still trapped in its informal, low-wage economy after 25 years of sluggish growth. Obrador has also been boosted by the failure of current president Enrique Pena Nieto's softer, more 'pragmatic' approach to organised crime and the drugs cartels, after 10 years of bloody, costly, futile warfare in Mexican towns and cities.
One way to understand AMLO is to think of him as a 'Mexican Jeremy Corbyn', according to Richard Lapper, an Associate Fellow at Chatham House and a former Latin American editor at The Financial Times (Corbyn and Obrador are even personally close. 'Corbyn is a big friend of AMLO – they go and see each other', says Lapper). 'In terms of his personality, like Corbyn, he's quite austere, he drives an incredibly modest car –  he's actually quite a low-key guy, and not unpleasant,' he says. Naturally, the concerns that HNWs have about them both aren't dissimilar, either.
Trump's role in the rise of the new left shouldn't be underestimated: 'There's no question that Trump's rhetoric, if not his practice, has re-awakened a latent nationalism in Mexico and to a certain extent is responsible for the rise of AMLO,' says Lapper: 'Trump is playing with fire.'
Until now, the beleaguered president's talk of Mexicans as 'murderers and rapists' (and his anti-immigrant policies since) have also played their part in turning Mexican investors away from the US – even if the border wall (or 'fucking wall' as former president Vincente Fox likes to call it) remains more material in the minds of protestors and comedians than construction workers. But other ominous forces from the north threaten to make life more challenging for Mexicans in the near-term.
Chief among those threats is Trump's promise to renegotiate NAFTA – the North American free-trade pact introduced during the Clinton Administration (the real one – not the second one that only exists in Donald Trump's head, if his repeated tweet attacks on Hillary Clinton are anything to go by) that has transformed the Mexican economy and boosted profits on both sides of the border.
Mexican elites have pinned their hopes on the agreement – after all, it has played a crucial role in helping to reduce Mexico's dependence on oil, its most valuable resource, since the 1990s, attracting investment and lift a new generation of entrepreneurs into wealth, particularly in new manufacturing sectors. A renegotiation could threaten to reverse that progress or at least bring a halt to it, filling Mexican elites with dread.
Between the possibilities of a scrapped NAFTA and a socialist government, the obvious question is how all this is likely to affect the flow of money – and those who own it.
Direct investors with productive capital deployed in Mexico seem more likely to keep their cash in the country and deal with a new administration, says Lapper. After all, not all hope is lost if past is prologue: AMLO ran a tight ship  as mayor of Mexico City, when he even reached an agreement with telecoms billionaire  (and 7th-place finisher on the Forbes rich list) Carlos Slim: 'They got on quite well – he's not incapable of making deals with the bigger entrepreneurs.'
A very different outlook is shared by HNWs with investments in portfolios of equities and bonds, however: the Peso is expected to devalue by 11 per cent by the end of the year, according to a recent Bloomberg survey of Mexican economists. Certainly, anyone who's investing in Peso bonds will be worried about a debt build up. Meanwhile, others will still be looking in fixed-income markets for pickup in yields – making regional investment in countries like Argentina ('which is performing quite well'), an option for some. But it's important to remember, as Lappner warns, 'as soon as you're trying to get extra yields, you're also taking on extra risk'.
In dark times, the most logical destination for fixed-income investors remains long-term safe havens like the US, even for Mexicans in the era of Trump. But nothing is assured: 'That's the way the world has worked in the past – whether it will continue working like that is another matter,' says Lapper. After all, Trump's looming trade war will affect mainstream US investments, and potentially the value of the dollar. 'Then people will start thinking about Europe as an alternative,' (Spear's has even received anecdotal reports of an uptick of Mexican investment in London property – though levels remain novel, compared with other geographical segments).
There is of course the possibility that fears of economic ruin are overhyped: US companies could well convince Trump to preserve NAFTA – and their profit margins. In the end, for all its problems, Mexico has remained relatively stable in macro-economic terms in recent years. Those worried about the hyperinflation laying waste to Venezuela happening in Mexico probably ought to relax.
'Although there are some similarities with [Hugo] Chavez, I'm not sure AMLO's going to go completely mad – I think he'll be more like Lula perhaps in Brazil, more of a left-wing reformist. Though we're not 100 per cent sure,' says Lapper.
The key takeaway? That the future will be full of surprises: 'There's a lot of uncertainty. We don't know if AMLO is going to win or what he's really going to do or how radical he's going to be. There are many, many views about all those things.'
No matter if NAFTA survives, or whether Obrador turns out to be the pragmatist he was as mayor, or a populist firebrand reminiscent of the country's revolutionary past, Mexico and its HNWs would be wise to keep their gazes fixed firmly north – even if what they see and hear hurts their eyes and ears.
Matthew Hardeman is Senior Researcher at Spear's