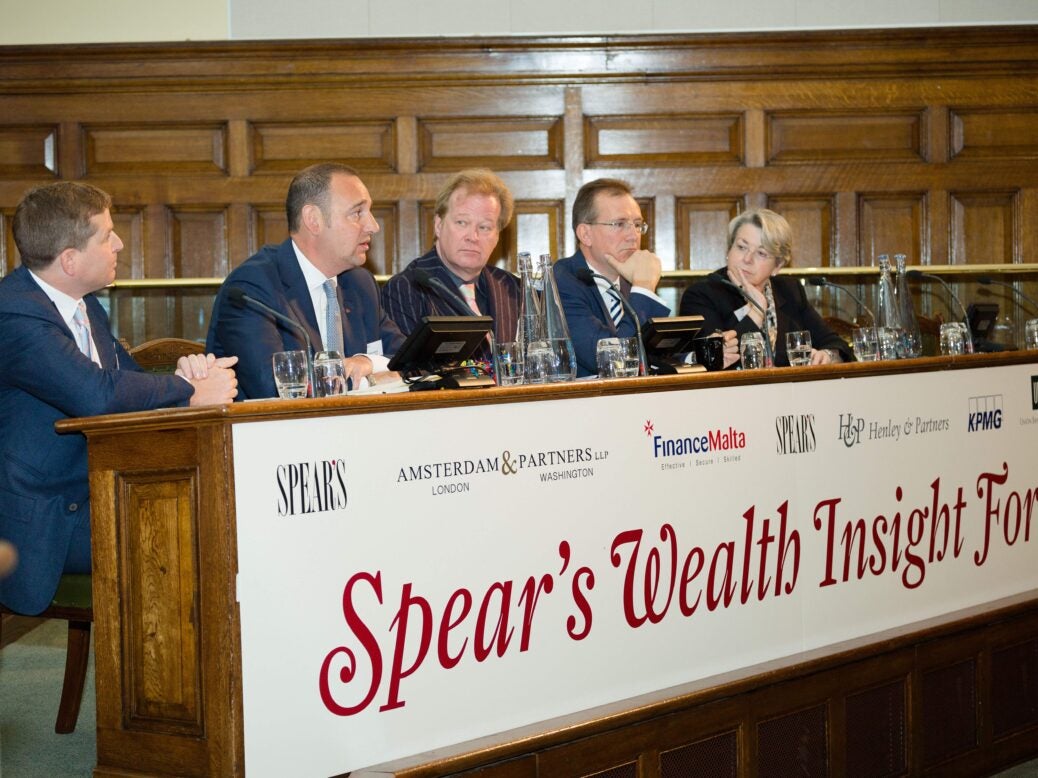 The essential calendar date for HNWs has arrived – our expert speakers will be examining the most interesting and important issues facing today's wealthy, writes Matthew Hardeman
The City's great and good are gearing up for the 2017 Wealth Insight Forum, now just hours away – Spear's very own '£1 billion meeting of minds' – at One Great George Street.
Now in its sixth year, the annual event sees HNWs and their trusted gurus gather to discuss the hottest topics affecting the wealth in 2017, from geopolitics to property, from private wealth and tax and trusts to luxury and second citizenship, culminating in the Great Spear's Debate: will Brexit tarnish the City of London's financial crown? Anti-Brexit campaigner and wealth manager Gina Miller teams up with the New Statesman's special correspondent Stephen Bush to count the storm clouds, while RateSetter CEO and co-founder Rhydian Lewis and Oldie editor Harry Mount make the case that London and its financial crown will remain safe.
Robert Amsterdam, Spear's columnist and founder of law firm Amsterdam & Partners takes the stage to address the tectonic shifts in the world of geopolitics, and the role HNWs have to play in a world in disarray. On the property front, we have some of the heaviest-hitting founders in the business to discuss the latest trends: including Trevor Abrahmsohn of Glentree International, Camilla Dell of Black Brick and Peter Mackie, founder of Property Vision.
Tax and trusts remain as important as ever to HNWs – but nevermore confusing, following wave after wave of legislative flux. Luckily, Spear's has some of the brightest minds in the business coming to shed light on a new era in the government's relationship with the wealthy: legal sage and trusted adviser Ceris Gardner of Maurice Turnor Gardner and James Quarmby of Stephenson Harwood, Mark Davies of accountants Mark Davies & Associates, BVI trust expert Christopher McKenzie and the BVI Finance business development head, Gary Hales.
Ceris Gardner returns to the stage to join Withers super-solicitor Sophie Dworetzsky and Arton Capital chairman John Hanafin to discuss second citizenship and residency in the age of Brexit – another burning topic to today's migratory UHNWs, ever more airborne as cash-hungry governments tighten their nets, and re-write the rules.
Sponsor UBS is also set to feature in the form of Andrew Walsh, executive director, UBS Asset Management, to talk about the inexorable rise of ETFs in the investment world. How are they changing wealth management?
Luxury and wealth management come under the microscope as our panel of prolific experts and entrepreneurs exchange views on all things swaying the sector: Spear's columnist and Financial Times' How To Spend It editor Lucia van der Post joins Quintessentially co-founder Aaron Simpson, Mark Harvey, managing director at Chapel Down and HNW matchmaking service Ivy International's founder and CEO, Inga Verbeeck.
After the votes are counted and the winners of the Great Debate decided, attendees are set to rub shoulders and reflect on the day's events and findings, making the most of the most exclusive networking event in town.
The actions starts at 13:45 as Spear's editor-in-chief William Cash welcomes guests before the first panel at 14:30. Please note that attendance is by invitation only.
For live updates from the event, follow our Twitter feed at @spearsmagazine and you can contribute at #SpearsWIF17.
The Spear's Wealth Insight Forum 2017 will take place on the 28th at One Great George Street
Matthew Hardeman is Senior Researcher at Spear's
Twitter: @matthewhardeman