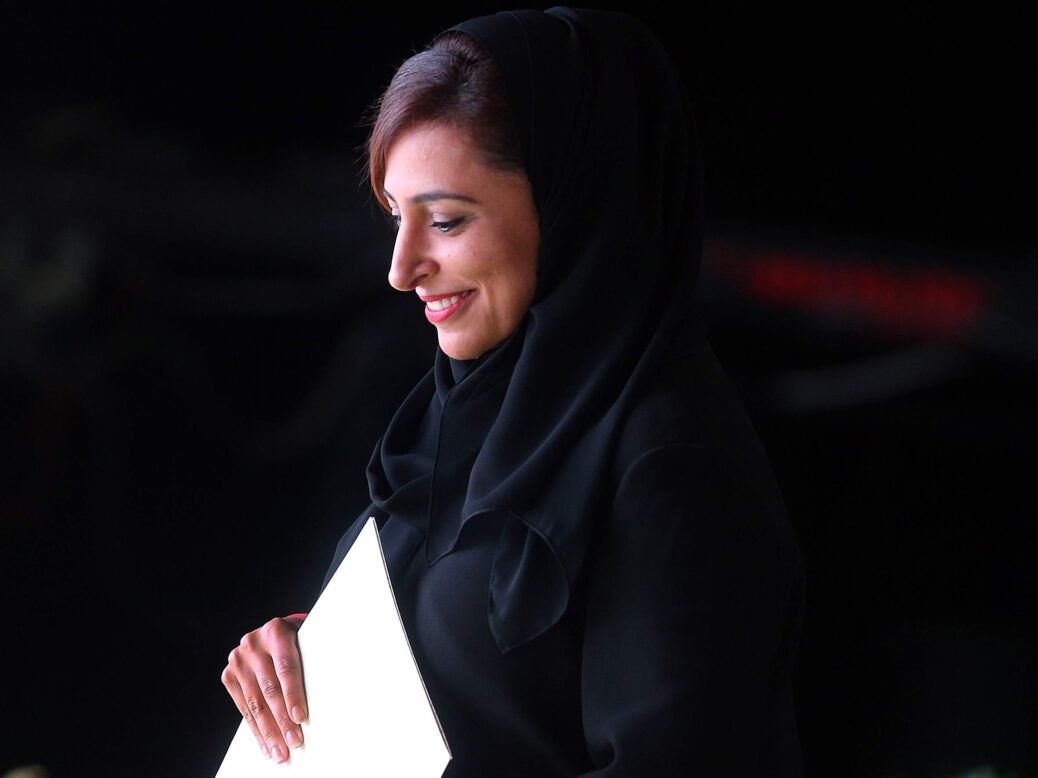 Sheikha Bodour of Sharjah is leading a reading revolution. She tells Alec Marsh about her mission to boost publishing in the Middle East
The world has never needed books more than today. That's according to Sheikha Bodour, daughter of the ruler of Sharjah in the United Arab Emirates, and in all probability the most influential Arab woman in publishing today.
The Cambridge-educated Sheikha Bodour has already been described by Forbes as one of the Arab world's most powerful women in business. In the UAE, her business, the Kalimat Group, has now published 400 titles in 15 countries and expanded into comics and, most recently, titles for adults.
'This was a big step,' she confides. 'It was really difficult to get big names and to convince writers to come with us was really difficult, so we started doing translations.'
The sheikha's journey into bookland began by accident. In 2007, frustrated by the quality of books she could find to read to her children, she decided to set up the country's first Arabic-language children's publisher.
'I didn't see any books I would want to buy as a parent in the Arabic language,' she recalls, 'and I just felt very depressed about the situation and the entrepreneur in me said, "I think I can do something about that."' She then made a discovery.
'There are a lot of authors who haven't been translated into Arabic,' she declares, citing Ian McEwan. 'I was shocked to hear he wasn't published.' This spurred her into action: 'We started translating Margaret Atwood, James Baldwin, Truman Capote… and slowly that's created a space for us in the Arab publishing market. I'm happy to say that now we have some Arab authors paying attention to us and they're interested in publishing with us.'
Kalimat's literary list now also includes Ali Smith, Bob Dylan, Zadie Smith, Julian Barnes and Chimamanda Ngozi Adichie. 'We're very proud of our list,' she says. Books, of course, are in the family: Sheikha Bodour's father, Sultan bin Muhammad Al-Qasimi, founded Sharjah's book fair in 1982 with the aim of putting the emirate on the map and promoting literacy at home and abroad.
The most recent festival, which I attended, drew 2.5 million visitors from 81 countries, with 2,000 exhibitors covering 1.7 million titles. Sheikha Bodour praises her father for creating it 'out of nothing'. 'It's really nice seeing this vision being fulfilled,' she adds.
'I think we need it more than ever right now, with what's happening in the political climate around the world. People need to understand each other more, and accept each other more, and be more tolerant and learn to coexist, and nothing does that better than books and reading. I feel he had this plan quite early on. I'm very proud to see what it's achieved.'
Renaissance
Alongside the book fair is an awards ceremony, conference and a translation grant-making arm set up in 2011, which has 'supported translation from many languages, especially Arabic to other languages' to the tune of $300,000 a year.
'We've witnessed this renaissance in translation happening,' Sheikha Bodour confirms.
The power of translations works both ways, too: 'It's really great to see Arabic being respected as a language. We've got publishers from all over the world acquiring Arabic language rights, which makes me feel really proud as a publisher. It's something I've really tried to support and push. We try to sell rights, and Arabic is not one of the languages that people pick up very quickly, you know; it's quite hard to convince people that Arabic fiction is very interesting, and I feel very proud to see this change.'
Sheikha Bodour has a busy few months ahead. In April, Sharjah's 'House of Wisdom', a huge hi-tech library and culture centre with more than 100,000 books, will open. Created to mark Sharjah being Unesco World Book Capital in 2019, the building has been designed by Foster + Partners.
This year she will also become the first Arab woman to be president of the International Publishers Association, which has 83 members in 69 countries. The focus of the IPA's work is in promoting 'literacy, copyright, freedom to publish', to which she will add a third: an initiative called 'Publish Her'. Its aim is to bring women into more influential positions in publishing: at the London Book Fair in March she is holding the initiative's 'first birthday summit' at the British Library – following meetings in London, Frankfurt, Amman and Nairobi.
These have brought 'together 40 to 50 women that are in publishing houses around the world', she says, to discuss 'how we can support each other more through mentorship' and 'the reasons holding women back in leading positions in publishing houses'.
'Essentially what we are trying to do is lift each other up, so we have this sisterhood of female publishers. Watch that space,' she adds, noting that men are invited 'because a lot of the time it's men who support these things a lot more than women'.
There is also the challenge of illiteracy, which is growing 'in developed areas of the world like Germany', she cautions. 'People are not reading as they used to before. Devices are taking up most of their time, so our literacy committee is also looking at ways that we can encourage young people to pick up a book and start reading again.'
When it comes to the media, the current mantra is 'print is dead'. What about in publishing, I ask. 'No, I don't think so,' she says. 'Not for me, anyway.'
This piece was originally published in the March/April edition of Spear's magazine. To buy a copy, click here
Image credit: Delores Johnson/The National
Read more:
Glorious Goodwood book review: 'Richly anecdotal and quintessentially English'
Hilary Mantel Q & A: 'I've started to regard Cromwell as a colleague'