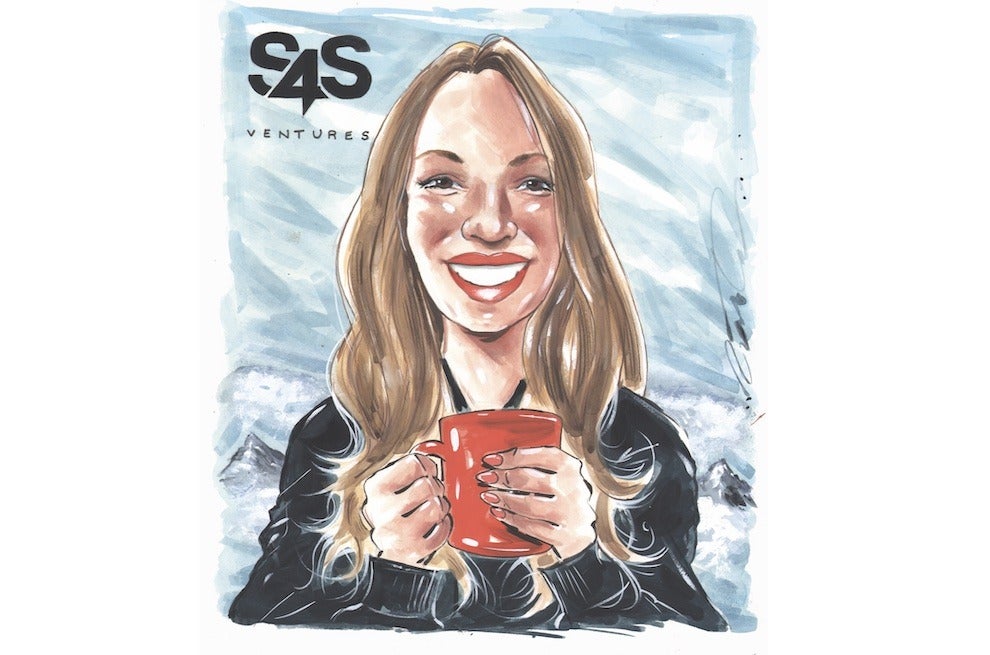 Venture capitalist Sanja Partalo tells Alec Marsh how she has joined forces with Sir Martin Sorrell and Stanhope Capital's Daniel Pinto to launch new venture capital firm S4S Ventures
Lunch for venture capitalist Sanja Partalo turns out to be an artisanal chocolate and a mug of something called mushroom tea. Mind you, it is 11 o'clock in the morning where she is in the Catskills, a couple of hours north of New York City. Indeed, halfway through our interview a loud thump interrupts the conversation as a pile of snow crashes off her roof. The snow is the reason she's wearing a black fleece. 'It's freezing here,' she tells me. 'I could have got dressed up for you but it wouldn't have been an accurate reflection of how things are.'
Partalo, 40, is the co-founder and managing partner of a newly unveiled venture capital firm, S4S Ventures, which she has set up with advertising tycoon Sir Martin Sorrell. The former WPP chief is now boss of S4 Capital, a digital marketing agency with a market cap of £1.7 billion. The third co-founder is Daniel Pinto of Stanhope Capital, a private client investment house with some £30 billion in assets under management.
When I caught up with Pinto before speaking to Partalo, he was full of praise for the former WPP executive, who arrived in the US aged 16 from Bosnia thanks to a refugee resettlement scheme: 'She's very, very bright, very engaging and has this uncanny ability to mix sound judgement with a very good technical understanding of the companies that we'll be investing in.'
Both Sorrell and Pinto have their own money in S4S's first fund, which is looking to close with $150 million and deploy into digital start-ups focused on primarily advertising and marketing – usually known as 'adtech' and 'martech'. They are also interested in data technology involved in identifying and understanding audiences.
'We hope to back the next generation of companies that are disrupting the marketing and media value chain,' says Partalo, who points out that many of the highest-profile unicorns of the past decade have been in the media. 'We hope to back the next cohort of companies that are transforming this ecosystem and we hope to do it over two years.'
If that sounds fast then it's thanks to four catalysts of change, she says, namely the rise of Generation Z (those born between the mid-Nineties and 2010) as a spending force, the 'democratisation' of formerly scarce AI technology, growing concerns about (and regulation of) digital firms' use of our data and, finally, the coming of the 'metaverse' – the network of virtual digital worlds, regarded by some as the next step for the internet. 'These tailwinds are just beginning to blow,' she says. 'We view the next five years to be very fundamental to realising the value from these shifts.'
In the past 12 years – since Partalo left Columbia Business School and joined WPP on its MBA fellowship scheme – digital advertising spending has gone from less than 15 per cent of all global ad spending to well over 50 per cent now, with the likes of Google, Facebook, Twitter and Instagram hoovering the lion's share of it. Along the way, their collective valuations have soared to the trillions of dollars.
But things are changing. The rise of TikTok, for instance, on the back of Gen Z is probably the best example of a new breed of media firm appealing to this next cohort of spenders, people with 'fundamentally different media and entertainment consumption patterns'.
'It's too early to tell who are going to be the new Disneys for this generation,' says Partalo. 'This is not to imply that Disney won't remain relevant – it absolutely will – but with each generation a new type of media gets born and we are in the early stages of what that might be for this generation.'
Consumers are increasingly aware of privacy and want to control who has access to their personal data. Partalo believes it will take new firms building new business models with new software infrastructure from the ground up to respond properly to that new reality. Likewise, the widespread availability of AI and cloud computing means many more firms can transform the content creation world.
She points to the London-based start-up Synthesia, which uses AI to create 'synthetic humans' – convincing on-screen replicas of real people. If you're making an infomercial, a synthetic human can speak more than 50 languages at the tap of a button and doesn't need a production crew, a set or editing suite. 'That model is so analogue,' laughs Partalo.
Meanwhile the much-heralded metaverse offers a new platform that many people will want to spend time on, regardless of whether or not you think it's over-hyped: 'If they occupy some part of your day, then it obviously means that brands will want to play some sort of a role, whether that's actually existing in these environments, whether it's pushing advertising in these environments through brand tie-ups, selling NFTs.'
However, the software infrastructure needed to enable this, as well as to allow creators to get involved, needs to be written and brought to market. 'Companies will need to build pipes into these new environments,' says Partalo. 'In a lot of ways it's no different from the early days of the internet, where you could say "that presents an amazing advertising opportunity" but it wasn't until the advent of adtech that that became viable at scale.'
At WPP Partalo led investment in start-up digital companies and then served on their boards, helping them to scale. One of the these was the New York podcast studio Gimlet, which was sold to Spotify in 2019 for $230 million as part of the streamer's strategic shift to be a leader in podcasts as well as music. Partalo says she developed a conviction about podcasting by looking at the market and assessing what was unique about those engaging with the medium. 'These were highly affluent people, very well educated, [with] tons of disposable income and they're cord-cutters,' she recalls, 'which meant that you couldn't reach them in the more traditional advertising ways.'
At WPP she worked with Sorrell and for the then chief digital officer Scott Spirit, taking these partnered start-ups and getting their technological solutions into the hands of the firm's media customers – thereby building the revenues of the start-ups. Spirit is now chief growth officer at S4 Capital and is likely to be an integral figure in the fund's approach.
'If you're a well-established VC fund with a ton of connectivity, you're going to get great deal-flow because you're an established player with lots of exits to your name and the implication is you must be a good partner to start-up founders,' Partalo explains. 'For the newer entrants you have to bring value to the table outside the ability just to write a cheque. In our case we believe we have unparalleled expertise when it comes to this industry.'
And this 'domain experience' will make all the difference, thanks in no small part to S4 Capital's heft and Sorrell's and Pinto's presence on the investment committee. (Stanhope is also a major investor in S4 Capital, Pinto told me.)
Partalo, who left WPP last November, says she was looking to set up her own VC fund when Sorrell came calling, and he then introduced her to Pinto. The new fund is already close to signing three deals even before it has closed to investors (if you're interested, the minimum stake is $250,000), and Partalo believes the $150 million will be committed within the next two years, given the market appetite. 'It's going really well,' she says.
As to 'exits' – the terms of making good on one investment by selling it on – she believes some of these could be completed within as little as 18 months. 'So much of what we're looking at is technology which is solving a pain point that perhaps one of the giants isn't solving today.
'There are much easier ways to make money,' she laughs. 'But they're not nearly as interesting and they're not nearly as of the times. So much of this job is about learning and using the energy that I have to try to figure out what the future might look like and who might be the companies that are part of the shaping of that future.'
Success also involves understanding human nature. 'You have to be a good student of the environment, a good student of people,' she says. 'So much of early-stage companies comes down to leadership and identifying not just good ideas to back, but good people to back.' Then you have to move quickly: 'That's paramount because of the competitiveness of the VC industry.'
Before we sign off, I ask Partalo about Sorrell, the media mogul who has hand-picked her to run the fund. She praises his resilience, his energy and his decisiveness. I get the impression that these are traits she shares in abundance.
Image: Russ Tudor