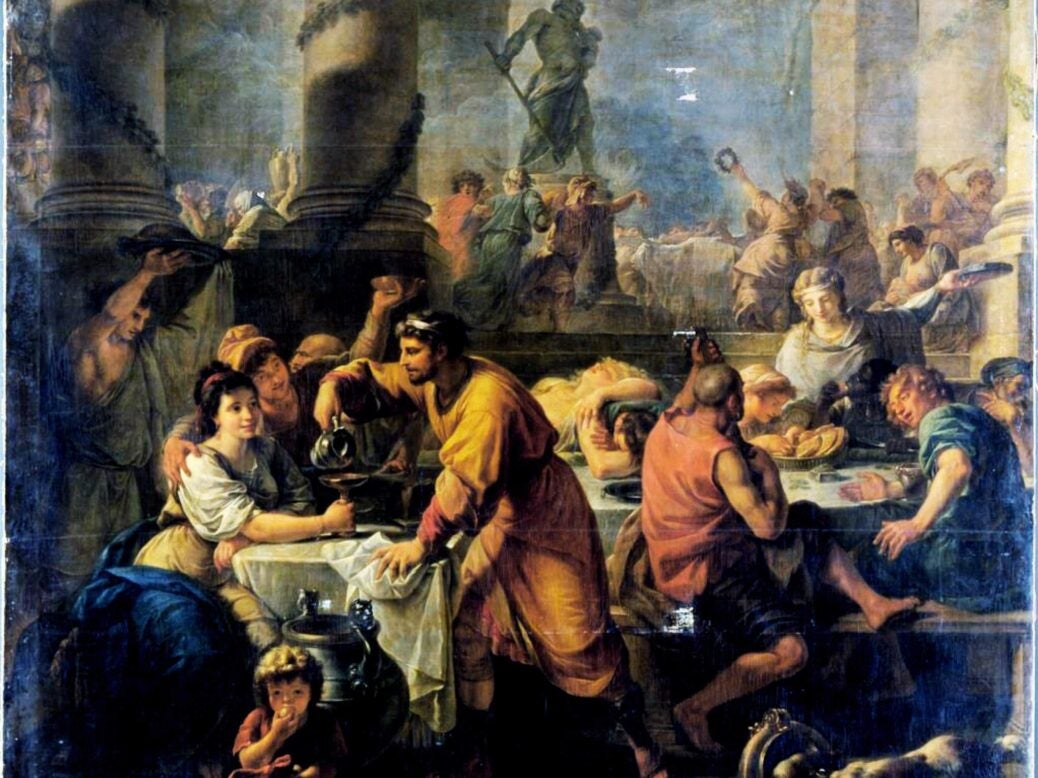 Even the Romans set special time aside to enjoy homely pleasures in midwinter, writes Daisy Dunn
The Romans were always celebrating something. Barely a week would pass without there being a festival to honour or god to appease. February brought the Lupercalia to ward off evil spirits and promote fertility; the Parentalia to commemorate deceased ancestors; and the Feralia to propitiate the gods below.
April was a month of agricultural days: the Palilia, Cerealia and Vinalia, festival of wine. But it was in December, with the arrival of the Saturnalia, that the city truly burst into life.
Dedicated to Saturn, god of time and the seasons, the Saturnalia was a spectacularly vibrant week-long festival of drinking, eating and general mischief-making. Business was suspended and work ceased. Slaves switched roles with their masters and enjoyed being waited on for a change. People even dispensed with their togas in favour of mufti.
Little wonder the Latin love poet Catullus called these 'the very best of days'. I often think that, if we could travel back in time to ancient Rome, this would be the season to arrive.
Whereas other festivities would leave us feeling at sea, even queasy – the Lupercalia saw women flogged with the skins of sacrificial goats to aid them in pregnancy – many of the traditions of the Saturnalia would be familiar enough at this time of year for us to feel perfectly at ease.
As the winter solstice approached, people began to gather to exchange presents and greet each other with hearty exclamations of 'Io, Saturnalia!'.
The second-century satirist Lucian records that a lot of hand-clapping and bobbing of heads into icy water went on. Aulus Gellius, writing in the same period, describes a Saturnalia spent at Athens where he and his friends played quiz games and challenged each other with sophisms and riddles.
Those who failed to get the questions right were fined and the money was put towards the meal. Gambling, banned in Rome during the rest of the year, was permitted during the Saturnalia. In an age when many of us despair of the commercialisation of Christmas, it feels right to follow those Romans who embraced this first and foremost as a time for family and friends and even contemplation.
While the period undoubtedly prompted extravagance in some – Emperor Domitian famously put on exotic displays of Egyptian flamingos, dwarves and female gladiators – many citizens satisfied themselves with novelty gifts, much like our Royal Family today.
Where formality was required and a client sought to please his boss or patron, he would typically give him a candle. As the nights were at their longest around the solstice, this was a practical and symbolic present, heralding the return of brighter days.
Christmas, after all, is a time for looking forward as well as back on the year that was. As the days slowly begin to grow longer and lighter, many of us will begin to make plans for spring. No one wants to be plunged into January after the festivities have ended with nothing to look forward to.
I like to picture the Roman writers scribbling their way through the bluest months beneath the light of their Christmas candles until, all of a sudden, their wick is gone, the sun is up, and there is every excuse to join in the outdoor rituals of spring. The Saturnalia had roused Romans from their winter doldrums for generations when, in the mid-fourth century, following Emperor Constantine's conversion to the faith, the birth of Christ began to be observed on 25 December. It nevertheless continued to be celebrated long into the Christian age.
It was perhaps only natural that certain traditions became common to both.
Some writers have drawn further parallels between Christmas and a Roman festival of the Sun god, and between New Year's and the revelry of the so-called Kalends of January in Rome. While developing out of very different beliefs, and revolving around very different events, these festive occasions have all succeeded in bringing people closer together.
While celebrating this holiday for the birth of Christ and its Christian message, it is touching to remember – this year perhaps more than any other – that the Romans, too, set special time aside to enjoy homely pleasures in midwinter.
Image: Saturnalia by Antoine Callet (1783)
Read more
'It's time to start tunnelling to the city' – musings of a Country Mouse
Clive Aslet: What Modern architects have in common with Classicists
We need to Make the West End Great Again