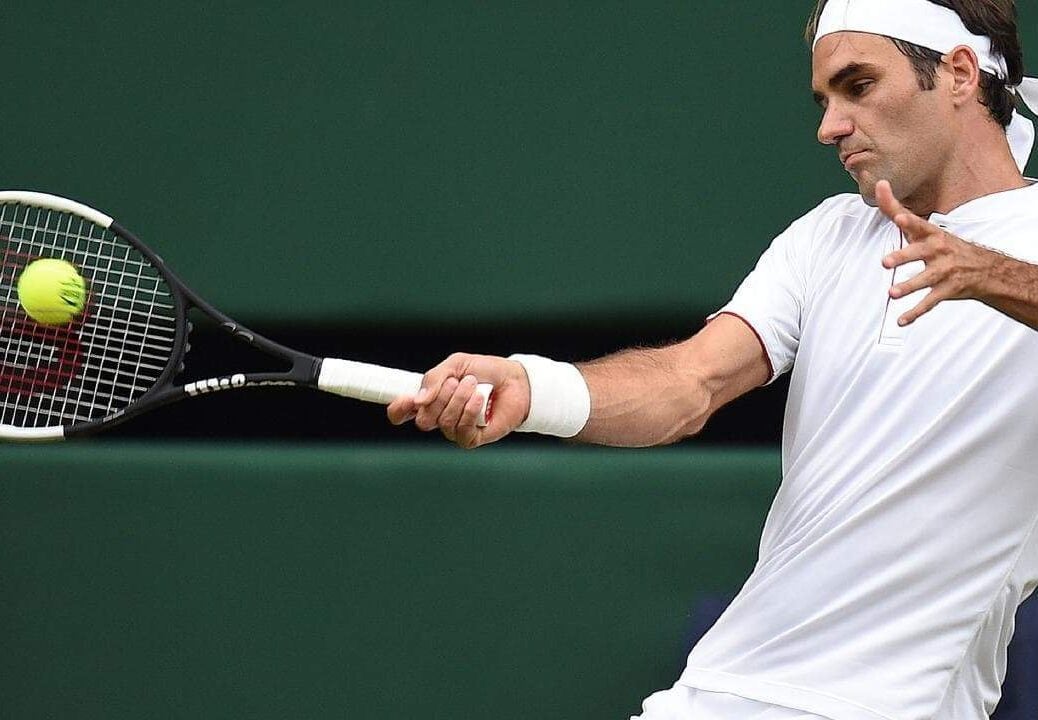 Christopher Jackson looks past the Roger Federer clichés and wonders if we are on the eve of his greatest triumph
'It's some form of obsession, there is no doubt about it, I don't know what drives him,' said Pat Cash on 5 July, in relation to Roger Federer. 'Why would he be playing at the age of 36 other than to please his adoring fans and because he likes playing and he likes to win titles?'
It was a refreshing remark. The language which we use to describe Federer can sometimes seem too admiring, as if we are discussing one of Plato's forms, and not a deeply-driven human being. We speak of Federer's grace and style and effortlessness – but never the strange forces driving him to these unprecedented feats.
And here we are again: in week two of Wimbledon – magically transported through all those matches on the outer courts to the annual reckoning on the show courts – and Federer is through to the quarter-finals without having dropped a set. On the other side of the draw lurks Rafael Nadal, as a permanent reminder that we are 10 years on from their famous five-setter in 2008, which Nadal won, to general keening from Federer fans.
One person who didn't dwell long was Federer himself. A list of those who have retired in the time since tells you all you need to know about Federer's longevity: David Nalbandian, Marat Safin, Leyton Hewitt, James Blake, and Nikolay Davydenko – without exception, his original contemporaries have all retired, bored or broken or both. Meanwhile, of the generation beneath, Andy Murray is experiencing a creaking body; and Novak Djokovic's will to compete has been demonstrably sapped, if rumours are to be believed, by off-court woes.
It might be platitudinous to say that this run of Federer's from 2017 until now ranks as one of the great achievements in modern sport – but it is no less true for that. At times, one has wondered whether so much victory were not an impropriety, suggesting a lack of imagination about all the other pursuits a life might contain. Martin Amis once wrote of the prolific John Updike that he always wanted far more than his fair share. For another player, Federer's 2017 Australian Open win against Nadal might have been an appropriate moment at which to retire. He would have done so with all his ancient psychological difficulties regarding his 'nemesis' memorably overcome – and might have disappeared with a certain mysterious grandeur.
But Federer doesn't think like a poet; he thinks like a man who greatly enjoys playing tennis. He eschewed literary neatness in favour of the mess of life. It was not the time to retire, but to go forward into that year of considerable success, and then, just as counterintuitively, into this one. True, Federer can still lose from time to time: one thinks of his ludicrous 6-3, 6-7, 6-7 defeat to the unknown Evgeny Donskoy in the Dubai Open in March 2017; or his monstrous loss in Halle a few weeks back to Borna Coric.
But these matches are still instructive: they are brief glimpses of the high-wire act these top players are engaged upon. When they arrive on court to play someone outside the top hundred, their opponent really does intend to win, and beating them is difficult.
So where does this motivation come from to keep risking defeat and loss of reputation, and continue to train on Christmas Day? There is, of course, a simple love of craft: a much-improved backhand has made the difference for Federer against the left-hander Nadal during these last years. That stroke, traditionally Federer's weakest, has become flatter and more aggressive: Federer has proved that the apparent simplicity of tennis doesn't preclude tweaking even late on in a career.
But there is also a pure love of winning, and racking up the numbers. It is this – as well as the need to preserve his fitness – which seems to inspire his now traditional skipping of the clay court season in the run-up to Wimbledon: he doesn't expect to win there. The long looping rallies, and the sense that on a powdery surface the ball is always being held up unnecessarily, has never particularly favoured Federer's fast game – and can't be expected to do so now that he is nearing the end of his career.
And some of the satisfaction of late period Federer has been mathematical. For instance, the 2018 Australian Open victory gave him his 20th Grand Slam victory – an undeniably more agreeable number to contemplate than 19. And the win gave him an opportunity to return to world number one on two further occasions. Federer now has very few records left to break. Jimmy Connors' record of 109 career tournament wins is perhaps two years off. He has yet to win an Olympic gold medal in singles, but will have to wait until Tokyo 2020 – his likely retirement point – to attempt that.
On the number front too, this Wimbledon matters (with Federer, the numbers are continually interesting). Nine Wimbledons would equal the all-time record held by Martina Navratilova, and set a higher benchmark for the male players that come after him; it would extend his own record of Grand Slam wins to 21; edge him nearer to the possibility of a tenth title, perhaps next year; and likely tee up yet another return to number one over the autumn hard court swing where Nadal will have more points to defend.
It is important to remind oneself that this will not be forever. It is difficult to think of a sportsman so synonymous with a particular venue as Federer is with Centre Court at Wimbledon – Shane Warne and the Melbourne Cricket Ground perhaps. If we sometimes feel we are witnessing monotony, then we must remind ourselves that greatness does have a repetitious look: Shakespeare wrote 25 or so monotonously excellent plays.
Will Federer win? If our best indicator is the recent past, then the Halle loss to Coric showed again how furious the competition is: anyone who plays in a professional tennis tournament anywhere is dizzyingly good at tennis. As with Nadal, Federer's defeats have become yardsticks by which to measure the magnitude of his victories.
Whatever the result this week, we can begin to see Federer's career taking final shape now: it is one of extraordinary brilliance sustained over an unfathomably long period of time. One doesn't have to be a member of the Federer cult to find his career uniquely impressive.
But let us not pretend that it's been serene or easy – I suspect that very often it hasn't even been fun, or at least most people's idea of fun. Pat Cash is right: there is obsession here: his, with tennis, and ours with him.
Christopher Jackson is deputy editor of Spear's and the author of Roger Federer: Portrait of an Artist