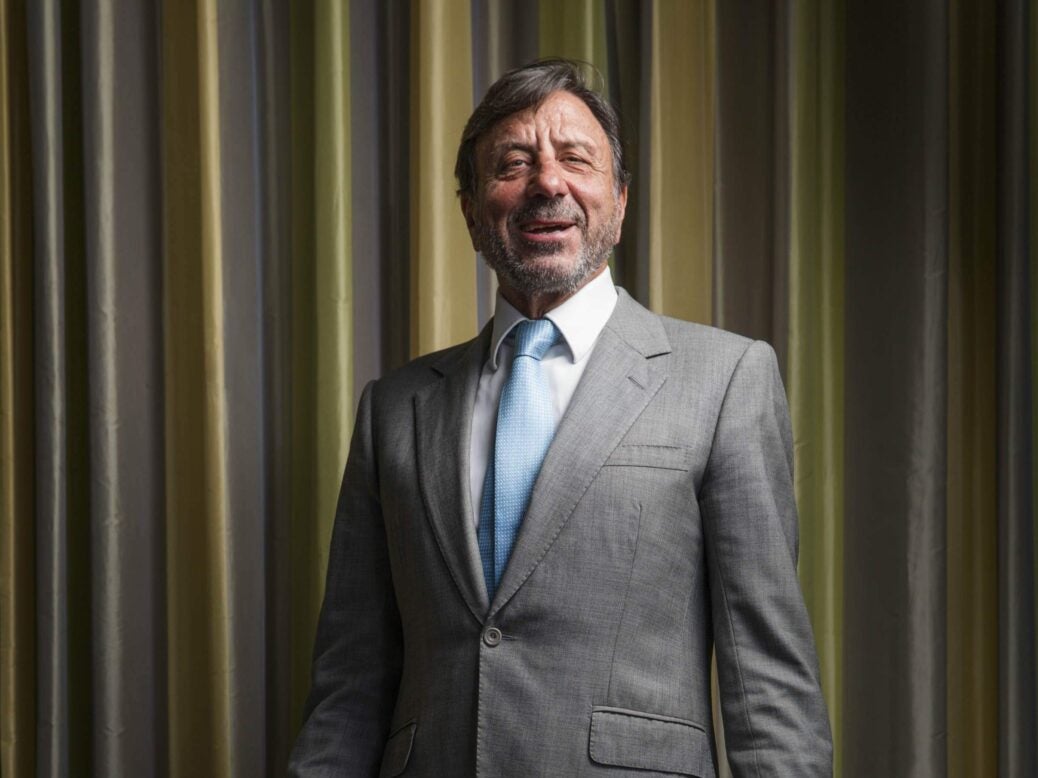 Sir Rocco Forte has worked in hotels for half a century, yet his passion for providing stylish luxury hospitality is as fervent as ever, writes Alec Marsh
Sir Rocco Forte arrives at the suite at Brown's Hotel, of which he is the proprietor, wearing a mid-grey suit, a pale blue tie, and the cuffs of his Italian shirt left undone. This last I suppose to be a long-standing sartorial foible of one of the hospitality business's most elegant dressers. As well as the impeccably cut Davies & Son suit, he wears an inscrutable expression as he gazes upon the mess that Spear's has wrought. David, our photographer, has transformed the bedroom into a studio, with bags scattered around. It's a bit like the Sex Pistols have checked in.
The 73-year-old Forte – whose Rocco Forte brand encompasses 12 hotels, with a 13th opening in Shanghai in 2019 – solicitously ensures that I have all I need, before settling into an armchair, legs crossed comfortably. In that moment it feels like he is about to conduct the interview, but the mask of the mogul soon falls and the Sir Rocco that emerges turns out to be a sunny storyteller and a charismatic figure.
How long, I ask, has he been in the hotel business? 'All my life, more or less,' he replies gently. It began in school holidays: 'From 14 I started doing work in my father's business – I've done washing-up, I've worked in the kitchens, I've been a waiter, and behind the reception desk, chamber-maiding – the whole panoply of jobs.' And he loved it. After Oxford he became a chartered accountant, but, he says, 'all I thought about was getting into my father's business. Which eventually I did.' That took place 50 years ago this year, in 1969.
In the intervening decades, the Forte business empire grew to employ 100,000 people and spanned Trusthouse Forte hotels, Little Chef restaurants and inflight catering. Sir Rocco rose to CEO in 1983 and chairman in 1992, but then Granada's hostile takeover wrested away control of the firm and even left the Fortes temporarily unable to use their name commercially.
But Sir Rocco bounced back. He started to build a different business focused on an elite group of luxury hotels – and Rocco Forte Hotels has plans to grow rapidly. 'I'd like to have double the number of hotels,' he says, 'because from an economic point of view I don't have to increase my central overhead very much to double the size of the group.'
There are other benefits: 'If you've got quite a lot of hotels in all the principal cities, then people will be using your group on a much more regular basis, and that helps the occupancy.'
With four hotels in Italy already, Forte has three more in the pipeline ('Italy's an opportunity for us; we know our way around Italy quite a bit – it's not the easiest of places to do business in'), and then there's a host of places to get into: 'We're not in Paris, Madrid, Barcelona, Moscow; we're in three German cities but we could be in others. We're not in the Scandinavian countries, we're not even in Holland.'
His father Charles founded what became the Forte group in 1934. What would he say if he were to come into this hotel today? 'I think he'd be very pleased, actually,' says Forte after a pause. 'Because, you know, there's a sense… he'd recognise the atmosphere and the sense of family in the business, which was something he got from his father and I got from him, and hopefully my children have got from me.'
So what is that Forte essence? 'To be an owner and be involved in managing the business means that you care deeply about it. You're not just an investor.' He adds with mild incredulity: 'People say, "What's your exit strategy?" – I don't have an exit strategy; I've never had an exit strategy; I've never wanted an exit strategy. I'm not in to make a quick buck: I'm in to develop something which is meaningful and which will go on for a long time. And that's part of the family essence.'
Another is integrity: 'My father always had high integrity in his business dealings, which he got from his father and has passed on to me, and I'm passing on to my children,' he says, citing discipline and 'care for staff' as key. 'And being a physical symbol of the business is also important. The staff are not working for an amorphous company: they're working for me and my family, they know us, they see us on a regular basis. And it creates a certain feeling in a business which you don't have in a sort of corporate-run company in the same way.'
This offers an edge, he believes, in the 'hugely consolidated' and 'much more corporate' world of hotels. For them, 'giving individualised service becomes more difficult. It's an opportunity for niche businesses like mine to do well.'
Has what customers need changed over the decades? Not really, he says breezily: yes, you need a gym and spa ('although only a small proportion of customers use the spa'), there's a lot more technology in rooms, and guests are more interested in experiences (Brown's, for instance, arranges tours of nearby art galleries), but it's basically still all about service. 'If you have a regular customer, you've really got to know everything,' says Forte. 'Once he likes something, you've got to provide it to him without asking; he's got to feel it's his home.' Some regulars, for instance, leave their clothes at his hotels, which are then laundered and pressed for them when they arrive. 'That sort of thing is what a luxury hotel is about,' he says.
Forte also says he puts 'a lot of time and effort' into customer complaints. 'A customer complaint is a chance to make a friend for life,' he says. 'If you treat the customer properly when he complains, he'll never leave you. So I'll always follow up.'
His bugbears include customers who are rude to staff. 'I hate people who treat staff badly,' he states, before telling me a story about telling off a customer at one of his hotels who was berating a receptionist.
Another bugbear is a certain lack of style: 'Once upon a time you didn't go into a hotel unless you were wearing a jacket and tie. Now you see people in jeans and T-shirts in luxury hotels. I hate seeing people in shorts in a city-centre hotel. There's not the same sense of style that there was once in the way people behaved. There's not the same sense of civility.' It's also in the way children are brought up: 'Now everything is OK; it doesn't matter. I don't think that bodes well, certainly for the luxury world.'
If Forte is starting to sound like the Victor Meldrew of hospitality, then rest assured this is all delivered in a gentle, mild fashion. There is just time to ask about Brexit.
'I'll tell you why I'm a Brexiteer – apart from my belief that a country should rule itself and not be governed by unelected people – is that I operate in Europe,' is his opener, as if that alone is sufficient. While Brexit will make it 'more difficult' to employ foreign staff, he explains: 'All the countries in Europe without exception have the most unfriendly trading and business environment compared to the UK… it's the most uncompetitive system in the world. And this deal,' he adds, referring to Theresa May's agreement, 'that's been stitched up will leave us stuck with all that baggage without doing anything to improve the situation.'
Whatever happens, no matter how bad the business environment is, it still doesn't look like Sir Rocco plans to let it hold him back – or his intention to expand in Europe. Squaring that circle is presumably his forte.
Alec Marsh is editor of Spear's
This article first appeared in the Spear's 500 Travel Guide 2019. Get your copy here
Related
Guy Hands interview: Reign of Terra
Lloyd Dorfman on UHNWs: 'You don't see a huge number giving'
Interview: Yanis Varoufakis on the end of Europe — and capitalism