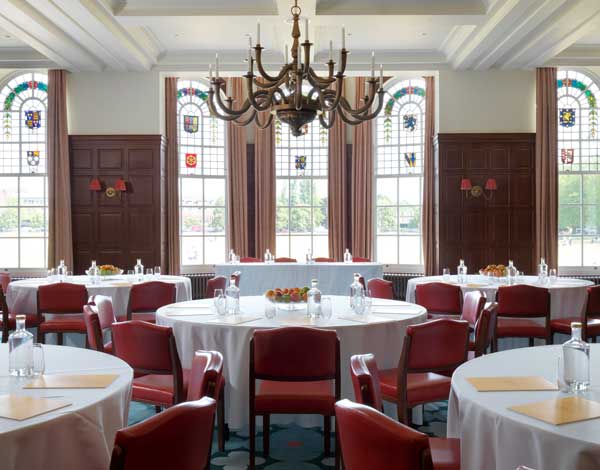 William Cash stays at the University Arms and finds the humble pub he knew in his student days much improved by an £80 million makeover
When I was an undergraduate at Cambridge back in the late 1980s, I tried to avoid the University Arms. This was as I'd been told that it was where English football had been invented – at least on the Parker's Piece park which it overlooked – and also because it had one of the town's worst pubs attached, or next-door – a haunt called Hobson's Choice if I recall.
The pub was a favourite of drunken 'squaddies' and anybody walking in wearing a Magdalene College bow tie and asking for a gin and tonic was likely to be beaten up. The only other thing I knew about the hotel was that it wasn't far from the old Women's Union in Petty Cury where, back in the 1950s, Sylvia Plath had bitten poet Ted Hughes so hard in a passionate kiss on their first meeting that his cheek bled.
Today the hotel is an oasis of luxurious calm. After an £80 million make-over, I am happy to report that the re-built University Arms – the town's oldest hotel – has quickly established itself as not only one of the best British hotels outside of London but, perhaps more importantly, it has become something that Cambridge has long desperately needed: an iconic and sophisticated answer to the Randolph Hotel in Oxford.
Although it dates back to 1854, when it first opened as a coaching inn, the old hotel (whose Regent Street Wing resembled a cross between a sixties council office and NHS hospital) never enjoyed an exalted position in the town's history like the Randolph. Indeed the lack of any historic hotel in such a famously international university town – also boasting Britain's leading tech, science and business parks  – was one reason why the new owner-developers Melford have invested so much in hiring a hotel dream renovation team that includes leading classic architect John Simpson and uber-decorator-of the-century Martin Brudnizki (the man behind the new Annabels).
Together they have turned the University Arms into a designer boutique hotel that has also quickly become also a major destination hotel for the cultured and intellectually curious traveller. The hotel has the chic air of an extremely plush Oxbridge college that has been crossed with a Mayfair private members club, with a red leather 'British Bistro' that could be on the Avenue Foch as a winning all day bar/restaurant.
Having now stayed twice, it's the small details that linger. I was going to a dinner at Jesus College and asked for a map. Imagine my joy at being handed not a town map but 'A Cambridge Cartographic Quartet' by Spear's cover artist Adam Dant that unfolds like some 18th-century portable Baedeker to reveal Dant's idiosyncratic and quirky cultural, historic and sporting maps of Cambridge (where he was brought up). I learnt a small encyclopaedia of facts that no 'Cambridge Walking Tour' guide would ever tell you: that E.M. Forster and the Apostles would debate philosophy and book whilst eating sardines on toast; and that Fenner's cricket ground pioneered the 'art of mowing grass in strips to create patterns'.
What guest doesn't like a small present? The beautifully wrapped (in tissue with a black ribbon bow) copy of Wind in the Willows that I was lucky enough to receive just in case I couldn't find a book to enjoy in the hundreds (or thousands?) of individual volumes that have been chosen by Heywood Hill in Mayfair for both the college-like panelled library (with a real fire like in a Senior Common Room) and the suites. So much nicer than any fizz or a plate of chocolate strawberries (whilst dozing at 6pm, a small box of truffles was delivered).
Everything at the hotel is personalised, purist and witty, with an almost sacred touch of irreverence. After draining a post-dinner 'Sixth Man' cocktail (Hudson Bay bourbon, Monkey Shoulder whiskey, salted caramel, lemon, egg white and whiskey bitters), named after the elusive rumoured British Soviet spy who was never caught, I pulled out the Letters of Sylvia Plath from the library bookcase and managed to get to pay 87 out of nearly 1000 pages by 2.30am.
From the moment you pull up next to the sand coloured stone columns of the hotel's beautifully fluted new porte cochère in Regent Street, you are transported to a quirky and eclectic world elsewhere. I especially liked the surprisingly masculine contours – feeling like roughly chiselled cheek bones – of the Doric classical columns. Above was a Cambridge blue canopied roof. But despite some exotic flourishes, nothing is over-feminine and garlanded about this sumptuous hotel which has exquisite proportions and evokes an aura of haute hearty academic glamour with whippets, heraldry, mad balloonists and plus four wearing rowers and scientists amongst the gallery of Cambridge figures celebrated in the corridors.
Although the distinctive Cambridge light blue is a colour theme of the hotel – for example, each room's hotel directory is splashed in bright blue, as are the room key cards  – you don't feel as if the colour is overused. It's a subtle variation on a theme and actually feels more Georgian duck-egg than boat race blue.
Anybody who knows their classical architecture will know that the almost severely masculine Designer Doric features are a signature flourish of John Simpson, who is no stranger to Cambridge commissions having previously designed the West Range of Gonville Court for Gonville and Caius College in the 1990s. As an architect known for his rejection of International Modernism (how he must have enjoyed the demolition of the ugly modernist Regency wing) his work can be described as neo-Soane (based on Georgian influences), with is reputation being secured with such projects as Ashfold House in West Sussex (1991), the area around St. Paul's Cathedral, London and The Queen's Gallery, Buckingham Palace.
The decision to hire such an eminent architect gives a hint of the ambition of the project which is a triumph of classical re-interpretation as the hotel has the intimate and quirky feel of a chic boutique hotel yet you would never know it has a capacity of 192 rooms.
Perched on the edge of Parker's Piece, the hotel has the feel of a new collonaded classical stately home sitting in its own 25 acres in the middle of Cambridge. The location is perfect.  Each of the donnish swanky suites is named after a Cambridge literary or academic pioneer. On my first visit, we were in the Darwin suite where you could be locked away for a week and emerge with enough specialised knowledge on Darwin to enter Mastermind. The leather desks look like they have been commissioned by Soane and the bookcases and drinks cabinet have a darkly sexy flavour.
The best thing about the hotel is the Parker's Tavern bar/bistro restaurant which is about as far removed from the old Hobson's Choice pub as is imaginable. It was packed and bustling with trays of cocktails being devoured on the Saturday night I last visited. I hosted a small dinner for some top architectural writers including Jeremy Musson, who lives in Cambridge, and Clive Aslet, former editor of Country Life. All wanted to see the work of Britain's leading exponent of the New Classical Architecture and agreed that it was a triumph, not the least as there was not a drunken squaddie or track suited student in sight (my only suggestion to the management is give people on the ground floor rooms ear plugs as Cambridge drunks are still quite fond of sleeping on Parker's Piece).
The art is worth a trip in itself.  In the lobby is a wonderful photograph of Churchill in cigar pose and a print of the famous 'coronation feast' of 1838 which was held on Parker's Piece to celebrate the coronation of Queen Victoria. Some 15,000 guests were given lunch and it was refreshing to see Parker's Piece once again returning to its origins as being a place famous for its quality of 'feasting' – rather than squaddie pub brawls and park muggings.
William Cash is Spear's Editor at Large