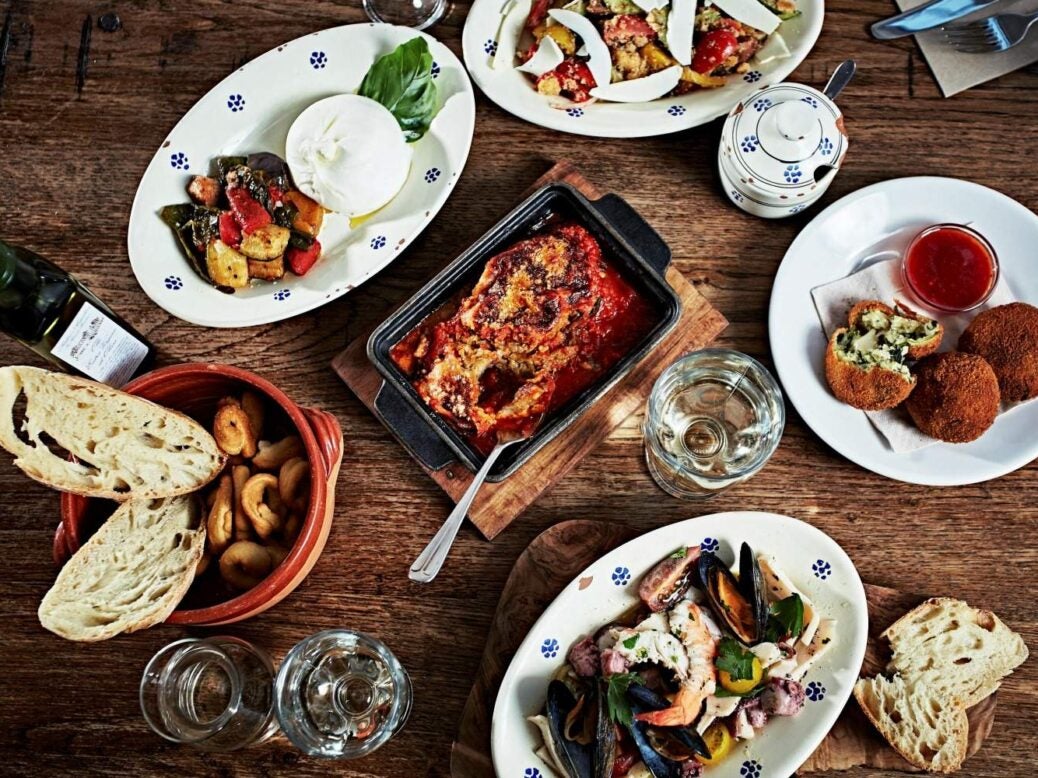 The new restaurant and its sister establishment in Queen's Park are leading London in appreciation of Pugliese cuisine, writes Christopher Silvester
In a space in London's Highgate Village that was once a car showroom, and then a branch of All Bar One, you will find a new restaurant called Ostuni, named, like its sister restaurant in Queen's Park, after the Pugliese hilltop town of Ostuni, which is famous for its whitewashed exteriors.
Puglia is the longest section of the Italian mainland, stretching from halfway down the boot to the heel. It used to be rarely visited by British tourists, although this has changed since Ryanair and Easyjet both fly to the airports of Bari and Brindisi. The region's cuisine has few outlets in London, but you should definitely try this new exemplar.
The space is quite large, with rustic tools mounted on its whitewashed walls, a ladder propped in one corner, a constellation of large rustic keys on one wall and a threshing wheel on another, and sieves serving as simple lampshades. On one wall there is white stone cladding from the town of Ostuni itself. There is also an open kitchen.
Our friendly young waiter Andrea introduced us to a couple of white Pugliese wines. The first was I Pastini from the Valle d'Itria, near the town of Locorotondo (£27) and the second was Chardonnay Bio Pietrabianca, Tomaresca (£14). These were just right to go with our first and second courses. The first course was a house specialty, Antipasto Pugliese (£12). This consisted of Pugliese breads, charcuterie, marinated salt cod, aubergine stuffed with artichokes, beef meatballs, and broad bean and chicory croquettes with chilli jam.
We followed this with a single primo piatto between two – our only chance of being able to consume a main course. This was a pasta in the traditional Italian way, although this pasta was quite unlike any other I have ever had. Green olive leaf pasta (in the shape of an olive leaf, with creamy burrata, cardoncelli mushrroms, and truffle sauce).
For our main course we chose the arrosto misto for two. This consisted of three meat elements: a bombette of pork and provolone cheese in breadcrumbs, lamb neck fillet, and half a devilled chicken. This will be too much for most couples, especially after antipasti and a pasta course. To accompany the roasted meats we drank a Negroamaro wine, Podera Angelica 12, a full-bodied red with notes of cherry and raspberry.
By now we were feeling as full as gorged ticks, but Amina was having none of it.
'Pleeze, I 'ave to tell you about the desserts,' she insisted.
Resistance was futile. We tried the semifreddo of orange-flavoured ricotta, which comes with a croccantino of bitter orange and a chocolate and almond crunch. But for me the absolute must is the sgroppino, a lemon sorbet doused with prosecco and vodka.
For a digestif I chose a smooth grappa storica, while my companion had a Fernet Branca, which was a touch too medicinal for my taste.
Ostuni can accommodate around 170 covers at a single sitting and when all the tables are filled you can imagine what a din there is, with the sound bouncing off all the hard surfaces. It is challenging to conduct a civilised conversation in such conditions and I was glad to hear that the restaurant has found a German company to introduce sound cladding.
Nonethless, Ostuni is leading London in appreciation of Pugliese cuisine and this lively spot is a destination restaurant as much as a neighbourhood one.