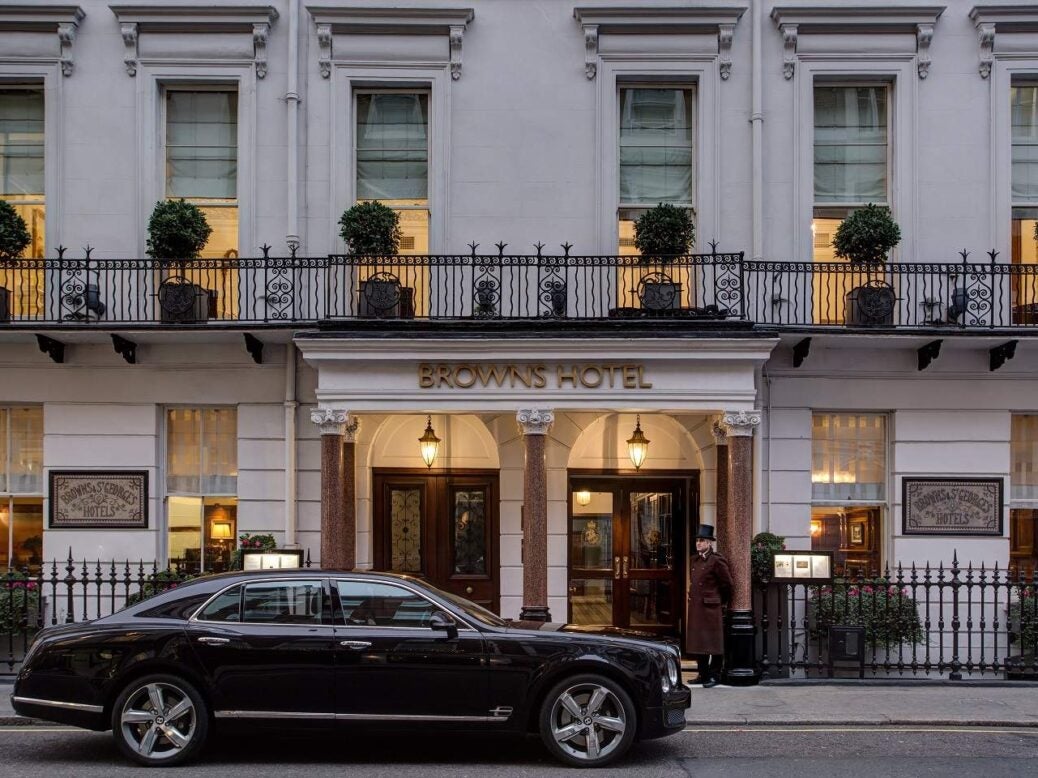 Emelia Hamilton-Russell embraces La Dolce Vita at Heinz Beck's winter pop-up at Brown's
In these austerity-obsessed times, when an invitation to a night at Italian chef Heinz Beck's six-week pop-up a Brown's Hotel arrives, it is not to be missed. Because it's a pop-up there's a 'line-up' — a starry constellation led by the three-Michelin starred Beck, veteran cocktail man Salvatore Calabrese, and interior designer Ashley Hicks.
Arriving at Brown's it's Hicks' work that first makes an impression. The restaurant here is just about as classically British as you can get, if tempered by American steak-house influences: it is closeted in brown wood panels and softly lit, with booths spread out along the walls. Hicks' colourful touches are overlaid, but comes, and the effect is subtle rather than stark: a few scattered mirrors, vase-shaped coloured cut-outs adorning the cornices. While there is cleverness here, as the mirrors help to make the otherwise brown space come alive with odd lights and angles reflected everywhere, the new features couldn't quite impose themselves in this masculine space.
Next came the cocktails —Salvatore Calabrese's deeply aesthetic creations. A small man with a wide moustache, the maestro made his name mixing negronis in New York, and it shows. However, it wasn't just cocktails which made the taste buds sit up and dance. Large, teetering trays of Trentodoc, supplied by the Ferrari vineyards and represented at Ora by Camilla Lunelli, were also doing the rounds.
Several drinks down, we take our seats. Beck's reputation precedes him, a chef of supreme skill and subtlety at his feted flagship restaurant, La Pergola, in Rome. For all this build-up, the food itself was startlingly simple.
Course one: The clean, earthy flavours of the amberjack tartar belie the freshness of the ingredients. The almond tofu softens the pungency, bringing a nuttiness that seemed to jump about on the tongue.
The fish courses – number two and four of six – both found the darkness in a food type which is usually served light, with the yuzu-marinated lobster and black cod providing rich complexity. The lamb (number five) in cereals crust and goat cheese pearls, had a beautiful softness to it. The stand out was the third course, a duck tortellini with pine needle infusion and porcini. Soft, delicate, and exquisite, they were little porcelain sculptures – utterly delightful. Finally came his little Hazelnut Planets –nutty chocolate ringed by salted caramel.
The evening was both luscious and novel; a sultry mix of high society and high dining. And while the Deco-inspired décor doesn't quite chime with the heaviness of a London winter (I almost preferred virgin Brown's), Beck's famed Roman restaurant doesn't often pop-up a mere 15 minutes from the office. If nothing else, it's its very proximity that makes this 'for a short time only' Italian takeover a must.
ORA by Heinz Beck is at Brown's Hotel from Monday 13th November until Sun 31 December
Emelia Hamilton-Russell is a writer researcher at Spear's