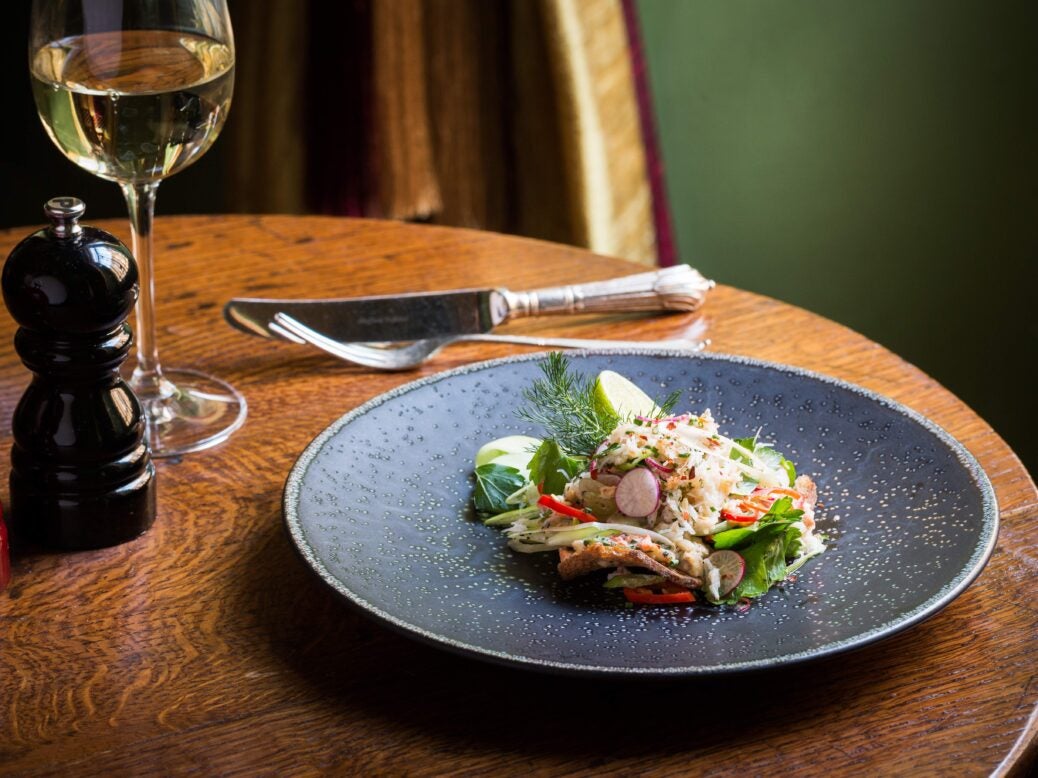 In the age of Emmanuel Macron, there is no better time to return to Soho to remind yourself of the glories of France, writes Christopher Jackson
Soho is a prime place to get lost in. It's London at its most incomprehensible: no amount of visits can teach you how Old Compton Street relates to Berners and Wardour and Lexington, and all the others. It is one of the riddles of life: the roofs are too high and the streets too narrow for Centrepoint to provide a useful landmark; each unfolding scene thrives on the same cheerful loucheness; and Regent Street seems to obey no serious law of time or space as it bends to encompass it all.
But it has its compensations. One draw is that Peter Cook opened his famous comedy club, The Establishment, on Greek Street here in the 1960s. And just opposite its former location, a French flag proclaims the hallowed L'Escargot: housed in an august Georgian building, it is the oldest French restaurant in the capital, and especially noted in times gone by for its (now-unvisitable-for-health-and-safety-reasons) basement snail farm. Outside, there is a porcelain relief of its founder M. Georges Gaudin riding a snail with the motto: 'Slow, but sure.'
That piece looks like a nightmare as experienced by Lucca della Robbia. But the point is clear: we are about to come face to face with a gigantic reputation – a successful piece of gastronomic espionage, long secreted in the capital.
Inside, we are taken into a dimly lit lounge, like the kind in an Agatha Christie just before a body is discovered upstairs. A waiter with a handlebar moustache presents himself at our table, and proceeds to supervise the evening with what would have been Gallic charm, had we not later learned that he hails from the Ukraine.
My companion – undeterred by the imminent and filling arrival of the famous snails – orders the immorality of foie gras, which is obscenely delicious, each mouthful of murder better than the last. My excellent chilli crab, served with radish and pickled cucumber, was probably the least French thing we ate – perhaps it might be said to represent the English Channel.
But these starters, excellent as they were, took place under a looming shadow: I was worried about these eponymous snails. Feeling anxious and concerned to have been turned so suddenly into a Brexity cliché, I was wondering like many an Englishman before me whether I really was about to eat a plate full of the shy creatures which we had ridded our garden of last August – an afternoon's work when no one had mooted the option of their edibility.
The menu, in fact, has a triumphant footnote under the snails. It reads: 'L'Escargot was the first restaurant in the UK to serve snails and famously used to farm them in the basement! Our garlic and parsley sauce is legendary.' And when the snails arrive they are indeed lathered – possibly even to a fault – in these mythical ingredients. I tried one. It was garlicky – it was good. I had another and another.
When the English eat snails they are breaking down all the clichés of Anglo-French relations – this is now a world where 'garlic breath' can no longer be an insult, except if aimed at oneself, and then it cannot be a xenophobic one. We have crossed the border; we have breached dangerous terrain. It was a bracing experience – and of course in today's world of international cuisine, not all that adventurous. It was only adventurous for me.
But unadventurousness is a stubborn trait, because it is always deeply ingrained. I found myself relieved to return to the safe – but still essentially French – experience of Chateaubriand. The steak was not just perfect, it was a safe harbour.
Throughout all this – like a subliminal theme in a Maupassant novel – there was Gigondas to be had, rewarding amounts of it. Perhaps any English person who drinks wine – that is to say, almost all English people – is more French than they know. Our man with the handlebar moustache waved us into the streets, a man of distinct largesse and cosmic good cheer.
I was feeling very good about France. Perhaps our triggering of Article 50 might even now be rescinded. Certainly Agincourt had been a bit much, and might even deserve some manner of apology. Jean d'Arc was probably alright if you got to know her properly. Racine should be given another go, and Madame Bovary was in for a reread.
Had you passed us in the streets at that hour you would have seen two people, looking very English, incoherently telling each other that they were moving to Paris.
Christopher Jackson is head of the Spear's Research Unit
Recently
Review: Angler, South Place Hotel, Moorgate
Review: Smiths of Smithfield, Top Floor
Review: Lee Westcott's Tasting Menu with Veuve Clicquot at Typing Room