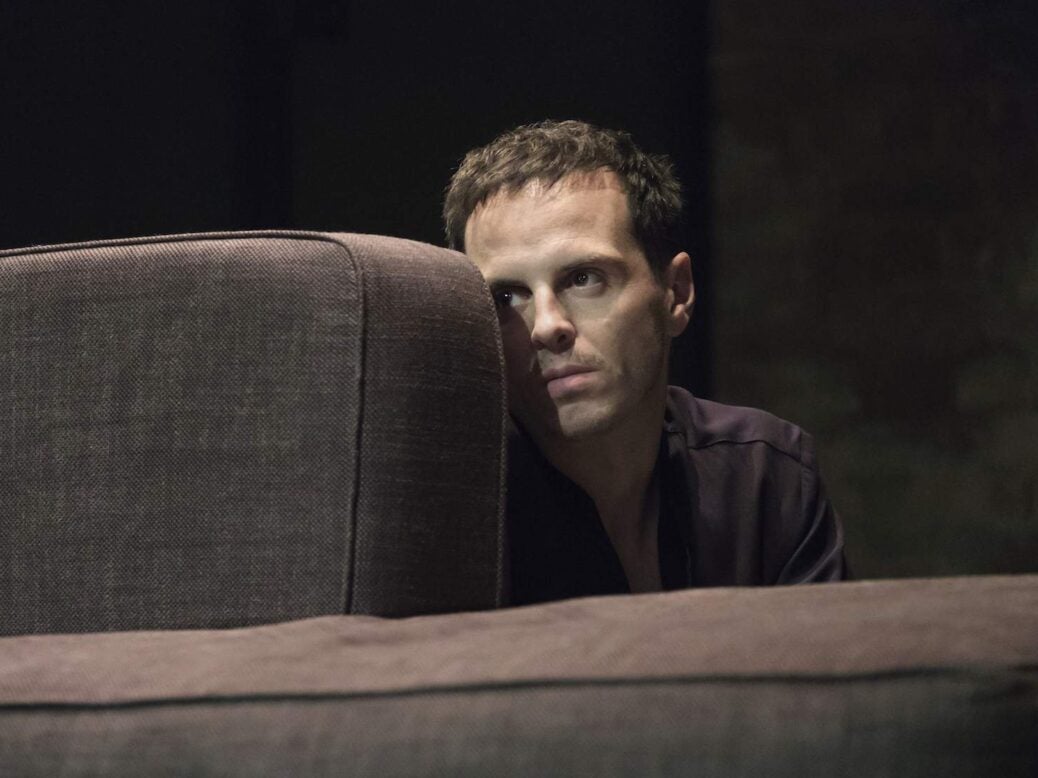 Andrew Scott triumphs as Hamlet in Richard Icke's Nordic noir production, reinventing Shakespeare's agonising anti-hero with a frenetic and intoxicating performance, writes Alec Marsh
In Richard Icke's electrifying production of Hamlet, Shakespeare's most psychological of thrillers is brought to life with arresting delight. Each line, many so famous that even infrequent theatregoers will know them, comes zinging at you with spontaneous freshness. In Wimbledon parlance it's like being on the receiving end of ace after ace.
And from first moment he appears in full snotty, sweaty, agonising, eye-gouging grief and misery, Andrew Scott's Hamlet is the undoubted standout performer in a cast that would leave lesser princes of Denmark in the pale. He's intoxicatingly good and – for Sherlock fans – his Hamlet makes his Moriarty look childlike by comparison.
He delivers the 'To be or not to be' monologue with a shocked, baffled, inanely-grinning realisation of a man who is coining the very thoughts for the first time. He flips from almost cheerful conversational insouciance – 'methinks I see my father' on sight of the ghost, said like someone ordering a Coke – to an intense, falsetto hysterical rage in the blink of an eye. And all the while, these hands claw the air or his own body, sculpting his thoughts, punctuating the next revelation or moment of self-persecution. In this, his is a truly great Semaphore Hamlet. But more than this he brings to the language his own rhythm – physical as well as verbal – which lends it a naturalistic note and sincere heartfelt pathos. Is Scott's Hamlet mad or pretending to be mad? It's both – his madness is real, but every now and he plays up to it, as if almost for his own enjoyment. It's a reminder that the play packs a lot of laughs, too.
The wicked uncle-cum-stepfather, Claudius, played with vulpinous aplomb by Angus Wright, is the epitome of the smooth, crooked CEO, whose murderous ruthlessness is so suave and flawless that it would be bogus but for the faintest glimmers of conflicted humanity. Indeed his understand collapse – caught on camera and projected in movie-style close-up – at the moment of Gertrude's self-sacrifice is haunting. It is failure in a glance. (Think Bob Hoskin's rueful last moments in the Long Good Friday.)
Ophelia, played by the Jessica Brown Findlay of Downton Abbey fame, is shorn of her 'Hey non nonny nonny' but her grief-borne insanity feels real and cruel and is masterfully pathetic. She made me shed a tear.
Peter Wright's rotund courtier Polonius is all proud northern-bore uncle-at-a-wedding in this neatly down to earth production, and all the more affecting for it. His garrulous dottiness is played upon – was that a hint of senility or did he forget his lines? – but delivers the four centuries old sentiments and words with warmth and tragedy.
These performances are but the tip of iceberg created by director Richard Icke, whose high-velocity mid-century modern rendition of David Hare's The Red Barn at the National, was likewise all filmic, Hitchcockian suspense and looking. In this Hamlet, the action unfolds in a dark basement, or in glass-doored and raw brick, Shorditchy parallel version of Elsinore where the guards are shaven-headed, Rozencrantz looks like he's just returned from a festival, and where the glamour of a Eurotrash is given a real and sharply contemporary makeover. It's gritty, gothic Nordic noir, with an iambic pentameter.
Here the dialogue with the Norwegian ambassador takes place over videoconference and the ghost appears in black-and-white fuzziness on a bank of CCTV screens. In this and many highly inventive ways the setting smooths out the bumps created by 400 years of telling and change. The presence of guns instead of swords ratchet up the threat of real violence; the flickering monitors underscore the icy, hard danger; the peculiar background hum (like some aged chest-freezer in a basement) that I noticed contributes a chilling, Fritzlian note.
But ultimately, where this succeeds most is when Icke and his tremendous cast achieve an embodiment of the psychological dimension of the play – an effect best demonstrated by the finale, where the words of a dying man are overlaid with filmic genius that takes the closing moments to an imaginative level of horror that perhaps not even Shakespeare had dreamed of. The split reality of the close reached me in ways that Hamlet has struggled to before – and the audience too. The last time I saw that many people jump to their feet in spontaneous applause was at a Labour party conference in the late Nineties for Blair; before they hated him. At the centre of this production, of course, is Scott's dazzlingly snotty, hysterical, shrill, funny, Semaphore Hamlet, which is genuinely brilliant and needs to be seen to be believed. 'Farewell,' he bids Ophelia, at the close of the 'Get thee to a nunnery' speech. In the mortician's silence that follows you are filled with dread of impending horrors. And this Hamlet delivers it.
Hamlet runs at the Harold Pinter Theatre, Panton Street, West End, until September 2. For tickets go to ATG Tickers (www.atgtickets.com) 0844 871 7623
Alec Marsh is the Editor of Spear's
Photography by Manuel Harlan