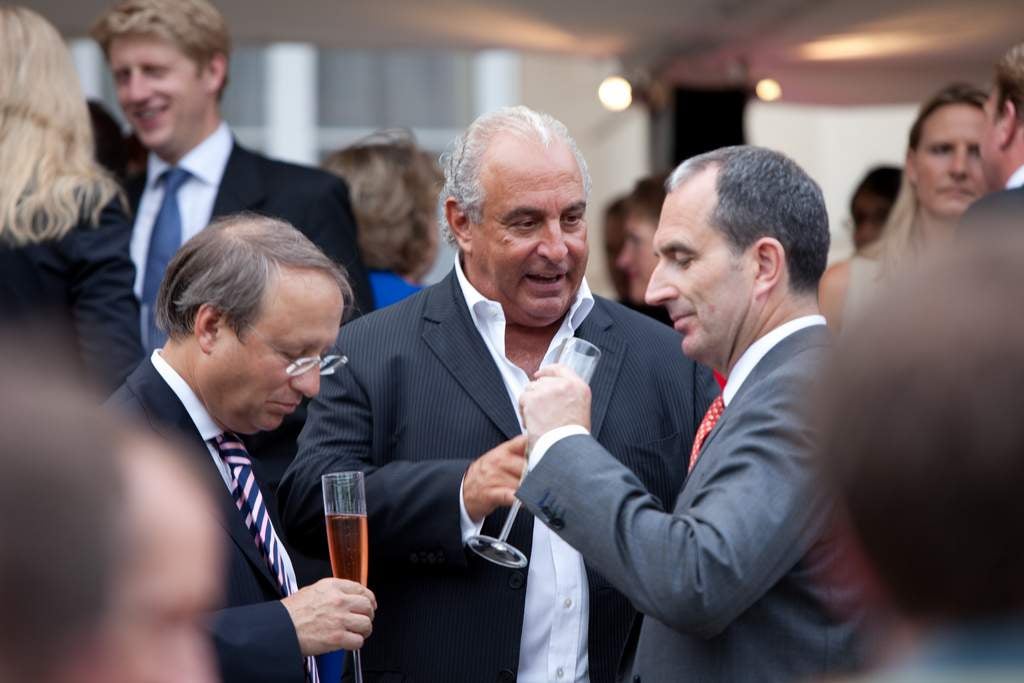 Christopher Silvester delves into Oliver Shah's defiant biography of a famously ill-mannered businessman
'Nobody's going to buy your fucking book,' Sir Philip Green told Oliver Shah in one of his many splenetic outbursts that pepper the text. It was yet another statement by
Green that has proved untrue, and deservedly so, since Shah, as Green's most dogged press adversary, has produced a concise, lively and entertaining portrait of 'the most talented asset stripper and trader of his generation' – though it is a pity it contains neither an index nor any photographs of the leading players (especially Green as Nero at a fancy-dress party he hosted in his heyday).
Green's father, who owned an electricals shop, died when Philip was 12. At the age of 15 he was expelled from Carmel College, known as 'the Jewish Eton', supposedly 'for fucking', although 'whether it was another boy, the matron or a cat' no one discovered. Within a year, in 1968, Green left grammar school with no O-levels and joined a wholesale shoe-importing business. But what allowed his career to take off was his discovery of job buying – acquiring 'parcels' of discounted stock, often through insolvency practitioners, and selling them at a profit. His mother, Alma, who had instilled in him 'the importance of making money above all else', was 'like a lioness with him'. When Green dishonoured bills of exchange, which was often, Alma was there to fend off creditors.
Another early supporter was Tony Schneider, a north London moneylender, who 'sat at the intersection between the business community and the criminal underworld'. Green borrowed from him a lot in the Seventies, but the relationship deteriorated to the point at which, in Langan's restaurant in 1996, Green only had to say hello to Schneider to find himself punched twice in the face.
The Green business model was simple: acquire a high street retail brand, cut costs furiously, sell off the sub-brands at a profit, retain the property portfolio, and avoid any pension liability. This worked with Green's 1999 takeover of Sears (with Richard Caring as a silent partner), worked for a while with his 2000 takeover of BHS, which made him and his wife Tina billionaires and gave him the reputation he needed to buy Arcadia in 2002, but foundered when the BHS pension liability ballooned. Green's solution was to find a patsy buyer. Step forward Dominic Chappell, who bought BHS for £1 in 2015.
It turned out that Chappell was a serial bankrupt with a string of business failures to his name and not a single achievement. One former business associate said 'he couldn't run a penny machine in a toilet door'. Chappell bought property, cars and yachts while BHS, with its 164 stores and 11,000 staff, unravelled. Green, who was still BHS's largest creditor, put the company into administration in 2016 and was forced to pay £363 million into its pension fund the following year.
As with any aggressive tycoon, Green has had his aiders and abettors among the professions. At BHS it was Goldman Sachs investment bankers Mike Sherwood and Anthony Gutman, who permitted the disastrous sale of BHS to Chappell, who they should have realised was a man of straw. Similarly culpable were Paul Martin of accountants Grant Thornton and David Roberts of solicitors Olswang (now part of CMS). Lord Grabiner QC, the famous commercial barrister whom Green described as an ornament in his role as chairman of Taveta Investments, Philip and Tina Green's holdings company, was subsequently criticised as 'the apogee of weak corporate governance' for his failure to scrutinise the BHS sale.
The gilding has now gone from Green's menacing banter, and the edge from his bluster. He may have been a talented asset-stripper, but he was incapable of building a business empire that lasted, only a private family fortune that so far has screamed vulgarity and little else. His 'later reputation as a master retailer was based on a mirage', notes Shah. BHS's initial success was 'fuelled by cost-cutting and Richard Caring's clever sourcing'.
By 2016 Green's friendship with Caring had 'soured into a state of resentful rivalry, to the extent that Caring would ask the crew on his superyacht to program the details
of the Greens' Lionheart into its automatic identification system so they could steer away and avoid it'.
Green is insecure, chippy and paranoid – he has often claimed to be the victim of snobbery and anti-Semitism in order to deflect criticism. But his greatest enemy has always been his runaway ego.
Picture Credit: Financial Times. @Flickr