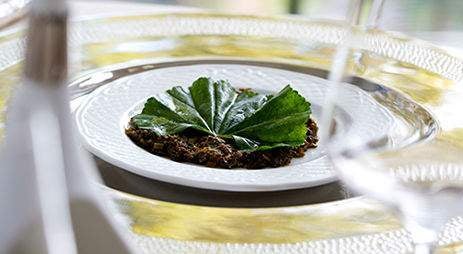 Christopher Jackson makes the rookie mistake of going to Morocco in July but doesn't regret it after a good dinner in the Es Saadi Hotel
The following statement, though true, ought probably disqualify me not only from reviewing this restaurant but from life itself: I went to Morocco in July. This is a time when it is so absurdly hot that to go outside at all is to risk certain death. I spent most of my time in the hotel, thinking about how hot it was outside. I called room service for a bottle of water every three and a half minutes. Throughout, my appetite was no greater than a supermodel prior to a shoot. And I didn't have the looks of a supermodel as an excuse.
Instead, the person staring me back in the mirror was a middle-aged man marooned in a hot country. However, one day, inspired by noteworthy standards of professionalism, I braved the seven yards to the lift to visit the hotel restaurant. The exertion of leaving my room caused me to break out into a Niagara sweat. Standing in the lift, gasping like a beached trout, I raised the finger of a 110-year-old man to press the switch. Unminding of the heat, the elevator did its work, shooting me up towards the restaurant.
There, I was greeted by the knowledge, subtly reiterated in dining terms, that other people don't come to Morocco in July. A restaurant of stubborn emptiness greeted me: I kept expecting Jack Nicholson to hove into view, perhaps bearing some sort of axe. But if he had, he'd certainly have been in a very Moroccan version of The Shining. The place looks like the Alhambra had chosen to expand into gourmet cuisine. My meal was also to be set to Moroccan music.
The other thing to observe is that I was dining alone – this, with the right book can be a pleasure only slightly diminished by the need to constantly flit between fork and page: I often think restaurants should come with reading stands to make the matter easier. However, more urgent problems were afoot: I had come to the conclusion that even to look outside and consider the roast-spit-temperatured external world was a threat to health.
Feeling as hungry as an ill sparrow, I ordered a pot of jasmine tea (delicious). For a starter, I opted for what the menu described as: 'Three deliciously refreshing soups: beetroot-lemon, cucumber-thyme and orange blossom-carrot'. These were all gazpachos, and I found myself enjoying the intensity of the flavours: somehow in Morocco, surrounded by desert as one is, one has a new appreciation for such things as cucumber and carrot. They were more than a palate-cleanser; they were light excursions into pure flavour.
In fact, the restaurant functions as an oasis – a place of sedate calm at one remove from the eternal bustle of Marrakech. Still no hungrier than someone who has just had an eight-course meal, I scanned the menu. A few things leaped out at me as unmanageably filling: there were the Bride's fingers with king prawns from Essaouira: on another day I might have ordered these, and would likely have enjoyed them.  But the Kemia of Briwats 'to share' made me scoff at the sheer improbability of the task.
Eventually I alighted on the promisingly named 'Small Moroccan salads'. These consisted of zaalouk, an aubergine purée with coriander and lemon; grilled pepper salad, tomato jam with rose and cubeb; courgettes with thyme; beetroot-lemon velouté, cucumber-thyme velouté, and orange blossom-carrot velouté. They arrived neatly arranged in a quartered bowl – and again, piercing my fullness, were those quietly confident flavours, each like a sort of first version of themselves.
I read five pages of my book, then ordered another green tea, and the chocolate, pistachio and vanilla ice cream slipped down. At springtime, guests are shown out onto the balcony and can there experience a view of the Atlas mountains over to the south, as well as the hotel pool, which looks like something dreamed up by Emperor Hadrian in one of his more ambitious moments. But that wasn't the destiny I had chosen. I was here in July.
Instead, feeling the signature 9pm tiredness that comes to all who visit an African summer, I thanked the kindly waiters, and geriatrically returned to my room, ordered four bottles of water, and was propelled by the heat into a fifteen-hour sleep.
Christopher Jackson is deputy editor of Spear's