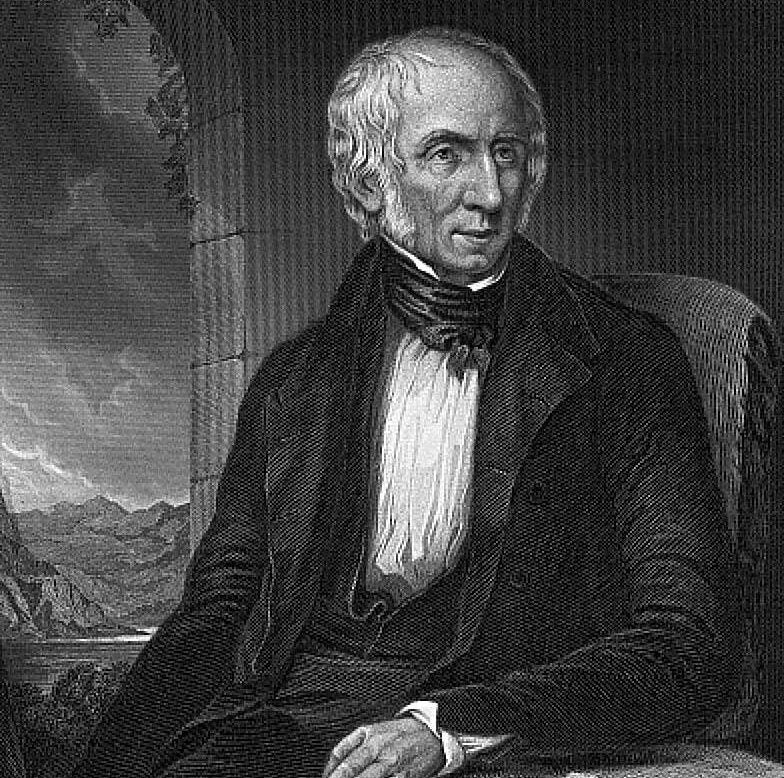 Talk of 'revenge spending' shows that Wordsworth's warning that in 'getting and spending, we lay waste our powers' has never been more apt
'Revenge spending' is a term that appears to be bandied about knowingly by luxury goods industry pundits and analysts who predict that as lockdown lifts and life restarts there will be a sprint for Bond Street/Orchard Road/the Rue du Faubourg Saint-Honoré where we will sate ourselves in an orgy of acquisition. Sounds awful.
There is an opposing argument. There are those – if not you and me, gentle reader – for whom the past few years have been like an extended Saturday night in Sodom and Gomorrah. But during the recent period of mature reflection (and of course you and I, gentle reader, have been maturely reflecting rather slumping inertly in front of back-to-back streamed police procedurals), the vacuity of consumption has been revealed.
Don't much like the sound of that either.
In case you had not noticed, I am a consumer, I love stuff, I think as human beings we are programmed that way: after all, materialism is what separates us from the beasts of the field and fowl of the air. But I will concede that, of late, we have been needing to consume rather more than usual to get the buzz.
Locked down in Shepherd's Bush, I had a moment of Damascene clarity when I received a video call from James McBride. James is one of the great hoteliers of our time, having created Nihiwatu (now known as Nihi Sumba), which seems to be regularly voted the best hotel in the world. James has been travelling non-stop for the past few years, opening resorts and scouting some unexpected locations, including Haiti. But when he called me he was grounded, maturely reflecting on things around an open fire, the crashing of the ocean waves audible in the background.
He said to me that for the past five years, when he spoke to hoteliers and hotel owners, they were only keen to talk about what they were going to do next, rather than what they were doing at that moment. If we look around our lives, they are just the same. Think of summer holidays: remember them? I am old enough to recall a time when one went to a resort and stayed there. The 21st-century pattern is to flit restlessly from Mykonos to Ibiza, to Capri, to Sardinia, to Saint-Tropez, to Comporta, to Montenegro… in other words to be constantly making plans to be somewhere else. Instant gratification is no longer enough, so we seek it in advance, on account so to speak, in future experiences and acquisitions.
It brings to mind Wordsworth's warning that in 'getting and spending, we lay waste our powers'. To a certain extent we have become like the donkey with the carrot dangling in front of it. I am guilty of it myself, whether the carrot happens to be a tweed sports coat in a particularly expressive check, or a new watch with a waiting list stretching into the next century.
Of course I like new things, but I do not want to be so desperate for the next thing that I forget to take pleasure in what I have already. To focus excessively on what we want next is to say that what we have already acquired is not really that good – and I like to think that I have reasonable taste and a discriminating eye.
In short, I want my stuff to mean something, and not just to me.
For those of us who are not Alexander the Great or Napoleon, what we possess is often how we make our small mark on history. I don't often reference the oeuvre of JK Rowling, but possessions are a little like a benign version of a horcrux: vessels in which we send our emotions down the generations, aide-memoires to remind those living when we are not that we too once trod the earth.
And I am not sure I want to be remembered by a bit of branded tat bought in a frenzy of revenge spending. I don't know what I will be thinking on my deathbed, but as I pass into eternity and my soul (should I find I possess one after all) parts company with my body, I doubt my final sentient thought will be that I regret not having gone revenge spending. Revenge for what and against whom? It's not as if Covid-19 is going to notice that we went shopping.
Main image courtesy of the University of Texas Libraries, The University of Texas at Austin