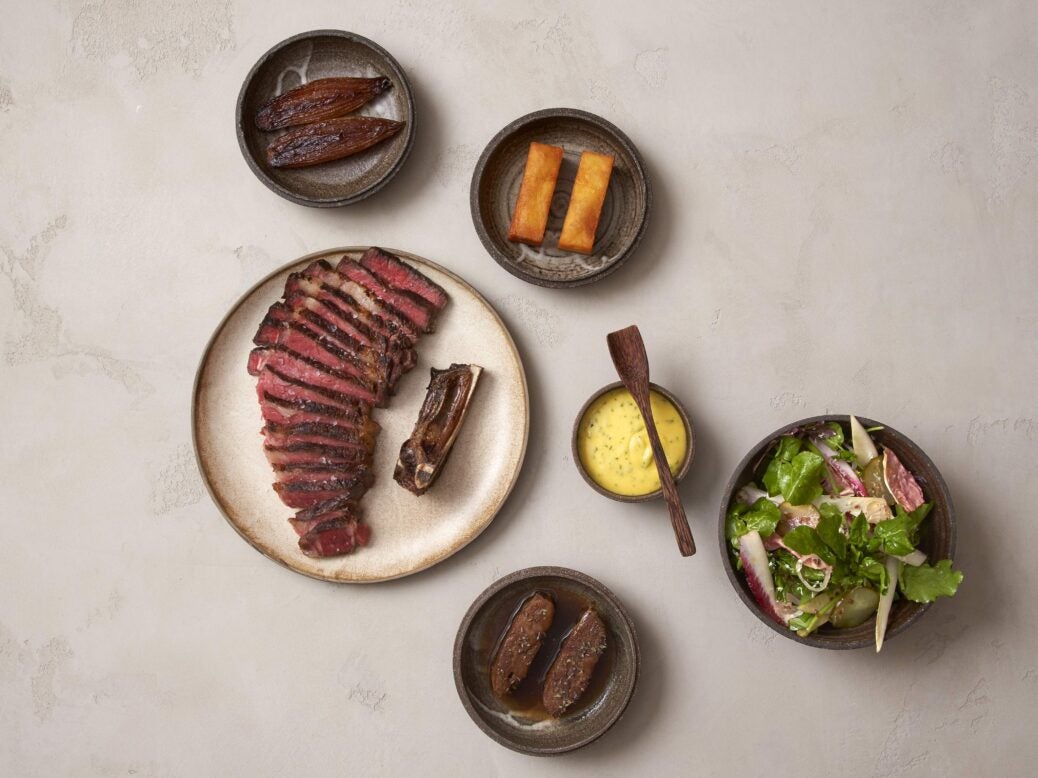 The Covid-19 pandemic has emptied restaurants across the capital, but fortunately the UK government's measures to restrict social contact still allow food delivery services and contact-free takeaway.
When Britain was last on a war footing, it meant rationing: tins of Spam and carefully weighed portions of butter. Now, in response to the threat of coronavirus, Boris Johnson has been forced to restrict the right of 'freeborn Britons' to go to pubs and restaurants. Several London eateries have responded in admirable fashion by launching delivery services that allow customers to bring fine dining to the comfort of their own kitchen.
One such establishment is HIDE. The restaurant, which boasts a Michelin star, has partnered with SUPPER to deliver a menu of dishes from renowned chef Ollie Dabbous. And, of course, roast scallop, Jerusalem artichoke and black truffle wouldn't be the same without a wine pairing, so HIDE partner Hedonism are offering their finest libations alongside.
'Hide at Home delivery offers some of our most popular dishes that travel well to our guests who, in the current situation, are unable to visit the restaurant,' Tatiana Fokina, CEO of Hide, tells Spear's.
Her team is launching the service to make isolation easier, she says, and to take the worry of cooking off the minds of the self-isolated and socially distancing. They even offer child-friendly options, 'as there will be so many more meals eaten all together now that the children are off school.' Delivery services are also playing an extremely important role in allowing restaurants to keep their staff employed.
And of course, the 'business as usual' adage plays a psychological function. 'Food and wine give us comfort, and enjoying them with your family is something that should help us all deal with the new reality,' says Fokina. 'It is important to keep as many habits from our normal life as possible, and also not to forget to treat ourselves to small luxuries to help us keep in good spirits.'
So what can hungry HNWs expect to enjoy as they put their feet up and get stuck into a box set? 'You can get everything from breakfast dishes, like home-made crumpets with Brillat-Savarin, to Ollie's signature mains, like barbecued octopus and soft shell crab tempura,' says Fokina.
Other stand-outs include white asparagus shavings with hazelnuts, wild mushrooms, sea truffle and duck egg mayonnaise, and 50-day-aged short-horn beef rib cooked over charcoal, served with rapeseed béarnaise, crispy potato cake, baked shallots, braised rib cap and a salad of watercress, horseradish & pickles.
Desserts such as warm acorn cake with smoked caramel and Cornish clotted cream are not to be forgotten. And what's a quarantine without freshly baked bread? HIDE is also offering their finest viennoiseries right to your front door.
One of the big questions is whether measures introduced in the time of coronavirus will stick, as the world realises that many of the things that we used to do in person can be done without walking out of your front door. 'When we come out on the other side of this crisis we will continue home deliveries if there is a demand for it. We are trying to see new opportunities in this situation,' says Fokina.
It is hard to imagine that eating scallops in your slippers will ever replace the buzz of an evening at a restaurant. For now, however, delivery services like HIDE's provide a charming alternative in the upside-down reality that we find ourselves in. If we're going to be stuck inside for the foreseeable future, we might as well do it with a good cheese board.
More on Coronavirus:
Our doctors and nurses are the 'new Few'
'Don't panic' – wealth managers react to Covid-19
Covid-19: A message from Spear's to our readers
How the Coronavirus outbreak exposes the 'central weakness' of China's regime