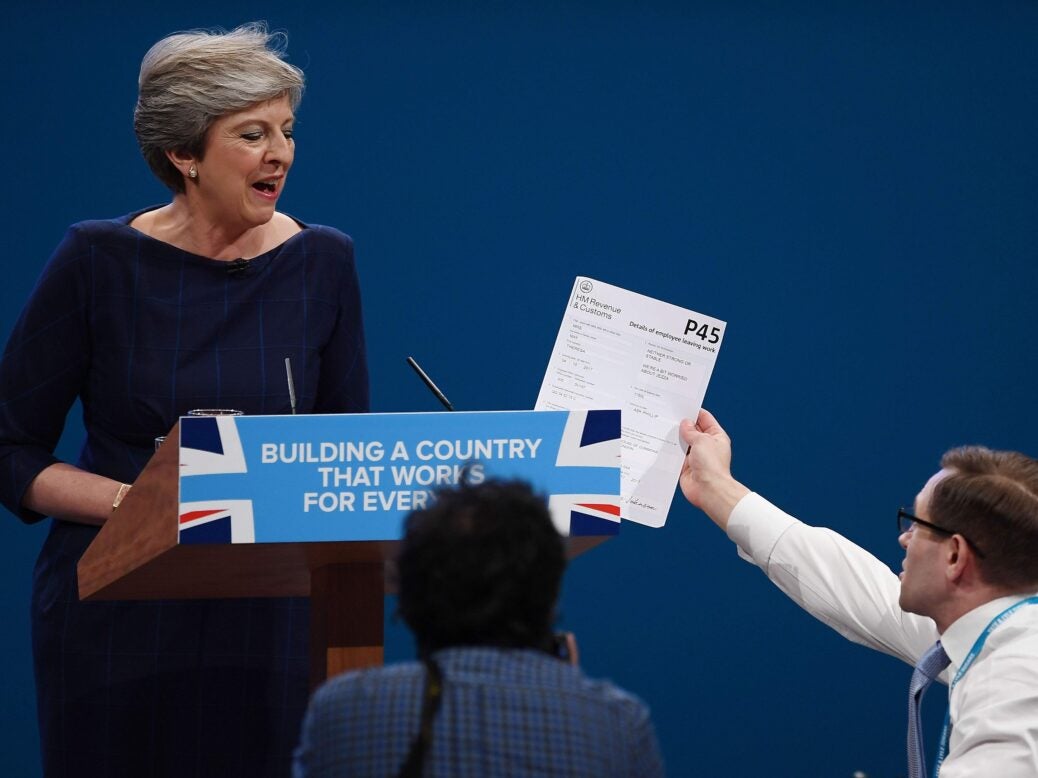 The Monty Python theatrics of Theresa May's speech shows that the Tories need a social media overhaul, and the leadership and charisma of the Jacob Rees-Mogg-Boris Johnson dream team, writes William Cash
It was always going to be a difficult conference for Theresa May but nobody expected it would end in farce straight out of a Monty Python sketch.  Yes, the way that the Prime Minister bravely battled through her eight-page speech with the help of a cough sweet provided by her Chancellor Philip Hammond (quipping that it was a rare thing to see a Chancellor giving 'something away for free') did show her 'human' and 'vulnerable' side, as her supporters have pointed out; and yes, her ad lib jokes showed a sharper wit that the usual stereotypical Maybot image. Many on Twitter thought her brand of jokes were better than that of the ex-BBC comedian prankster who handed the PM a fake P45 – 'from Boris'.
But this morning's headlines are the stuff of modern political nightmares: 'painful to watch' ; 'disaster; and  'shambles' being amongst the kinder words splashed over the front pages.
The memory of Neil Kinnock's unscheduled tumble into the waves of the Brighton sea-front at the Labour Conference of October 1983 will inevitably be evoked. Any politician can have a 'Kinnock moment' but May's problem is more metaphorical than anything else. It also shows how the narrative of political careers are defined as much by 'luck' as 'events, dear boy, events' as Harold Macmillan famously declared. The fact that words forming part of the Tory party stage set 'message' started falling during her speech – thanks to a standing ovation – didn't exactly help.
I personally found her  efforts to soldier on with her speech very courageous despite the Gods playing dirty tricks with her as she attempted to seize back control of her party. During the election campaign I stood a few yards from her waving a supportive placard as she addressed an audience at a rugby ground in Staffordshire. I found her to have a strong and magnetic presence without the need for any auto queue. She was nothing like the scripted May Robot that she has been unfairly characterised as being. Yesterday, however, the adrenaline juice had flowed out of her. She was like a wheezing engine thirsting for both coolant and oil – I felt genuinely sorry for her as the political Gods played out their cruel games.
The sub-text was clear: the message is falling down, which is exactly why Kinnock's fall on the beach was so damaging. It became a symbol for his over-confident cockiness being full of Welsh wind. As he strode along the Brighton seafront towards before that afternoon's Labour leadership election, Kinnock seemed to ooze confidence. 'If you want a real scoop' he bragged to the media. 'I'll walk out there, on the water'. Seconds later Pinnock was swept away by a wave and was lying in the water utterly drenched as his wife helped pick him up.
This photo became not only the 'image of the conference' – just as David Miliband posing for the cameras holding a wobbly banana did at Labour's conference in Manchester in 2010 – but of Kinnock's leadership ambitions. As the New Statesman wrote: 'a man utterly out of his depth, shamelessly courting the media and making a complete fool of himself in the process'.
Alas, I fear similar political symbolism may well be taken from May's unfortunate and unlucky ordeal on her AGM party stage. 'Conference' is about showing confidence and dealing with 'party business'. The agenda of this year's conference was meant to have been showing how the Conservative party was the only party of competence, the only party 'fit to govern' and a party united behind Brexit. But when you have a stage invasion by a comedian handing her a fake P45,  embarrassingly inept police security, and a stage set malfunction, that confidence collapses and the very reverse is achieved. Her speech is already being described as That Speech.
While Boris roared with optimistic verve in his super-confident, witty and statesman like party address on Tuesday, May looked vulnerable. The divide in self-confidence and 'style' between the PM and her Foreign Secretary was all too obvious to delegates – the very grass root supporters who will be deciding the next Tory leader.
'Sympathy' and renewed questions over how long she can survive were probably not what the Prime Minister was hoping for after the next challenge: a coughing fit that saw her voice fading as fast as her hopes of leading the party into the next election. If that wasn't enough to enliven what had been a pretty drab conference then more drama was added when Amber Rudd dug her elbow into Boris Johnson and dragged the sixteen stone political beast to his feet to help lead the traditional standing ovation that the party faithful give to their leader.
Inevitably, the spluttering speech and the P45 prank have led to political pundits saying that the two episodes couldn't act as a worse metaphor for her  premiership and a Conference that never seemed to really take off. As I walked around on Monday, the vast conference halls seemed half empty. Under 100 Tory MPs (out of 316) actually bothered to make the trip to Manchester which tells you everything you need to know about the enthusiasm that even elected Conservative politicians (who have to pay for their own travel and hotels) have for 'Conference'.
What this year's party conference season has shown is how the old political paradigms are dying. What the Conservative conference showed is the extent to which the party urgently needs to re-invent itself – from its very core. There was considerably more buzz at the alternative fringe festival of Conservative Ideas hosted the week before by George Freeman, MP for Mid Norfolk. His one-day festival – held at a private estate in the home counties – was launched as a response to the popularity of Jeremy Corbyn's headlining at Glastonbury earlier in the year.
Freeman said in a tweet after Corbyn's ageing political rock star appearance: 'Why is it just the left who have all the fun in politics? We need a cultural revival of grassroots Conservatism.' Just as Corbyn's performance at Glastonbury provided glaring evidence of Corbyn's cross-class and cross-generational appeal, so Freeman's mini-festival was dubbed the 'Tory Glastonbury' with the hope of injecting some badly needed political and philosophical vim to Conservative thinking as well as energising the party's ever declining grassroots support. Freeman is right, of course. Membership of the Tory party is at all time low – less than 150,000. Labour, by contrast, have over 500,000 members.
The Tory Conference in Manchester demonstrated why the old Conservative party model is out of date. The party could well be heading for disaster at the next election unless they turn themselves inside out and reform radically  – starting with hiring a new digital team at Conservative party HQ and adopting a new strategy to engage with younger voters. This means overhauling their entire IT and social media platforms, and investing heavily – now, not six months before the next election – in expert political data and voting analysis.
Sticking with the old traditional party model – leaflets, official and dull Conference speeches and sponsored panels and drinks parties where 'Big Business' buy themselves a political platform – is not going to be enough. They need to think radically and hire a firm like Cambridge Analytica – headed by British Conservative Alexander Nix – which 'combines data mining and data analysis with strategic communication' to spearhead a new political communications strategy that attempts to do the one thing the party needs to do more than anything else to win the next election: break the UK cultural monopoly of the Left.
Nix's firm would be an obvious and natural choice for the Conservative party but, bafflingly, Cambridge Analytica (known as 'CA') which helped Donald Trump to win the White House in the 2016 US presidential election – has not even been invited to 'pitch' to the Conservative party who are still using old voting data that is not up to date. CA has not been asked to make a presentation to the party because in his 'Bad Boys of Brexit' book, Arron Banks claims that he used CA's services to help his Leave.EU campaign. It turns out, however, that this isn't strictly true as Nix told me the other day when I had a coffee with him. Calling itself a 'global election management agency', the company has proven itself hugely effective as a digital political agency as it uses specialist voter targeting techniques that have been developed in  'military disinformation campaigns' as well as being expert in social media branding and re-branding.
A digital re-branding which attempts to break the cultural monopoly of the Left – which permeates the BBC, broadcasting, neo-Liberal media, creative industries, TV, and The Economist and Guardianista media-political axis is what the Tory party urgently needs right now. Without breaking the smug, self-righteous cultural triumphalism of the Left, the Tories have little hope of connecting with younger voters and will lose the next election.
This year's party conference season has shown that the old party political formulas are out of date. Like the World Economic Forum at Davos and the Hay-on-Wye book festival, both of which have outgrown their purpose, such gatherings have become increasingly corporate, expensive, exclusive – and divorced from reality.
Which is why over 800 people packed into the Manchester Town Hall at a fringe meeting – in the very same town hall meeting hall that liberal statesman John Bright used to address rallies in support of Free Trade in the 19th century – to hear Jacob Rees-Mogg talk about his vision for Brexit at a Bruges Group meeting. While Boris roared like the 'world king' he has always wanted to be, Rees-Mogg, wearing a double-breasted charcoal grey suit, displayed a rhetorical throw back to the days of Victorian orator statesmen, like Bright and John Cobden whose statues stand outside Manchester Town Hall.
While it was a nightmare conference for May, it was interesting to see Jacob Rees-Mogg openly support and embrace Boris's optimistic Brexit vision. Clearly Jacob has decided that he is now a major Boris backer – as is Spear's writer Stanley Johnson who told me at The Sun party that he has now decided to back his son and become a Leaver.
Jacob and Boris make a formidable Brexit 'dream team' – at least to grass roots party members – although it's clear that Jacob speaks and thinks like a politician who is much more comfortable in his political skin than Boris. Jacob knows what he thinks without having to draft different versions to persuade himself of his own views.
That Jacob spoke at another eight fringe meetings at the conference shows how the old political order is crumbling: the real political action today at conferences is not 'inside' the corporate machine but outside the tent at fringe events or even fringe festivals where ideas can be discussed without party censorship. So much of the Manchester conference belonged to the old order when what is needed is change: the huge half empty halls and speeches encouraged the very worse sort of navel-gazing and introspection such as the gloomy speeches of the majority of Cabinet members.
Jacob, by contrast, spoke with passion, power, conviction and vim – eloquently and rhetorically without notes or any sense of spluttering panic. Despite the Monty Python theatre of May's interrupted speech, my award for my favourite moment of the conference was when Boris managed to work the word 'voletrousered' into his speech. Not even 'Jacob' – his new aide-de-camp – could match that.
Still, Jacob did have armed police guards protecting him at the 'Leave Means Leave' at the Radisson hotel on Monday afternoon where the room was so packed that one woman collapsed. Within seconds, Jacob grabbed a glass of water from the stage and headed towards the woman – offering his medical help. The moment didn't make the headlines but it is an example of how so much of conference politics is simply theatre.  When a backbencher MP like Jacob has armed police guards who keep the doors of a fringe meeting open so they can hear what he is saying, it's as good a sign as any that an MP's political star is on the rise. Like 'Boris', Jacob has now joined the ranks of become a 'first name only' politician.
William Cash is editor-in-chief at Spear's