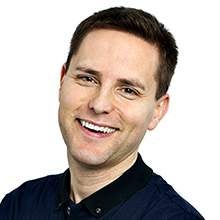 Blanchard speaks to Spear's having just flown in from the States, where he's recently taken on several major clients, prompting the opening of a Manhattan office and an imminent Los Angeles one.
The expansion follows the success of his CEO PR project, a tailored service that seeks to champion respective CEOs as thought leaders and recognised authorities in their respective spaces. Managing a CEO's reputation, and thereby their firm's, is seen as good practice in America, but it's also something Blanchard has been doing for years in the UK, where, he admits, it can still seem a bit 'un-British to some'.
Perhaps his biggest success in the past twelve months has been orchestrating the Labour Leave campaign, on behalf of party donor and millionaire John Mills, for whom he made a 'progressive case that wasn't based on white van man, little Englander, soft racism'. A former parliamentary candidate himself, he says the problem Remain had is not realising most people objected to it because they felt it was the establishment stitching them up: 'Every single thing they did made it look worse — more establishment.'
This year has also seen him launch a more low-key offering in a private office, Hart Street Partners, saying it's designed for people who might get caught on the back foot by a Panama Papers-type event.